Gems Sensors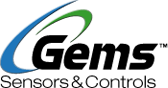 Gems Sensors & Controls offers manufacturing services to meet the quality, quantity, and cost objectives of your product, assembly or system. We have the necessary in-house capabilities to manufacture short-runs to mid or high volumes of your
custom liquid level, pressure, and flow sensors
, as well as switches and solenoid valves, with short lead times. We can manufacture your product from one of our three fully equipped, certified facilities, located in North America, Europe and Asia. This can help to significantly reduce logistics costs and improve overall time-to-market while maintaining quality and cost objectives.
History of Innovation and Growth of Gems Sensors & Controls
The Gems Sensors & Controls story began in 1955 when the company founder, Edward H. Moore, developed a level indicator in his basement. It was patented in 1959. Along with an associate, Gordon Seigle, he established the Gems Company.
Gems' first commercial success was a bilge switch for the small boating industry. Rapid acceptance of Gems' products for marine and industrial applications led to continual expansion of facilities and staff - from a 6,500 sq. ft. building to a facility of 60,000 sq. ft. in Plainville, Connecticut, USA.
Today, Gems designs and manufactures a broad portfolio of liquid level, flow switches and pressure switches, sensors and transducers, miniature solenoid valves, and pre-assembled fluidic systems. Gems is a division of Fortive Corporation, a fortune 500 company with a presence around the globe. Gems Sensors & Controls has manufacturing facilities in North America, Europe, and Asia and supports sales, engineering and service offices around the world. Gems has the resources to support your design and manufacturing requirements anywhere you call home.
The Gems Sensors & Controls Advantage
Gems delivers personal attention, engineering expertise, and technical support to reduce development risks, improve the understanding of design issues, and quickly identify the right solutions. Decades of application engineering provides the perspective and experience to quickly prototype, build, and deliver components, sub-assemblies or systems exactly to your critical requirements.
Research and development teams simulate actual application environments and perform rigorous environmental testing. Each fluidic component and sub-assembly is individually designed and 100% pre-tested for specific applications from liquid to pneumatic, cryogenic to high temperature or vacuum to high-pressure systems. Experience has taught us which technologies and product characteristics provide effective solutions to customers' problems.
There's a good chance we've already dealt with the design criteria you're working on and will probably have a product solution available right off the shelf. That saves you both time and money! And if your application calls for a more customized solution, Gems will meet your requirements by modifying an existing product or designing something completely new. Our lean manufacturing facilities around the world reduce lead times and provide cost effective made-to-order systems exactly when needed.
With innovative and proven design solutions, engineers and project managers count on Gems to help keep projects ahead of schedule - often decreasing overall time to market - and be their leading resource for fluidic systems.
---