MOBOTIX smart and autonomous IP cameras
Looking for the price? [x]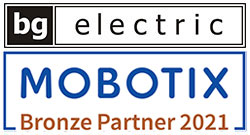 MOBOTIX is an innovative producer of smart and autonomous IP cameras. Cameras are equipped with CMOS sensors without any moving parts to improve backlight situations and longterm reliability. The camera itself runs the software for automatic event detection, alarm messaging, video analysis, direct NAS ring buffer storage and remote functions. Two-way audio with VoIP messaging and phone connectivity using the SIP standard is included in all cameras. MOBOTIX cameras are produced weatherproof and IP66 protected with one of the highest quality standards.

MOBOTIX IP video systems have been optimised for remote applications and cloud-based technology because they can reduce video bandwidth by scaling the size and frame rate. However, image details are still available thanks to the onboard virtual PTZ functionality. The cameras store high-resolution video onboard while also delivering low-bandwidth live images and playback, on demand. Additionally, MOBOTIX cameras can manage an event-driven video ring buffer via network or Internet. The live channel and the recorded video are highly secured because the video encryption is performed inside the camera.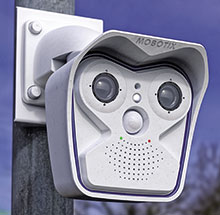 MOBOTIX is a software company with own IP camera products, all made in Germany. In 2005, MOBOTIX launched its first professional video management system which is still being used in thousands of installations around the globe. These even include high-security applications like prisons, airports or soccer stadiums because MOBOTIX systems have no restrictions in terms of number of users or cameras. The professional VMS and the video analysis are parts of the system offering and free of charge without any license fees. In addition, software updates are free via download and transform every MOBOTIX product into a future-proof investment with one of the highest returns on investment. Since 2015, all MOBOTX cameras have used 6MP "Moonlight Sensor Technology", which is very light sensitive and produces brilliant videos even in difficult low-light conditions without any motion blur.

The first MOBOTIX product released was an IP camera with recording and DVR management technology built-in. It was a world-first. This decentralized approach was so revolutionary, it changed the video surveillance industry forever. Because the camera was completely self-managing, expensive central recording systems were, for the first time, no longer required. The MOBOTIX decentralized system platform uses comparatively little computing power, even in megapixel resolutions. This makes it far more cost-effective and easier to scale in size than traditional centralized systems. As more cameras are added to the system, you only need to add more storage. No dedicated servers or recording software licenses needed. This low-cost, low-maintenance solution saves customers both upfront and over the life of the system.
MX-M16A
Request quote
16 camera module for connecting one or two M16/m15 sensor modules (to be ordered individually)
• Mx6 system platform with H.264, MxPEG and M-JPEG
• Image sensor options (via sensor module): 5 or 6 megapixels, color (day) and/or B/W (night)
• Lens options (via sensor module): horizontal image angle from 180° to 8°
• Max. image size (per image sensor): 6MP (3072 x 2048 pixels)
• Operating conditions: IP66, -30 to 60°C (-22 to 140°F)
• Internal DVR: 4 GB microSD
• System components: speaker and microphone (inside housing), PIR sensor, temperature sensor, MxActivitySensor, VarioFlex wall/ceiling mount (can be used with additional pole mount: MX-MH-SecureFlex-ESWS), ethernet patch cable 0.5 m/1.65 ft
• Interfaces: Ethernet 10/100 (RJ45), USB; IO and RS232 via additional MX Interface Box
• Incl. 1 Blind Module (MX-SM-Blind-PW)
MX-M16A-6D6N041
Request quote
IP camera set with two installed sensor modules
• Mx6 system platform with H.264, MxPEG and M-JPEG
• Image sensors (via sensor module): 1/1.8" CMOS, 6 megapixels, 1x day and 1x night
• HD premium lenses (via sensor module): 2x B041 super wide-angle (f/1.8, horizontal image angle 90°)
• Max. image size (per image sensor): 6MP (3072 x 2048 pixels)
• IP66, -30 to 60°C (-22 to 140°F)
• Internal DVR: 4 GB microSD
• Camera components: speaker and microphone (inside housing), PIR sensor, temperature sensor, MxActivitySensor, VarioFlex wall/ceiling mount (can be used with additional pole mount: MX-MH-SecureFlex-ESWS), ethernet patch cable 0.5 m/1.65 ft
• Interfaces: Ethernet 10/100 (RJ45), USB; IO and RS232 via additional MX Interface Box
MX-M16A-6D6N079
Request quote
IP camera set with two installed sensor modules
• Mx6 system platform with H.264, MxPEG and M-JPEG
• Image sensors (via sensor module): 1/1.8" CMOS, 6 megapixels, 1x day and 1x night
• HD premium lenses (via sensor module): 2x B079 standard (f/1.8, horizontal image angle 45°)
• Max. image size (per image sensor): 6MP (3072 x 2048 pixels)
• IP66, -30 to 60°C (-22 to 140°F)
• Internal DVR: 4 GB microSD
• Camera components: speaker and microphone (inside housing), PIR sensor, temperature sensor, MxActivitySensor, VarioFlex wall/ceiling mount (can be used with additional pole mount: MX-MH-SecureFlex-ESWS), ethernet patch cable 0.5 m/1.65 ft
• Interfaces: Ethernet 10/100 (RJ45), USB; IO and RS232 via additional MX Interface Box
MX-M16A-6D6N036
Request quote
IP camera set with two installed sensor modules
• Mx6 system platform with H.264, MxPEG and M-JPEG
• Image sensors (via sensor module): 1/1.8" CMOS, 6 megapixels, 1x day and 1x night
• HD premium lenses (via sensor module): 2x B036 ultra wide-angle (f/1.8, horizontal image angle 103°)
• Max. image size (per image sensor): 6MP (3072 x 2048 pixels)
• IP66, -30 to 60°C (-22 to 140°F)
• Internal DVR: 4 GB microSD
• Camera components: speaker and microphone (inside housing), PIR sensor, temperature sensor, MxActivitySensor, VarioFlex wall/ceiling mount (can be used with additional pole mount: MX-MH-SecureFlex-ESWS), ethernet patch cable 0.5 m/1.65 ft
• Interfaces: Ethernet 10/100 (RJ45), USB; IO and RS232 via additional MX Interface Box
MX-M16A-6D6N061
Request quote
IP camera set with two installed sensor modules
• Mx6 system platform with H.264, MxPEG and M-JPEG
• Image sensors (via sensor module): 1/1.8" CMOS, 6 megapixels, 1x day and 1x night
• HD premium lenses (via sensor module): 2x B061 wide-angle (f/1.8, horizontal image angle 60°)
• Max. image size (per image sensor): 6MP (3072 x 2048 pixels)
• IP66, -30 to 60°C (-22 to 140°F)
• Internal DVR: 4 GB microSD
• Camera components: speaker and microphone (inside housing), PIR sensor, temperature sensor, MxActivitySensor, VarioFlex wall/ceiling mount (can be used with additional pole mount: MX-MH-SecureFlex-ESWS), ethernet patch cable 0.5 m/1.65 ft
• Interfaces: Ethernet 10/100 (RJ45), USB; IO and RS232 via additional MX Interface Box
MX-M16A-6D6N119
Request quote
IP camera set with two installed sensor modules
• Mx6 system platform with H.264, MxPEG and M-JPEG
• Image sensors (via sensor module): 1/1.8" CMOS, 6 megapixels, 1x day and 1x night
• HD premium lenses (via sensor module): 2x B119 tele (f/1.8, horizontal image angle 31°)
• Max. image size (per image sensor): 6MP (3072 x 2048 pixels)
• IP66, -30 to 60°C (-22 to 140°F)
• Internal DVR: 4 GB microSD
• Camera components: speaker and microphone (inside housing), PIR sensor, temperature sensor, MxActivitySensor, VarioFlex wall/ceiling mount (can be used with additional pole mount: MX-MH-SecureFlex-ESWS), ethernet patch cable 0.5 m/1.65 ft
• Interfaces: Ethernet 10/100 (RJ45), USB; IO and RS232 via additional MX Interface Box
MX-M16A-6D6N237
Request quote
IP camera set with two installed sensor modules
• Mx6 system platform with H.264, MxPEG and M-JPEG
• Image sensors (via sensor module): 1/1.8" CMOS, 6 megapixels, 1x day and 1x night
• HD premium lenses (via sensor module): 2x B237 distant tele (f/1.8, horizontal image angle 15°)
• Max. image size (per image sensor): 6MP (3072 x 2048 pixels)
• IP66, -30 to 60°C (-22 to 140°F)
• Internal DVR: 4 GB microSD
• Camera components: speaker and microphone (inside housing), PIR sensor, temperature sensor, MxActivitySensor, VarioFlex wall/ceiling mount (can be used with additional pole mount: MX-MH-SecureFlex-ESWS), ethernet patch cable 0.5 m/1.65 ft
• Interfaces: Ethernet 10/100 (RJ45), USB; IO and RS232 via additional MX Interface Box
MX-D16A
Request quote
IP camera module for connecting one or two D16/D15 sensor modules or a D16/D15 lens bridge FIX/PAN (to be ordered individually)
• Mx6 system platform with H.264, MxPEG and M-JPEG
• Image sensor options (via sensor module/bridge): 6 megapixels, color (day) and/or B/W (night)
• Lens options (via lens unit): horizontal image angle from 103° to 15°
• Max. image size (per image sensor): 6MP (3072 x 2048 pixels)
• Operating conditions: IP54 without accessories, IP65/IK10 with Outdoor Wall Mount or IP66/IK10+ with Vandalism Set, each -30 to 60°C (-22 to 140°F)
• Internal DVR: 4 GB MicroSD
• Camera components: speaker, microphone, PIR sensor, temperature sensor, MxActivitySensor, ethernet patch cable 0.5 m/1.65 ft
• Incl. Standard lens cover
• Interfaces: Ethernet 10/100 (RJ45), USB; IO and RS232 via additional MX Interface Box
MX-D16A-F-6D6N036
Request quote
IP camera with two parallel aligned lenses
• Mx6 system platform with H.264, MxPEG and M-JPEG
• 6 megapixel Moonlight sensors, 1x day and 1x night
• HD premium lenses: 2x B036 ultra wide-angle (f/1.8, horizontal image angle 103°)
• Max. image size (per image sensor): 6MP (3072 x 2048 pixels)
• IP54 without accessories, IP65/IK10 with Outdoor Wall Mount or IP66/IK10+ with Vandalism Set, each -30 to 60°C (-22 to 140°F)
• Internal DVR: 4 GB MicroSD
• Camera components: speaker, PIR sensor, temperature sensor, MxActivitySensor, VarioFlex wall/ceiling mount (can be used with additional pole mount: MX-MH-SecureFlex-ESWS), ethernet patch cable 0.5 m/1.65 ft
• Interfaces: Ethernet 10/100 (RJ45), USB; IO and RS232 via additional MX-232-IO-Box.
MX-D16A-F-6D6N041
Request quote
IP camera with two parallel aligned lenses
• Mx6 system platform with H.264, MxPEG and M-JPEG
• 6 megapixel Moonlight sensors, 1x day and 1x night
• HD premium lenses: 2x B041 super wide-angle (f/1.8, horizontal image angle 90°)
• Max. image size (per image sensor): 6MP (3072 x 2048 pixels)
• IP54 without accessories, IP65/IK10 with Outdoor Wall Mount or IP66/IK10+ with Vandalism Set, each -30 to 60°C (-22 to 140°F)
• Internal DVR: 4 GB MicroSD
• Camera components: speaker, PIR sensor, temperature sensor, MxActivitySensor, VarioFlex wall/ceiling mount (can be used with additional pole mount: MX-MH-SecureFlex-ESWS), ethernet patch cable 0.5 m/1.65 ft
• Interfaces: Ethernet 10/100 (RJ45), USB; IO and RS232 via additional MX-232-IO-Box
MX-D16A-F-6D6N061
Request quote
IP camera with two parallel aligned lenses
• Mx6 system platform with H.264, MxPEG and M-JPEG
• 6 megapixel Moonlight sensors, 1x day and 1x night
• HD premium lenses: 2x B061 wide-angle (f/1.8, horizontal image angle 60°)
• Max. image size (per image sensor): 6MP (3072 x 2048 pixels)
• IP54 without accessories, IP65/IK10 with Outdoor Wall Mount or IP66/IK10+ with Vandalism Set, each -30 to 60°C (-22 to 140°F)
• Internal DVR: 4 GB MicroSD
• Camera components: speaker, PIR sensor, temperature sensor, MxActivitySensor, VarioFlex wall/ceiling mount (can be used with additional pole mount: MX-MH-SecureFlex-ESWS), ethernet patch cable 0.5 m/1.65 ft
• Interfaces: Ethernet 10/100 (RJ45), USB; IO and RS232 via additional MX-232-IO-Box
MX-D16A-F-6D6N079
Request quote
IP camera with two parallel aligned lenses
• Mx6 system platform with H.264, MxPEG and M-JPEG
• 6 megapixel Moonlight sensors, 1x day and 1x night
• HD premium lenses: 2x B079 wide-angle (f/1.8, horizontal image angle 45°)
• Max. image size (per image sensor): 6MP (3072 x 2048 pixels)
• IP54 without accessories, IP65/IK10 with Outdoor Wall Mount or IP66/IK10+ with Vandalism Set, each -30 to 60°C (-22 to 140°F)
• Internal DVR: 4 GB MicroSD
• Camera components: speaker, PIR sensor, temperature sensor, MxActivitySensor, VarioFlex wall/ceiling mount (can be used with additional pole mount: MX-MH-SecureFlex-ESWS), ethernet patch cable 0.5 m/1.65 ft
• Interfaces: Ethernet 10/100 (RJ45), USB; IO and RS232 via additional MX-232-IO-Box
MX-D16A-F-6D6N119
Request quote
IP camera with two parallel aligned lenses
• Mx6 system platform with H.264, MxPEG and M-JPEG
• 6 megapixel Moonlight sensors, 1x day and 1x night
• HD premium lenses: 2x B119 tele (f/1.8, horizontal image angle 31°)
• Max. image size (per image sensor): 6MP (3072 x 2048 pixels)
• IP54 without accessories, IP65/IK10 with Outdoor Wall Mount or IP66/IK10+ with Vandalism Set, each -30 to 60°C (-22 to 140°F)
• Internal DVR: 4 GB MicroSD
• Camera components: speaker, PIR sensor, temperature sensor, MxActivitySensor, VarioFlex wall/ceiling mount (can be used with additional pole mount: MX-MH-SecureFlex-ESWS), ethernet patch cable 0.5 m/1.65 ft
• Interfaces: Ethernet 10/100 (RJ45), USB; IO and RS232 via additional MX-232-IO-Box
MX-D16A-F-6D6N237
Request quote
IP camera with two parallel aligned lens units
• Mx6 system platform with H.264, MxPEG and M-JPEG
• 6 megapixel Moonlight sensors, 1x day and 1x night
• HD premium lenses: 2x B237 tele (f/1.8, horizontal image angle 15°)
• Equipment line: Secure
• Max. image size (per image sensor): 6MP (3072 x 2048 pixels)
• IP54 without accessories, IP65/IK10 with Outdoor Wall Mount or IP66/IK10+ with Vandalism Set, each -30 to 60°C (-22 to 140°F)
• Internal DVR: 4 GB MicroSD
• Camera components: speaker, PIR sensor, temperature sensor,MxActivitySensor, VarioFlex wall/ceiling mount (can be used with additional pole mount: MX-MH-SecureFlex-ESWS), ethernet patch cable 0.5 m/1.65 ft
• Interfaces: Ethernet 10/100 (RJ45), USB; IO and RS232 via additional MX-232-IO-Box
MX-D16A-P-6D6D041
Request quote
IP camera with PAN lens bridge
• Mx6 system platform with H.264, MxPEG and M-JPEG
• 2 Moonlight sensors day, 6MP (3072 x 2048)
• HD premium lenses: 2x B041 super wide-angle (horiz. image angle 180°)
• Max. image size: 2x 6MP (6144 x 2048 Pixel)
• IP54 without accessories, IP65/IK10 with Outdoor Wall Mount, IP66/IK10+ with Vandalism Set, each -30 bis 60 °C (-22 to 140°F)
• Internal DVR: 4 GB microSD
• Speaker, microphone, PIR sensor, temperature sensor, MxActivitySensor, ethernet patch cable 0,5 m/1.65 ft
• Interfaces: Ethernet 10/100 (RJ45), USB; I/O and RS232 via Interface Box (MOBOTIX accessory)
MX-D16A-P-6N6N041
Request quote
IP camera with PAN sensor bridge
• Mx6 system platform with H.264, MxPEG and M-JPEG
• 2 Moonlight sensors night, 6MP (3072 x 2048)
• HD premium lenses: 2x B041 super wide-angle (horiz. image angle 180°)
• Max. image size: 2x 6MP (6144 x 2048 Pixel)
• IP54 without accessories, IP65/IK10 with Outdoor Wall Mount, IP66/IK10+ with Vandalism Set, each -30 bis 60 °C (-22 to 140°F)
• Internal DVR: 4 GB microSD
• Speaker, microphone, PIR sensor, temperature sensor, MxActivitySensor, ethernet patch cable 0,5 m/1.65 ft
• Interfaces: Ethernet 10/100 (RJ45), USB; I/O and RS232 via Interface Box (MOBOTIX accessory)
MX-S16A
Request quote
S16 camera module (body) for connecting one or two S16/S15 sensor modules (to be ordered individually)
• Mx6 system platform with H.264, MxPEG and M-JPEG
• Image sensor options (via sensor module): 6 megapixels, color (day) and/or B/W (night) and/or thermal
• Lens options (via optical sensor module): horizontal image angle from 180° to 8°
• IP65, -30 to 60°C (-22 to 140°F)
• Internal DVR: 4 GB microSD
• System components: temperature sensor, MxActivitySensor, ethernet patch cable 0.5 m/1.65 ft
• Interfaces: 2x connection for MOBOTIX sensor module (Cam1/Cam2), Ethernet 10/100 (RJ45 and LSA), USB, Audio (I/O); RS232 via MX Interface Box
MX-S16A-S1
Request quote
S16 camera module (body), Mx6 system platform with H.264, MxPEG and M-JPEG
• 1x sensor module with HD premium lens B016 (f/2.0, horiz. image angle 180°) and Moonlight sensor day, 6MP (3072 x 2048)
• 1x sensor cable 2 m/6.6 ft
• 1x extension set
• 1x ethernet patch cable 0.5 m/1.65 ft
• 1x replacement dome
• IP66
• Optional connection of a second sensor module (incl. Thermal)
MX-S16A-S2
Request quote
S16 camera module (body, Mx6 system platform with H.264, MxPEG and M-JPEG
• 2x sensor module with HD premium lens B016 (f/2.0, horiz. image angle 180°) and Moonlight sensor day, 6MP (3072 x 2048)
• 2x sensor cable 2 m/6.6 ft
• 2x extension set
• 1x ethernet patch cable 0.5 m/1.65 ft
• 2x replacement dome
• IP66
MX-S16A-S3
Request quote
S16 camera module (body), Mx6 system platform with H.264, MxPEG and M-JPEG
• 1x sensor module with HD premium lens B016 (f/2.0, horiz. image angle 180°) and Moonlight sensor day, 6MP (3072 x 2048)
• 1x sensor module with HD premium lens B016 (f/2.0, horiz. image angle 180°) and Moonlight sensor night, 6MP (3072 x 2048)
• 2x sensor cable 2 m/6.6 ft
• 1x extension set
• 1x ethernet patch cable 0.5 m/1.65 ft
• 2x replacement dome
• IP66
MX-V16A-6D041
Request quote
V16 Vandalism with one 6MP Moonlight sensor day (3072 x 2048), HD premium lens B041 (f/1.8, horiz. image angle 90°)
• Mx6 system platform with H.264, MxPEG and M-JPEG
• 3-5 mm stainless steel casing
• IK10++/IP65
• Functional range like S16
• HD Audio: Microphone and speaker integrated in the housing
MX-V16A-6D079
Request quote
V16 Vandalism with one 6MP Moonlight sensor day (3072 x 2048), HD premium lens B079 (f/1.8, horiz. image angle 45°)
• Mx6 system platform with H.264, MxPEG and M-JPEG
• 3-5 mm stainless steel casing
• IK10++/IP65
• Functional range like S16
• HD Audio: Microphone and speaker integrated in the housing
MX-V16A-6D6D041
Request quote
V16 Vandalism with two 6MP Moonlight sensors (3072 x 2048): 2x Color (day), two HD premium lenses B041 (f/1.8, horiz. image angle 90°)
• Mx6 system platform with H.264, MxPEG and M-JPEG
• 3-5 mm stainless steel casing
• IK10++/IP65
• Functional range like S16
• HD Audio: Microphone and speaker integrated in the housing
MX-V16A-6D6D079
Request quote
V16 Vandalism with two 6MP Moonlight sensors (3072 x 2048): 2x color (day), two HD premium lenses B079 (f/1.8, horiz. image angle 45°)
• Mx6 system platform with H.264, MxPEG and M-JPEG
• 3-5 mm stainless steel casing
• IK10++/IP65
• Functional range like S16
• HD Audio: Microphone and speaker integrated in the housing
MX-V16A-6D6N041
Request quote
V16 Vandalism with two 6MP Moonlight sensors (3072 x 2048): 1x color (day), 1x B/W (night), two HD premium lenses B041 (f/1.8, horiz. image angle 90°)
• Mx6 system platform with H.264, MxPEG and M-JPEG
• 3-5 mm stainless steel casing
• IK10++/IP65
• Functional range like S16
• HD Audio: Microphone and speaker integrated in the housing
MX-V16A-6D6N079
Request quote
V15 Vandalism with two 6MP Moonlight sensors (3072 x 2048): 1x color (day), 1x B/W (night), two HD premium lenses B079 (f/1.8, horiz. image angle 45°)
• Mx6 system platform with H.264, MxPEG and M-JPEG
• 3-5 mm stainless steel casing
• IK10++/IP65
• Functional range like S16
• HD Audio: Microphone and speaker integrated in the housing
MX-V16A-6N6N041
Request quote
V16 Vandalism with two 6MP Moonlight sensors (3072 x 2048): 2x B/W (night), two HD premium lenses B041 (f/1.8, horiz. image angle 90°)
• Mx6 system platform with H.264, MxPEG and M-JPEG
• 3-5 mm stainless steel casing
• IK10++/IP65
• Functional range like S16
• HD Audio: Microphone and speaker integrated in the housing
MX-V16A-6N6N079
Request quote
V16 Vandalism with two 6MP Moonlight sensors (3072 x 2048): 2x B/W (night), two HD premium lenses B079 (f/1.8, horiz. image angle 45°)
• Mx6 system platform with H.264, MxPEG and M-JPEG
• 3-5 mm stainless steel casing
• IK10++/IP65
• Functional range like S16
• HD Audio: Microphone and speaker integrated in the housing
MX-M26A-6D
Request quote
IP camera module (body) with 6 Megapixel Moonlight Sensor, color (day)
• Mx6 system platform with H.264, MxPEG and M-JPEG
• Lens to be ordered individually (B036 to B500)
• For mounting the Super Tele Lens MX-B500, the Extended Replacement Lens Cover is needed (MOBOTIX accessory: MX-M24M-OPT-LCGL)
• Max. image size: 6MP (3072 x 2048)
• IP66/IK10, -30 to 50°C (-22 to 122°F)
• Internal DVR: 4 GB microSD
• HD Audio with integrated microphone and speaker
• Temperature sensor, MxActivitySensor, MxAnalytics, ethernet patch cable 0.5 m/1.6 ft
• Interfaces: Ethernet 10/100 (RJ45), USB; I/O and RS232 via MX-232-IO-Box (MX-OPT-RS1-EXT)
MX-M26A-6D016
Request quote
Hemispheric IP camera with 6 Megapixel Moonlight Sensor, color (day)
• HD premium fisheye lens B016 (focal length 1.6 mm, f/2.0, 180° x 180°)
• Max. image size: 6MP (3072 x 2048)
• IP66/IK10, -30 to 50°C (-22 to 122°F)
• Internal DVR: 4 GB microSD
• HD Audio with integrated microphone and speaker
• Temperature sensor, MxActivitySensor, MxAnalytics, ethernet patch cable 0.5 m/1.6 ft
• Interfaces: Ethernet 10/100 (RJ45), USB; I/O and RS232 via MX-232-IO-Box (MX-OPT-RS1-EXT)
MX-M26A-6N
Request quote
IP camera module (body) with 6 Megapixel Moonlight Sensor, B/W (night)
• Mx6 system platform with H.264, MxPEG and M-JPEG
• Lens to be ordered individually (B036 to B500)
• For mounting the Super Tele Lens B500, the Extended Replacement Lens Cover is needed (MOBOTIX accessory: MX-M24M-OPT-LCGL)
• Max. image size: 6MP (3072 x 2048)
• IP66/IK10, -30 to 50°C (-22 to 122°F)
• Internal DVR: 4 GB microSD
• HD Audio with integrated microphone and speaker
• Temperature sensor, MxActivitySensor, MxAnalytics, ethernet patch cable 0.5 m/1.6 ft
• Interfaces: Ethernet 10/100 (RJ45), USB; I/O and RS232 via MX-232-IO-Box (MX-OPT-RS1-EXT)
MX-M26A-6D036
Request quote
IP camera with 6 Megapixel Moonlight Sensor, color (day)
• Mx6 system platform with H.264, MxPEG and M-JPEG
• Ultra Wide Lens B036 (focal length 3.6 mm, f/1.8, 103° x 77°)
• Max. image size: 6MP (3072 x 2048)
• IP66/IK10, -30 to 50°C (-22 to 122°F)
• Internal DVR: 4 GB microSD
• HD Audio with integrated microphone and speaker
• Temperature sensor, MxActivitySensor, MxAnalytics, ethernet patch cable 0.5 m/1.6 ft
• Interfaces: Ethernet 10/100 (RJ45), USB; I/O and RS232 via MX-232-IO-Box (MX-OPT-RS1-EXT)
MX-M26A-6D041
Request quote
IP camera with 6 Megapixel Moonlight Sensor, color (day)
• Mx6 system platform with H.264, MxPEG and M-JPEG
• Super Wide Lens B041 (focal length 4.1 mm, f/1.8, 90° x 67°)
• Max. image size: 6MP (3072 x 2048)
• IP66/IK10, -30 to 50°C (-22 to 122°F)
• Internal DVR: 4 GB microSD
• HD Audio with integrated microphone and speaker
• Temperature sensor, MxActivitySensor, MxAnalytics, ethernet patch cable 0.5 m/1.6 ft
• Interfaces: Ethernet 10/100 (RJ45), USB; I/O and RS232 via MX-232-IO-Box (MX-OPT-RS1-EXT)
MX-M26A-6D061
Request quote
IP camera with 6 Megapixel Moonlight Sensor, color (day)
• Mx6 system platform with H.264, MxPEG and M-JPEG
• Wide Lens B061 (focal length 6.1 mm, f/1.8, 60° x 45°)
• Max. image size: 6MP (3072 x 2048)
• IP66/IK10, -30 to 50°C (-22 to 122°F)
• Internal DVR: 4 GB microSD
• HD Audio with integrated microphone and speaker
• Temperature sensor, MxActivitySensor, MxAnalytics, ethernet patch cable 0.5 m/1.6 ft
• Interfaces: Ethernet 10/100 (RJ45), USB; I/O and RS232 via MX-232-IO-Box (MX-OPT-RS1-EXT)
MX-M26A-6D079
Request quote
IP camera with 6 Megapixel Moonlight Sensor, color (day)
• Mx6 system platform with H.264, MxPEG and M-JPEG
• Standard Lens B079 (focal length 7.9 mm, f/1.8, 45° x 34°)
• Max. image size: 6MP (3072 x 2048)
• IP66/IK10, -30 to 50°C (-22 to 122°F)
• Internal DVR: 4 GB microSD
• HD Audio with integrated microphone and speaker
• Temperature sensor, MxActivitySensor, MxAnalytics, ethernet patch cable 0.5 m/1.6 ft
• Interfaces: Ethernet 10/100 (RJ45), USB; I/O and RS232 via MX-232-IO-Box (MX-OPT-RS1-EXT)
MX-M26A-6D119
Request quote
IP camera with 6 Megapixel Moonlight Sensor, color (day)
• Mx6 system platform with H.264, MxPEG and M-JPEG
• Tele Lens B119 (focal length 11.9 mm, f/1.8, 31° x 23°)
• Max. image size: 6MP (3072 x 2048)
• IP66/IK10, -30 to 50°C (-22 to 122°F)
• Internal DVR: 4 GB microSD
• HD Audio with integrated microphone and speaker
• Temperature sensor, MxActivitySensor, MxAnalytics, ethernet patch cable 0.5 m/1.6 ft
• Interfaces: Ethernet 10/100 (RJ45), USB; I/O and RS232 via MX-232-IO-Box (MX-OPT-RS1-EXT)
MX-M26A-6D237
Request quote
IP camera with 6 Megapixel Moonlight Sensor, color (day)
• Mx6 system platform with H.264, MxPEG and M-JPEG
• Distant Tele Lens B237 (focal length 23.7 mm, f/1.8, 15° x 11°)
• Max. image size: 6MP (3072 x 2048)
• IP66/IK10, -30 to 50°C (-22 to 122°F)
• Internal DVR: 4 GB microSD
• HD Audio with integrated microphone and speaker
• Temperature sensor, MxActivitySensor, MxAnalytics, ethernet patch cable 0.5 m/1.6 ft
• Interfaces: Ethernet 10/100 (RJ45), USB; I/O and RS232 via MX-232-IO-Box (MX-OPT-RS1-EXT)
MX-M26A-6D500
Request quote
IP camera with 6 Megapixel Moonlight Sensor, color (day)
• Mx6 system platform with H.264, MxPEG and M-JPEG
• Super Tele Lens B500 (focal length 50 mm, f/2.5, 8° x 6°)
• Max. image size: 6MP (3072 x 2048)
• IP66/IK10, -30 to 50°C (-22 to 122°F)
• Internal DVR: 4 GB microSD
• HD Audio with integrated microphone and speaker
• Temperature sensor, MxActivitySensor, MxAnalytics, ethernet patch cable 0.5 m/1.6 ft
• Interfaces: Ethernet 10/100 (RJ45), USB; I/O and RS232 via MX-232-IO-Box (MX-OPT-RS1-EXT)
MX-M26A-6N016
Request quote
Hemispheric IP camera with 6 Megapixel Moonlight Sensor, B/W (night)
• Mx6 system platform with H.264, MxPEG and M-JPEG
• HD premium fisheye lens B016 (focal length 1.6 mm, f/2.0, 180° x 180°)
• Max. image size: 6MP (3072 x 2048)
• IP66/IK10, -30 to 50°C (-22 to 122°F)
• Internal DVR: 4 GB microSD
• HD Audio with integrated microphone and speaker
• Temperature sensor, MxActivitySensor, MxAnalytics, ethernet patch cable 0.5 m/1.6 ft
• Interfaces: Ethernet 10/100 (RJ45), USB; I/O and RS232 via MX-232-IO-Box (MX-OPT-RS1-EXT)
MX-M26A-6N036
Request quote
IP camera with 6 Megapixel Moonlight Sensor, B/W (night)
• Mx6 system platform with H.264, MxPEG and M-JPEG
• Ultra Wide Lens B036 (focal length 3.6 mm, f/1.8, 103° x 77°)
• Max. image size: 6MP (3072 x 2048)
• IP66/IK10, -30 to 50°C (-22 to 122°F)
• Internal DVR: 4 GB microSD
• HD Audio with integrated microphone and speaker
• Temperature sensor, MxActivitySensor, MxAnalytics, ethernet patch cable 0.5 m/1.6 ft
• Interfaces: Ethernet 10/100 (RJ45), USB; I/O and RS232 via MX-232-IO-Box (MX-OPT-RS1-EXT)
MX-M26A-6N041
Request quote
IP camera with 6 Megapixel Moonlight Sensor, B/W (night)
• Mx6 system platform with H.264, MxPEG and M-JPEG
• Super Wide Lens B041 (focal length 4.1 mm, f/1.8, 90° x 67°)
• Max. image size: 6MP (3072 x 2048)
• IP66/IK10, -30 to 50°C (-22 to 122°F)
• Internal DVR: 4 GB microSD
• HD Audio with integrated microphone and speaker
• Temperature sensor, MxActivitySensor, MxAnalytics, ethernet patch cable 0.5 m/1.6 ft
• Interfaces: Ethernet 10/100 (RJ45), USB; I/O and RS232 via MX-232-IO-Box (MX-OPT-RS1-EXT)
MX-M26A-6N061
Request quote
IP camera with 6 Megapixel Moonlight Sensor, B/W (night)
• Mx6 system platform with H.264, MxPEG and M-JPEG
• Wide Lens B061 (focal length 6.1 mm, f/1.8, 60° x 45°)
• Max. image size: 6MP (3072 x 2048)
• IP66/IK10, -30 to 50°C (-22 to 122°F)
• Internal DVR: 4 GB microSD
• HD Audio with integrated microphone and speaker
• Temperature sensor, MxActivitySensor, MxAnalytics, ethernet patch cable 0.5 m/1.6 ft
• Interfaces: Ethernet 10/100 (RJ45), USB; I/O and RS232 via MX-232-IO-Box (MX-OPT-RS1-EXT)
MX-M26A-6N079
Request quote
IP camera with 6 Megapixel Moonlight Sensor, B/W (night)
• Mx6 system platform with H.264, MxPEG and M-JPEG
• Standard Lens B079 (focal length 7.9 mm, f/1.8, 45° x 34°)
• Max. image size: 6MP (3072 x 2048)
• IP66/IK10, -30 to 50°C (-22 to 122°F)
• Internal DVR: 4 GB microSD
• HD Audio with integrated microphone and speaker
• Temperature sensor, MxActivitySensor, MxAnalytics, ethernet patch cable 0.5 m/1.6 ft
• Interfaces: Ethernet 10/100 (RJ45), USB; I/O and RS232 via MX-232-IO-Box (MX-OPT-RS1-EXT)
MX-M26A-6N119
Request quote
IP camera with 6 Megapixel Moonlight Sensor, B/W (night)
• Mx6 system platform with H.264, MxPEG and M-JPEG
• Tele Lens B119 (focal length 11.9 mm, f/1.8, 31° x 23°)
• Max. image size: 6MP (3072 x 2048)
• IP66/IK10, -30 to 50°C (-22 to 122°F)
• Internal DVR: 4 GB microSD
• HD Audio with integrated microphone and speaker
• Temperature sensor, MxActivitySensor, MxAnalytics, ethernet patch cable 0.5 m/1.6 ft
• Interfaces: Ethernet 10/100 (RJ45), USB; I/O and RS232 via MX-232-IO-Box (MX-OPT-RS1-EXT)
MX-M26A-6N237
Request quote
IP camera with 6 Megapixel Moonlight Sensor, B/W (night)
• Mx6 system platform with H.264, MxPEG and M-JPEG
• Distant Tele Lens B237 (focal length 23.7 mm, f/1.8, 15° x 11°)
• Max. image size: 6MP (3072 x 2048)
• IP66/IK10, -30 to 50°C (-22 to 122°F)
• Internal DVR: 4 GB microSD
• HD Audio with integrated microphone and speaker
• Temperature sensor, MxActivitySensor, MxAnalytics, ethernet patch cable 0.5 m/1.6 ft
• Interfaces: Ethernet 10/100 (RJ45), USB; I/O and RS232 via MX-232-IO-Box (MX-OPT-RS1-EXT)
MX-M26A-6N500
Request quote
IP camera with 6 Megapixel Moonlight Sensor, B/W (night)
• Mx6 system platform with H.264, MxPEG and M-JPEG
• Super Tele Lens B500 (focal length 50 mm, f/2.5, 8° x 6°)
• Max. image size: 6MP (3072 x 2048)
• IP66/IK10, -30 to 50°C (-22 to 122°F)
• Internal DVR: 4 GB microSD
• HD Audio with integrated microphone and speaker
• Temperature sensor, MxActivitySensor, MxAnalytics, ethernet patch cable 0.5 m/1.6 ft
• Interfaces: Ethernet 10/100 (RJ45), USB; I/O and RS232 via MX-232-IO-Box (MX-OPT-RS1-EXT)
MX-D26A-6D
Request quote
D26 camera module (body) with 6 Megapixel Moonlight Sensor, B/W (night)
• Mx6 system platform with H.264, MxPEG and M-JPEG
• Lens to be ordered individually (B036 to B237)
• Max. image size: 6MP (3072 x 2048)
• IP66/IK10, -30 to 50°C (-22 to 122°F)
• Internal DVR: 4 GB microSD
• Temperature sensor, MxActivitySensor, MxAnalytics, ethernet patch cable 0.5 m/1.6 ft
• Lens cover with sealing ring (polycarbonate, 1.5 mm)
• Interfaces: Ethernet 10/100 (RJ45), USB; I/O and RS232 via MX-232-IO-Box (MX-OPT-RS1-EXT)
MX-D26A-6N
Request quote
D26 camera module (body) with 6 Megapixel Moonlight Sensor, B/W (night)
• Mx6 system platform with H.264, MxPEG and M-JPEG
• Lens to be ordered individually (B036 to B237)
• Max. image size: 6MP (3072 x 2048)
• IP66/IK10, -30 to 50°C (-22 to 122°F)
• Internal DVR: 4 GB microSD
• Temperature sensor, MxActivitySensor, MxAnalytics, ethernet patch cable 0.5 m/1.6 ft
• Lens cover with sealing ring (polycarbonate, 1.5 mm)
• Interfaces: Ethernet 10/100 (RJ45), USB; I/O and RS232 via MX-232-IO-Box (MX-OPT-RS1-EXT)
MX-D26A-6D036
Request quote
IP camera with 6 Megapixel Moonlight Sensor, color (day)
• Mx6 system platform with H.264, MxPEG and M-JPEG
• Ultra wide lens B036 (f/1.8, 103° x 77°)
• Max. image size: 6MP (3072 x 2048)
• IP66/IK10, -30 to 50°C (-22 to 122°F)
• Internal DVR: 4 GB microSD
• Temperature sensor, MxActivitySensor, MxAnalytics, ethernet patch cable 0.5 m/1.6 ft, lens cover with sealing ring
• Interfaces: Ethernet 10/100 (RJ45), USB; I/O and RS232 via MX-232-IO-Box (MX-OPT-RS1-EXT)
MX-D26A-6D041
Request quote
IP camera with 6 Megapixel Moonlight Sensor, color (day)
• Mx6 system platform with H.264, MxPEG and M-JPEG
• Super wide lens B041 (f/1.8, 90° x 67°)
• Max. image size: 6MP (3072 x 2048)
• IP66/IK10, -30 to 50°C (-22 to 122°F)
• Internal DVR: 4 GB microSD
• Temperature sensor, MxActivitySensor, MxAnalytics, ethernet patch cable 0.5 m/1.6 ft, lens cover with sealing ring
• Interfaces: Ethernet 10/100 (RJ45), USB; I/O and RS232 via MX-232-IO-Box (MX-OPT-RS1-EXT)
MX-D26A-6D061
Request quote
IP camera with 6 Megapixel Moonlight Sensor, color (day)
• Mx6 system platform with H.264, MxPEG and M-JPEG
• Wide lens B061 (f/1.8, 60° x 45°)
• Max. image size: 6MP (3072 x 2048)
• IP66/IK10, -30 to 50°C (-22 to 122°F)
• Internal DVR: 4 GB microSD
• Temperature sensor, MxActivitySensor, MxAnalytics, ethernet patch cable 0.5 m/1.6 ft, lens cover with sealing ring
• Interfaces: Ethernet 10/100 (RJ45), USB; I/O and RS232 via MX-232-IO-Box (MX-OPT-RS1-EXT)
MX-D26A-6D079
Request quote
IP camera with 6 Megapixel Moonlight Sensor, color (day)
• Mx6 system platform with H.264, MxPEG and M-JPEG
• Standard lens B079 (f/1.8, 45° x 34°)
• Max. image size: 6MP (3072 x 2048)
• IP66/IK10, -30 to 50°C (-22 to 122°F)
• Internal DVR: 4 GB microSD
• Temperature sensor, MxActivitySensor, MxAnalytics, ethernet patch cable 0.5 m/1.6 ft, lens cover with sealing ring
• Interfaces: Ethernet 10/100 (RJ45), USB; I/O and RS232 via Interface Box (MOBOTIX accessor
MX-D26A-6D119
Request quote
IP camera with 6 Megapixel Moonlight Sensor, color (day)
• Mx6 system platform with H.264, MxPEG and M-JPEG
• Tele lens B119 (f/1.8, 31° x 23°)
• Max. image size: 6MP (3072 x 2048)
• IP66/IK10, -30 to 50°C (-22 to 122°F)
• Internal DVR: 4 GB microSD
• Temperature sensor, MxActivitySensor, MxAnalytics, ethernet patch cable 0.5 m/1.6 ft, lens cover with sealing ring
• Interfaces: Ethernet 10/100 (RJ45), USB; I/O and RS232 via MX-232-IO-Box (MX-OPT-RS1-EXT)
MX-D26A-6D237
Request quote
IP camera with 6 Megapixel Moonlight Sensor, color (day)
• Mx6 system platform with H.264, MxPEG and M-JPEG
• Distance tele lens B237 (f/1.8, 15° x 11°)
• Max. image size: 6MP (3072 x 2048)
• IP66/IK10, -30 to 50°C (-22 to 122°F)
• Internal DVR: 4 GB microSD
• Temperature sensor, MxActivitySensor, MxAnalytics, ethernet patch cable 0.5 m/1.6 ft, lens cover with sealing ring
• Interfaces: Ethernet 10/100 (RJ45), USB; I/O and RS232 via MX-232-IO-Box (MX-OPT-RS1-EXT)
MX-D26A-6N036
Request quote
IP camera with 6 Megapixel Moonlight Sensor, B/W (night)
• Mx6 system platform with H.264, MxPEG and M-JPEG
• Ultra wide lens B036 (f/1.8, 103° x 77°)
• Max. image size: 6MP (3072 x 2048)
• IP66/IK10, -30 to 50°C (-22 to 122°F)
• Internal DVR: 4 GB microSD
• Temperature sensor, MxActivitySensor, MxAnalytics, ethernet patch cable 0.5 m/1.6 ft, lens cover with sealing ring
• Interfaces: Ethernet 10/100 (RJ45), USB; I/O and RS232 via MX-232-IO-Box (MX-OPT-RS1-EXT)
MX-D26A-6N041
Request quote
IP camera with 6 Megapixel Moonlight Sensor, B/W (night)
• Mx6 system platform with H.264, MxPEG and M-JPEG
• Super wide lens B041 (f/1.8, 90° x 67°)
• Max. image size: 6MP (3072 x 2048)
• IP66/IK10, -30 to 50°C (-22 to 122°F)
• Internal DVR: 4 GB microSD
• Temperature sensor, MxActivitySensor, MxAnalytics, ethernet patch cable 0.5 m/1.6 ft, lens cover with sealing ring
• Interfaces: Ethernet 10/100 (RJ45), USB; I/O and RS232 via MX-232-IO-Box (MX-OPT-RS1-EXT)
MX-D26A-6N061
Request quote
IP camera with 6 Megapixel Moonlight Sensor, B/W (night)
• Mx6 system platform with H.264, MxPEG and M-JPEG
• Wide lens B061 (f/1.8, 60° x 45°)
• Max. image size: 6MP (3072 x 2048)
• IP66/IK10, -30 to 50°C (-22 to 122°F)
• Internal DVR: 4 GB microSD
• Temperature sensor, MxActivitySensor, MxAnalytics, ethernet patch cable 0.5 m/1.6 ft, lens cover with sealing ring
• Interfaces: Ethernet 10/100 (RJ45), USB; I/O and RS232 via MX-232-IO-Box (MX-OPT-RS1-EXT)
MX-D26A-6N079
Request quote
IP camera with 6 Megapixel Moonlight Sensor, B/W (night)
• Mx6 system platform with H.264, MxPEG and M-JPEG
• Standard lens B079 (f/1.8, 45° x 34°)
• Max. image size: 6MP (3072 x 2048)
• IP66/IK10, -30 to 50°C (-22 to 122°F)
• Internal DVR: 4 GB microSD
• Temperature sensor, MxActivitySensor, MxAnalytics, ethernet patch cable 0.5 m/1.6 ft, lens cover with sealing ring
• Interfaces: Ethernet 10/100 (RJ45), USB; I/O and RS232 via MX-232-IO-Box (MX-OPT-RS1-EXT)
MX-D26A-6N119
Request quote
IP camera with 6 Megapixel Moonlight Sensor, B/W (night)
• Mx6 system platform with H.264, MxPEG and M-JPEG
• Tele lens B119 (f/1.8, 31° x 23°)
• Max. image size: 6MP (3072 x 2048)
• IP66/IK10, -30 to 50°C (-22 to 122°F)
• Internal DVR: 4 GB microSD
• Temperature sensor, MxActivitySensor, MxAnalytics, ethernet patch cable 0.5 m/1.6 ft, lens cover with sealing ring
• Interfaces: Ethernet 10/100 (RJ45), USB; I/O and RS232 via MX-232-IO-Box (MX-OPT-RS1-EXT)
MX-D26A-6N237
Request quote
IP camera with 6 Megapixel Moonlight Sensor, B/W (night)
• Mx6 system platform with H.264, MxPEG and M-JPEG
• Distance tele lens B237 (f/1.8, 15° x 11°)
• Max. image size: 6MP (3072 x 2048)
• IP66/IK10, -30 to 50°C (-22 to 122°F)
• Internal DVR: 4 GB microSD
• Temperature sensor, MxActivitySensor, MxAnalytics, ethernet patch cable 0.5 m/1.6 ft, lens cover with sealing ring
• Interfaces: Ethernet 10/100 (RJ45), USB; I/O and RS232 via MX-232-IO-Box (MX-OPT-RS1-EXT)
MX-Q26A-6D016
Request quote
Hemispheric IP camera with 6 Megapixel Moonlight Sensor, color (day)
• Mx6 system platform with H.264, MxPEG and M-JPEG
• HD premium fisheye lens B016 (focal length 1.6 mm, f/2.0, 180° x 180°)
• Max. image size: 6MP (3072 x 2048)
• IP66/IK06, -30 to 50°C (-22 to 122°F)
• Internal DVR: 4 GB microSD
• HD Audio with integrated microphone and speaker
• Temperature sensor, MxActivitySensor, MxAnalytics (incl. behavioral detection), ethernet patch cable 0.5 m/1.6 ft
• Interfaces: Ethernet 10/100 (RJ45), USB; I/O and RS232 via MX-232-IO-Box (MX-OPT-RS1-EXT)
MX-Q26A-6N016
Request quote
Hemispheric IP camera with 6 Megapixel Moonlight Sensor, B/W (night)
• Mx6 system platform with H.264, MxPEG and M-JPEG
• HD premium fisheye lens B016 (focal length 1.6 mm, f/2.0, 180° x 180°)
• Max. image size: 6MP (3072 x 2048)
• IP66/IK06, -30 to 50°C (-22 to 122°F)
• Internal DVR: 4 GB microSD
• HD Audio with integrated microphone and speaker
• Temperature sensor, MxActivitySensor, MxAnalytics (incl. behavioral detection), ethernet patch cable 0.5 m/1.6 ft
• Interfaces: Ethernet 10/100 (RJ45), USB; I/O and RS232 via MX-232-IO-Box (MX-OPT-RS1-EXT)
MX-S26A-6D016
Request quote
Hemispheric IP camera with 6 Megapixel Moonlight Sensor, color (day)
• Mx6 system platform with H.264, MxPEG and M-JPEG
• HD premium fisheye lens B016 (focal length 1.6 mm, f/2.0, 180° x 180°)
• Max. image size: 6MP (3072 x 2048)
• IP66/IK07, -30 to 60°C (-22 to 140°F)
• Internal DVR: 4 GB microSD
• Temperature sensor, MxActivitySensor, MxAnalytics (incl. behavioral detection), ethernet patch cable 0.5 m/1.6 ft
• Interfaces: Ethernet 10/100 (RJ45), USB; I/O and RS232 via MX-232-IO-Box (MX-OPT-RS1-EXT)
MX-S26A-6N016
Request quote
Hemispheric IP camera with 6 Megapixel Moonlight Sensor, BW (night)
• Mx6 system platform with H.264, MxPEG and M-JPEG
• HD premium fisheye lens B016 (focal length 1.6 mm, f/2.0, 180° x 180°)
• Max. image size: 6MP (3072 x 2048)
• IP66/IK07, -30 to 60°C (-22 to 140°F)
• Internal DVR: 4 GB microSD
• Temperature sensor, MxActivitySensor, MxAnalytics (incl. behavioral detection), ethernet patch cable 0.5 m/1.6 ft
• Interfaces: Ethernet 10/100 (RJ45), USB; I/O and RS232 via MX-232-IO-Box (MX-OPT-RS1-EXT)
MX-M15D-Sec
Request quote
15 camera module for connecting one or two sensor modules (to be ordered individually)
• Image sensor options (via sensor module): 5 or 6 megapixels, color (day) and/or B/W (night)
• Lens options (via sensor module): horizontal image angle from 180° to 8°
• Max. image size (per image sensor): 6MP (3072 x 2048 pixels)
• Operating conditions: IP66, -30 to 60°C (-22 to 140°F)
• Internal DVR: 4 GB microSD
• System components: speaker and microphone (inside housing), PIR sensor, temperature sensor, shock detector, MxActivitySensor, VarioFlex wall/ceiling mount (can be used with additional pole mount: MX-MH-SecureFlex-ESWS), ethernet patch cable 0.5 m/1.65 ft
• Interfaces: Ethernet 10/100 (RJ45), MxBus, USB; IO and RS232 via additional MX Interface Box
• Incl. 1 Blind Module (MX-SM-Blind-PW)
MX-M15D-Sec-DNight-D22N22-6MP-F1.8
Request quote
IP camera set with two installed sensor modules
• Image sensors (via sensor module): 1/1.8" CMOS, 6 megapixels, 1x day and 1x night
• HD premium lenses (via sensor module): 2x L22/B041 super wide-angle (f/1.8, horizontal image angle 90°)
• Max. image size (per image sensor): 6MP (3072 x 2048 pixels)
• IP66, -30 to 60°C (-22 to 140°F)
• Internal DVR: 4 GB microSD
• Camera components: speaker and microphone (inside housing), PIR sensor, temperature sensor, shock detector, MxActivitySensor, VarioFlex wall/ceiling mount (can be used with additional pole mount: MX-MH-SecureFlex-ESWS), ethernet patch cable 0.5 m/1.65 ft
• Interfaces: Ethernet 10/100 (RJ45), MxBus, USB; IO and RS232 via additional MX Interface Box
MX-M15D-Sec-DNight-D43N43-6MP-F1.8
Request quote
IP camera set with two installed sensor modules
• Image sensors (via sensor module): 1/1.8" CMOS, 6 megapixels, 1x day and 1x night
• HD premium lenses (via sensor module): 2x L43/B079 standard (f/1.8, horizontal image angle 45°)
• Max. image size (per image sensor): 6MP (3072 x 2048 pixels)
• IP66, -30 to 60°C (-22 to 140°F)
• Internal DVR: 4 GB microSD
• Camera components: speaker and microphone (inside housing), PIR sensor, temperature sensor, shock detector, MxActivitySensor, VarioFlex wall/ceiling mount (can be used with additional pole mount: MX-MH-SecureFlex-ESWS), ethernet patch cable 0.5 m/1.65 ft
• Interfaces: Ethernet 10/100 (RJ45), MxBus, USB; IO and RS232 via additional MX Interface Box
MX-M15D-Sec-DNight-D20N20-6MP-F1.8
Request quote
IP camera set with two installed sensor modules
• Image sensors (via sensor module): 1/1.8" CMOS, 6 megapixels, 1x day and 1x night
• HD premium lenses (via sensor module): 2x L20/B036 ultra wide-angle (f/1.8, horizontal image angle 103°)
• Max. image size (per image sensor): 6MP (3072 x 2048 pixels)
• IP66, -30 to 60°C (-22 to 140°F)
• Internal DVR: 4 GB microSD
• Systemcomponents: speaker and microphone (inside housing), PIR sensor, temperature sensor, shock detector, MxActivitySensor, VarioFlex wall/ceiling mount (can be used with additional pole mount: MX-MH-SecureFlex-ESWS), ethernet patch cable 0.5 m/1.65 ft
• Interfaces: Ethernet 10/100 (RJ45), MxBus, USB; IO and RS232 via additional MX Interface Box
MX-M15D-Sec-DNight-D32N32-6MP-F1.8
Request quote
IP camera set with two installed sensor modules
• Image sensors (via sensor module): 1/1.8" CMOS, 6 megapixels, 1x day and 1x night
• HD premium lenses (via sensor module): 2x L32/B061 wide-angle (f/1.8, horizontal image angle 60°)
• Max. image size (per image sensor): 6MP (3072 x 2048 pixels)
• IP66, -30 to 60°C (-22 to 140°F)
• Internal DVR: 4 GB microSD
• Camera components: speaker and microphone (inside housing), PIR sensor, temperature sensor, shock detector, MxActivitySensor, VarioFlex wall/ceiling mount (can be used with additional pole mount: MX-MH-SecureFlex-ESWS), ethernet patch cable 0.5 m/1.65 ft
• Interfaces: Ethernet 10/100 (RJ45), MxBus, USB; IO and RS232 via additional MX Interface Box
MX-M15D-Sec-DNight-D65N65-6MP-F1.8
Request quote
IP camera set with two installed sensor modules
• Image sensors (via sensor module): 1/1.8" CMOS, 6 megapixels, 1x day and 1x night
• HD premium lenses (via sensor module): 2x L65/B119 tele (f/1.8, horizontal image angle 31°)
• Max. image size (per image sensor): 6MP (3072 x 2048 pixels)
• IP66, -30 to 60°C (-22 to 140°F)
• Internal DVR: 4 GB microSD
• Camera components: speaker and microphone (inside housing), PIR sensor, temperature sensor, shock detector, MxActivitySensor, VarioFlex wall/ceiling mount (can be used with additional pole mount: MX-MH-SecureFlex-ESWS), ethernet patch cable 0.5 m/1.65 ft
• Interfaces: Ethernet 10/100 (RJ45), MxBus, USB; IO and RS232 via additional MX-232-IO-Box
MX-M15D-Sec-DNight-D135N135-6MP-F1.8
Request quote
IP camera set with two installed sensor modules
• Image sensors (via sensor module): 1/1.8" CMOS, 6 megapixels, 1x day and 1x night
• HD premium lenses (via sensor module): 2x L135/B237 tele (f/1.8, horizontal image angle 15°)
• Max. image size (per image sensor): 6MP (3072 x 2048 pixels)
• IP66, -30 to 60°C (-22 to 140°F)
• Internal DVR: 4 GB microSD
• Camera components: speaker and microphone (inside housing), PIR sensor, temperature sensor, shock detector, MxActivitySensor, VarioFlex wall/ceiling mount (can be used with additional pole mount: MX-MH-SecureFlex-ESWS), ethernet patch cable 0.5 m/1.65 ft
• Interfaces: Ethernet 10/100 (RJ45), MxBus, USB; IO and RS232 via additional MX Interface Box
MX-D15Di-Sec
Request quote
IP camera module for connecting one or two sensor modules or a sensor bridgeFIX/PAN (to be ordered individually)
• Image sensor options (via lens unit/carrier): 6 megapixels, color (day) and/or B/W (night)
• Lens options (via lens unit): horizontal image angle from 103° to 15°
• Max. image size (per image sensor): 6MP (3072 x 2048 pixels)
• Operating conditions: IP54 without accessories, IP65/IK10 with Outdoor Wall Mount or IP66/IK10+ with Vandalism Set, each -30 to 60°C (-22 to 140°F)
• Internal DVR: 4 GB MicroSD
• Camera components: speaker, microphone, PIR sensor, temperature sensor, shock detector, MxActivitySensor, ethernet patch cable 0.5 m/1.65 ft
• Incl. Standard lens cover
• Interfaces: Ethernet 10/100 (RJ45), MxBus, USB; IO and RS232 via additional MX Interface Box
MX-D15Di-Sec-DNight-D20N20-FIX-6MP-F1.8
Request quote
IP camera with two parallel aligned lenses
• 6 megapixel Moonlight sensors, 1x day and 1x night
• HD premium lenses: 2x L20/B036 ultra wide-angle (f/1.8, horizontal image angle 103°)
• Max. image size (per image sensor): 6MP (3072 x 2048 pixels)
• IP54 without accessories, IP65/IK10 with Outdoor Wall Mount or IP66/IK10+ with Vandalism Set, each -30 to 60°C (-22 to 140°F)
• Internal DVR: 4 GB MicroSD
• Camera components: speaker, PIR sensor, temperature sensor, shock detector, MxActivitySensor, VarioFlex wall/ceiling mount (can be used with additional pole mount: MX-MH-SecureFlex-ESWS), ethernet patch cable 0.5 m/1.65 ft
• Interfaces: Ethernet 10/100 (RJ45), MxBus, USB; IO and RS232 via additional MX-232-IO-Box
MX-D15Di-Sec-DNight-D22N22-FIX-6MP-F1.8
Request quote
IP camera with two parallel aligned lenses
• 6 megapixel Moonlight sensors, 1x day and 1x night
• HD premium lenses: 2x L22/B041 super wide-angle (f/1.8, horizontal image angle 90°)
• Max. image size (per image sensor): 6MP (3072 x 2048 pixels)
• IP54 without accessories, IP65/IK10 with Outdoor Wall Mount or IP66/IK10+ with Vandalism Set, each -30 to 60°C (-22 to 140°F)
• Internal DVR: 4 GB MicroSD
• Camera components: speaker, PIR sensor, temperature sensor, shock detector, MxActivitySensor, VarioFlex wall/ceiling mount (can be used with additional pole mount: MX-MH-SecureFlex-ESWS), ethernet patch cable 0.5 m/1.65 ft
• Interfaces: Ethernet 10/100 (RJ45), MxBus, USB; IO and RS232 via additional MX-232-IO-Box
MX-D15Di-Sec-DNight-D32N32-FIX-6MP-F1.8
Request quote
IP camera with two parallel aligned lenses
• 6 megapixel Moonlight sensors, 1x day and 1x night
• HD premium lenses: 2x L32/B061 wide-angle (f/1.8, horizontal image angle 60°)
• Max. image size (per image sensor): 6MP (3072 x 2048 pixels)
• IP54 without accessories, IP65/IK10 with Outdoor Wall Mount or IP66/IK10+ with Vandalism Set, each -30 to 60°C (-22 to 140°F)
• Internal DVR: 4 GB MicroSD
• Camera components: speaker, PIR sensor, temperature sensor, shock detector, MxActivitySensor, VarioFlex wall/ceiling mount (can be used with additional pole mount: MX-MH-SecureFlex-ESWS), ethernet patch cable 0.5 m/1.65 ft
• Interfaces: Ethernet 10/100 (RJ45), MxBus, USB; IO and RS232 via additional MX-232-IO-Box
MX-D15Di-Sec-DNight-D43N43-FIX-6MP-F1.8
Request quote
IP camera with two parallel aligned lenses
• 6 megapixel Moonlight sensors, 1x day and 1x night
• HD premium lenses: 2x L43/B079 wide-angle (f/1.8, horizontal image angle 45°)
• Max. image size (per image sensor): 6MP (3072 x 2048 pixels)
• IP54 without accessories, IP65/IK10 with Outdoor Wall Mount or IP66/IK10+ with Vandalism Set, each -30 to 60°C (-22 to 140°F)
• Internal DVR: 4 GB MicroSD
• Camera components: speaker, PIR sensor, temperature sensor, shock detector, MxActivitySensor, VarioFlex wall/ceiling mount (can be used with additional pole mount: MX-MH-SecureFlex-ESWS), ethernet patch cable 0.5 m/1.65 ft
• Interfaces: Ethernet 10/100 (RJ45), MxBus, USB; IO and RS232 via additional MX-232-IO-Box
MX-D15Di-Sec-DNight-D65N65-FIX-6MP-F1.8
Request quote
IP camera with two parallel aligned lenses
• 6 megapixel Moonlight sensors, 1x day and 1x night
• HD premium lenses: 2x L65/B119 tele (f/1.8, horizontal image angle 31°)
• Max. image size (per image sensor): 6MP (3072 x 2048 pixels)
• IP54 without accessories, IP65/IK10 with Outdoor Wall Mount or IP66/IK10+ with Vandalism Set, each -30 to 60°C (-22 to 140°F)
• Internal DVR: 4 GB MicroSD
• Camera components: speaker, PIR sensor, temperature sensor, shock detector, MxActivitySensor, VarioFlex wall/ceiling mount (can be used with additional pole mount: MX-MH-SecureFlex-ESWS), ethernet patch cable 0.5 m/1.65 ft
• Interfaces: Ethernet 10/100 (RJ45), MxBus, USB; IO and RS232 via additional MX-232-IO-Box
MX-D15Di-Sec-DNight-D135N135-FIX-6MP-F1.8
Request quote
IP camera with two parallel aligned lens units
• 6 megapixel Moonlight sensors, 1x day and 1x night
• HD premium lenses: 2x L135/B237 tele (f/1.8, horizontal image angle 15°)
• Equipment line: Secure
• Max. image size (per image sensor): 6MP (3072 x 2048 pixels)
• IP54 without accessories, IP65/IK10 with Outdoor Wall Mount or IP66/IK10+ with Vandalism Set, each -30 to 60°C (-22 to 140°F)
• Internal DVR: 4 GB MicroSD
• Camera components: speaker, PIR sensor, temperature sensor, shock detector, MxActivitySensor, VarioFlex wall/ceiling mount (can be used with additional pole mount: MX-MH-SecureFlex-ESWS), ethernet patch cable 0.5 m/1.65 ft
• Interfaces: Ethernet 10/100 (RJ45), MxBus, USB; IO and RS232 via additional MX-232-IO-Box
MX-D15Di-Sec-180-6MP-F1.8
Request quote
IP camera with double lens unit
• 2 Moonlight sensors day, 6MP (3072 x 2048)
• HD premium lenses: 2x L22/B041 super wide-angle (horiz. image angle 180°)
• Max. image size: 2x 6MP (6144 x 2048 Pixel)
• IP54 without accessories, IP65/IK10 with Outdoor Wall Mount, IP66/IK10+ with Vandalism Set, each -30 bis 60 °C (-22 to 140°F)
• Internal DVR: 4 GB microSD
• Speaker, microphone, PIR sensor, temperature sensor, shock detector, MxActivitySensor, ethernet patch cable 0,5 m/1.65 ft
• Interfaces: Ethernet 10/100 (RJ45), MxBus, USB; I/O and RS232 via Interface Box (MOBOTIX accesory)
MX-D15Di-Sec-Night-180-6MP-F1.8
Request quote
IP camera with double lens unit
• 2 Moonlight sensors night, 6MP (3072 x 2048)
• HD premium lenses: 2x L22/B041 super wide-angle (horiz. image angle 180°)
• Max. image size: 2x 6MP (6144 x 2048 Pixel)
• IP54 without accessories, IP65/IK10 with Outdoor Wall Mount, IP66/IK10+ with Vandalism Set, each -30 bis 60 °C (-22 to 140°F)
• Internal DVR: 4 GB microSD
• Speaker, microphone, PIR sensor, temperature sensor, shock detector, MxActivitySensor, ethernet patch cable 0,5 m/1.65 ft
• Interfaces: Ethernet 10/100 (RJ45), MxBus, USB; I/O and RS232 via Interface Box (MOBOTIX accesory)
MX-S15D-Sec
Request quote
S15D camera module (body) for connecting one or two sensor modules (to be ordered individually)
• Image sensor options (via sensor module): 6 megapixels, color (day) and/or B/W (night) and/or thermal
• Lens options (via optical sensor module): horizontal image angle from 180° to 8°
• IP65, -30 to 60°C (-22 to 140°F)
• Internal DVR: 4 GB microSD
• System components: temperature sensor, shock detector, MxActivitySensor, ethernet patch cable 0.5 m/1.65 ft
• Interfaces: 2x connection for MOBOTIX sensor module (Cam1/Cam2), Ethernet 10/100 (RJ45 and LSA), MxBus, USB, Audio (I/O); RS232 via MX Interface Box
• Connection of MOBOTIX Door Station modules
MX-S15D-Set1-6MP
Request quote
S15D camera module (body)
• 1x sensor module with HD premium lens L10/B016 (f/2.0, horiz. image angle 180°) and Moonlight sensor day, 6MP (3072 x 2048)
• 1x sensor cable 2 m/6.6 ft
• 1x extension set
• 1x ethernet patch cable 0.5 m/1.65 ft
• 1x replacement dome
• IP66
• Optional connection of a second sensor module (incl. Thermal) or MOBOTIX Door Station modules
MX-S15D-Set2-6MP
Request quote
S15D IP camera module (body)
• 2x sensor module with HD premium lens L10/B016 (f/2.0, horiz. image angle 180°) and Moonlight sensor day, 6MP (3072 x 2048)
• 2x sensor cable 2 m/6.6 ft
• 2x extension set
• 1x ethernet patch cable 0.5 m/1.65 ft
• 2x replacement dome
• IP66
• Connection of MOBOTIX Door Station modules
MX-S15D-Set3-6MP
Request quote
S15D camera module (body)
• 1x sensor module with HD premium lens L10/B016 (f/2.0, horiz. image angle 180°) and Moonlight sensor day, 6MP (3072 x 2048)
• 1x sensor module with HD premium lens L10/B016 (f/2.0, horiz. image angle 180°) and Moonlight sensor night, 6MP (3072 x 2048)
• 2x sensor cable 2 m/6.6 ft
• 1x extension set
• 1x ethernet patch cable 0.5 m/1.65 ft
• 2x replacement dome
• IP66
• Connection of MOBOTIX Door Station modules
MX-S15-D016
Request quote
Hemispheric IP camera with 6 Megapixel Moonlight Sensor, color (day)
• HD premium fisheye lens B016 (focal length 1.6 mm, f/2.0, 180° x 180°)
• Max. image size: 6MP (3072 x 2048)
• IP65/IK06, -30 to 60°C (-22 to 140°F)
• Internal DVR: 4 GB microSD
• Temperature sensor, shock detector, MxActivitySensor, MxAnalytics (incl. behavioral detection), ethernet patch cable 0.5 m/1.6 ft
• Interfaces: Ethernet 10/100 (RJ45), MxBus, USB; I/O and RS232 via Interface Box (MOBOTIX accessory)
• Connection of MOBOTIX Door Station modules
MX-S15-N016
Request quote
Hemispheric IP camera with 6 Megapixel Moonlight Sensor, BW (night)
• HD premium fisheye lens B016 (focal length 1.6 mm, f/2.0, 180° x 180°)
• Max. image size: 6MP (3072 x 2048)
• IP65/IK06, -30 to 60°C (-22 to 140°F)
• Internal DVR: 4 GB microSD
• Temperature sensor, shock detector, MxActivitySensor, MxAnalytics (incl. behavioral detection), ethernet patch cable 0.5 m/1.6 ft
• Interfaces: Ethernet 10/100 (RJ45), MxBus, USB; I/O and RS232 via Interface Box (MOBOTIX accessory)
• Connection of MOBOTIX Door Station modules
MX-V15M-Sec-D22-6MP-F1.8
Request quote
V15 Vandalism with one 6MP Moonlight sensor day (3072 x 2048), HD premium lens L22/B041 (f/1.8, horiz. image angle 90°)
• 3-5 mm stainless steel casing
• IK10++/IP65
• Functional range like S15
• HD Audio: Microphone and speaker integrated in the housing
MX-V15M-Sec-D43-6MP-F1.8
Request quote
V15 Vandalism with one 6MP Moonlight sensor day (3072 x 2048), HD premium lens L43/B079 (f/1.8, horiz. image angle 45°)
• 3-5 mm stainless steel casing
• IK10++/IP65
• Functional range like S15
• HD Audio: Microphone and speaker integrated in the housing
MX-V15D-Sec-D22D22-6MP-F1.8
Request quote
V15 Vandalism with two 6MP Moonlight sensors (3072 x 2048): 2x color (day), two HD premium lenses L22/B041 (f/1.8, horiz. image angle 90°)
• 3-5 mm stainless steel casing
• IK10++/IP65
• Functional range like S15
• HD Audio: Microphone and speaker integrated in the housing
MX-V15D-Sec-DNight-D22N22-6MP-F1.8
Request quote
V15 Vandalism with two 6MP Moonlight sensors (3072 x 2048): 1x color (day), 1x B/W (night), two HD premium lenses L22/B041 (f/1.8, horiz. image angle 90°)
• 3-5 mm stainless steel casing
• IK10++/IP65
• Functional range like S15
• HD Audio: Microphone and speaker integrated in the housing
MX-V15D-Sec-Night-N22N22-6MP-F1.8
Request quote
V15 Vandalism with two 6MP Moonlight sensors (3072 x 2048): 2x B/W (night), two HD premium lenses L22/B041 (f/1.8, horiz. image angle 90°)
• 3-5 mm stainless steel casing
• IK10++/IP65
• Functional range like S15
• HD Audio: Microphone and speaker integrated in the housing
MX-V15D-Sec-D43D43-6MP-F1.8
Request quote
V15 Vandalism with two 6MP Moonlight sensors (3072 x 2048): 2x color (day), two HD premium lenses L43/B079 (f/1.8, horiz. image angle 45°)
• 3-5 mm stainless steel casing
• IK10++/IP65
• Functional range like S15
• HD Audio: Microphone and speaker integrated in the housing
MX-V15D-Sec-DNight-D43N43-6MP-F1.8
Request quote
V15 Vandalism with two 6MP Moonlight sensors (3072 x 2048): 1x color (day), 1x B/W (night), two HD premium lenses L43/B079 (f/1.8, horiz. image angle 45°)
• 3-5 mm stainless steel casing
• IK10++/IP65
• Functional range like S15
• HD Audio: Microphone and speaker integrated in the housing
MX-V15D-Sec-Night-N43N43-6MP-F1.8
Request quote
V15D Vandalism with two 6MP Moonlight sensors (3072 x 2048): 2x B/W (night), two HD premium lenses L43/B079 (f/1.8, horiz. image angle 45°)
• 3-5 mm stainless steel casing
• IK10++/IP65
• Functional range like S15
• HD Audio: Microphone and speaker integrated in the housing
MX-M25-BOD1
Request quote
IP camera module (body) with 6 Megapixel Moonlight Sensor, color (day)
• Lens to be ordered individually (B036 to B500)
• For mounting the Super Tele Lens MX-B500, the Extended Replacement Lens Cover is needed (MOBOTIX accessory: MX-M24M-OPT-LCGL)
• Max. image size: 6MP (3072 x 2048)
• IP66, -30 to 50°C (-22 to 122°F)
• Internal DVR: 4 GB microSD
• HD Audio with integrated microphone and speaker
• Temperature sensor, shock detector, MxActivitySensor, MxAnalytics, ethernet patch cable 0.5 m/1.6 ft
• Interfaces: Ethernet 10/100 (RJ45), MxBus, USB; I/O and RS232 via Interface Box (MOBOTIX accessory)
MX-M25-BOD1-N
Request quote
IP camera module (body) with 6 Megapixel Moonlight Sensor, B/W (night)
• Lens to be ordered individually (B036 to B500)
• For mounting the Super Tele Lens B500, the Extended Replacement Lens Cover is needed (MOBOTIX accessory: MX-M24M-OPT-LCGL)
• Max. image size: 6MP (3072 x 2048)
• IP66, -30 to 50°C (-22 to 122°F)
• Internal DVR: 4 GB microSD
• HD Audio with integrated microphone and speaker
• Temperature sensor, shock detector, MxActivitySensor, MxAnalytics, ethernet patch cable 0.5 m/1.6 ft
• Interfaces: Ethernet 10/100 (RJ45), MxBus, USB; I/O and RS232 via Interface Box (MOBOTIX accessory)
MX-M25-D016
Request quote
Hemispheric IP camera with 6 Megapixel Moonlight Sensor, color (day)
• HD premium fisheye lens B016 (focal length 1.6 mm, f/2.0, 180° x 180°)
• Max. image size: 6MP (3072 x 2048)
• IP66, -30 to 50°C (-22 to 122°F)
• Internal DVR: 4 GB microSD
• HD Audio with integrated microphone and speaker
• Temperature sensor, shock detector, MxActivitySensor, MxAnalytics, ethernet patch cable 0.5 m/1.6 ft
• Interfaces: Ethernet 10/100 (RJ45), MxBus, USB; I/O and RS232 via Interface Box (MOBOTIX accessory)
MX-M25-D036
Request quote
IP camera with 6 Megapixel Moonlight Sensor, color (day)
• Ultra Wide Lens B036 (focal length 3.6 mm, f/1.8, 103° x 77°)
• Max. image size: 6MP (3072 x 2048)
• IP66, -30 to 50°C (-22 to 122°F)
• Internal DVR: 4 GB microSD
• HD Audio with integrated microphone and speaker
• Temperature sensor, shock detector, MxActivitySensor, MxAnalytics, ethernet patch cable 0.5 m/1.6 ft
• Interfaces: Ethernet 10/100 (RJ45), MxBus, USB; I/O and RS232 via Interface Box (MOBOTIX accessory)
MX-M25-D041
Request quote
IP camera with 6 Megapixel Moonlight Sensor, color (day)
• Super Wide Lens B041 (focal length 4.1 mm, f/1.8, 90° x 67°)
• Max. image size: 6MP (3072 x 2048)
• IP66, -30 to 50°C (-22 to 122°F)
• Internal DVR: 4 GB microSD
• HD Audio with integrated microphone and speaker
• Temperature sensor, shock detector, MxActivitySensor, MxAnalytics, ethernet patch cable 0.5 m/1.6 ft
• Interfaces: Ethernet 10/100 (RJ45), MxBus, USB; I/O and RS232 via Interface Box (MOBOTIX accessory)
MX-M25-D061
Request quote
IP camera with 6 Megapixel Moonlight Sensor, color (day)
• Wide Lens B061 (focal length 6.1 mm, f/1.8, 60° x 45°)
• Max. image size: 6MP (3072 x 2048)
• IP66, -30 to 50°C (-22 to 122°F)
• Internal DVR: 4 GB microSD
• HD Audio with integrated microphone and speaker
• Temperature sensor, shock detector, MxActivitySensor, MxAnalytics, ethernet patch cable 0.5 m/1.6 ft
• Interfaces: Ethernet 10/100 (RJ45), MxBus, USB; I/O and RS232 via Interface Box (MOBOTIX accessory)
MX-M25-D079
Request quote
IP camera with 6 Megapixel Moonlight Sensor, color (day)
• Standard Lens B079 (focal length 7.9 mm, f/1.8, 45° x 34°)
• Max. image size: 6MP (3072 x 2048)
• IP66, -30 to 50°C (-22 to 122°F)
• Internal DVR: 4 GB microSD
• HD Audio with integrated microphone and speaker
• Temperature sensor, shock detector, MxActivitySensor, MxAnalytics, ethernet patch cable 0.5 m/1.6 ft
• Interfaces: Ethernet 10/100 (RJ45), MxBus, USB; I/O and RS232 via Interface Box (MOBOTIX accessory)
MX-M25-D119
Request quote
IP camera with 6 Megapixel Moonlight Sensor, color (day)
• Tele Lens B119 (focal length 11.9 mm, f/1.8, 31° x 23°)
• Max. image size: 6MP (3072 x 2048)
• IP66, -30 to 50°C (-22 to 122°F)
• Internal DVR: 4 GB microSD
• HD Audio with integrated microphone and speaker
• Temperature sensor, shock detector, MxActivitySensor, MxAnalytics, ethernet patch cable 0.5 m/1.6 ft
• Interfaces: Ethernet 10/100 (RJ45), MxBus, USB; I/O and RS232 via Interface Box (MOBOTIX accessory)
MX-M25-D237
Request quote
IP camera with 6 Megapixel Moonlight Sensor, color (day)
• Distant Tele Lens B237 (focal length 23.7 mm, f/1.8, 15° x 11°)
• Max. image size: 6MP (3072 x 2048)
• IP66, -30 to 50°C (-22 to 122°F)
• Internal DVR: 4 GB microSD
• HD Audio with integrated microphone and speaker
• Temperature sensor, shock detector, MxActivitySensor, MxAnalytics, ethernet patch cable 0.5 m/1.6 ft
• Interfaces: Ethernet 10/100 (RJ45), MxBus, USB; I/O and RS232 via Interface Box (MOBOTIX accessory)
MX-M25-D500
Request quote
IP camera with 6 Megapixel Moonlight Sensor, color (day)
• Super Tele Lens B500 (focal length 50 mm, f/2.5, 8° x 6°)
• Max. image size: 6MP (3072 x 2048)
• IP66, -30 to 50°C (-22 to 122°F)
• Internal DVR: 4 GB microSD
• HD Audio with integrated microphone and speaker
• Temperature sensor, shock detector, MxActivitySensor, MxAnalytics, ethernet patch cable 0.5 m/1.6 ft
• Interfaces: Ethernet 10/100 (RJ45), MxBus, USB; I/O and RS232 via Interface Box (MOBOTIX accessory)
MX-M25-N016
Request quote
Hemispheric IP camera with 6 Megapixel Moonlight Sensor, B/W (night)
• HD premium fisheye lens B016 (focal length 1.6 mm, f/2.0, 180° x 180°)
• Max. image size: 6MP (3072 x 2048)
• IP66, -30 to 50°C (-22 to 122°F)
• Internal DVR: 4 GB microSD
• HD Audio with integrated microphone and speaker
• Temperature sensor, shock detector, MxActivitySensor, MxAnalytics, ethernet patch cable 0.5 m/1.6 ft
• Interfaces: Ethernet 10/100 (RJ45), MxBus, USB; I/O and RS232 via Interface Box (MOBOTIX accessory)
MX-M25-N036
Request quote
IP camera with 6 Megapixel Moonlight Sensor, B/W (night)
• Ultra Wide Lens B036 (focal length 3.6 mm, f/1.8, 103° x 77°)
• Max. image size: 6MP (3072 x 2048)
• IP66, -30 to 50°C (-22 to 122°F)
• Internal DVR: 4 GB microSD
• HD Audio with integrated microphone and speaker
• Temperature sensor, shock detector, MxActivitySensor, MxAnalytics, ethernet patch cable 0.5 m/1.6 ft
• Interfaces: Ethernet 10/100 (RJ45), MxBus, USB; I/O and RS232 via Interface Box (MOBOTIX accessory)
MX-M25-N041
Request quote
IP camera with 6 Megapixel Moonlight Sensor, B/W (night)
• Super Wide Lens B041 (focal length 4.1 mm, f/1.8, 90° x 67°)
• Max. image size: 6MP (3072 x 2048)
• IP66, -30 to 50°C (-22 to 122°F)
• Internal DVR: 4 GB microSD
• HD Audio with integrated microphone and speaker
• Temperature sensor, shock detector, MxActivitySensor, MxAnalytics, ethernet patch cable 0.5 m/1.6 ft
• Interfaces: Ethernet 10/100 (RJ45), MxBus, USB; I/O and RS232 via Interface Box (MOBOTIX accessory)
MX-M25-N061
Request quote
IP camera with 6 Megapixel Moonlight Sensor, B/W (night)
• Wide Lens B061 (focal length 6.1 mm, f/1.8, 60° x 45°)
• Max. image size: 6MP (3072 x 2048)
• IP66, -30 to 50°C (-22 to 122°F)
• Internal DVR: 4 GB microSD
• HD Audio with integrated microphone and speaker
• Temperature sensor, shock detector, MxActivitySensor, MxAnalytics, ethernet patch cable 0.5 m/1.6 ft
• Interfaces: Ethernet 10/100 (RJ45), MxBus, USB; I/O and RS232 via Interface Box (MOBOTIX accessory)
MX-M25-N079
Request quote
IP camera with 6 Megapixel Moonlight Sensor, B/W (night)
• Standard Lens B079 (focal length 7.9 mm, f/1.8, 45° x 34°)
• Max. image size: 6MP (3072 x 2048)
• IP66, -30 to 50°C (-22 to 122°F)
• Internal DVR: 4 GB microSD
• HD Audio with integrated microphone and speaker
• Temperature sensor, shock detector, MxActivitySensor, MxAnalytics, ethernet patch cable 0.5 m/1.6 ft
• Interfaces: Ethernet 10/100 (RJ45), MxBus, USB; I/O and RS232 via Interface Box (MOBOTIX accessory)
MX-M25-N119
Request quote
IP camera with 6 Megapixel Moonlight Sensor, B/W (night)
• Tele Lens B119 (focal length 11.9 mm, f/1.8, 31° x 23°)
• Max. image size: 6MP (3072 x 2048)
• IP66, -30 to 50°C (-22 to 122°F)
• Internal DVR: 4 GB microSD
• HD Audio with integrated microphone and speaker
• Temperature sensor, shock detector, MxActivitySensor, MxAnalytics, ethernet patch cable 0.5 m/1.6 ft
• Interfaces: Ethernet 10/100 (RJ45), MxBus, USB; I/O and RS232 via Interface Box (MOBOTIX accessory)
MX-M25-N237
Request quote
IP camera with 6 Megapixel Moonlight Sensor, B/W (night)
• Distant Tele Lens B237 (focal length 23.7 mm, f/1.8, 15° x 11°)
• Max. image size: 6MP (3072 x 2048)
• IP66, -30 to 50°C (-22 to 122°F)
• Internal DVR: 4 GB microSD
• HD Audio with integrated microphone and speaker
• Temperature sensor, shock detector, MxActivitySensor, MxAnalytics, ethernet patch cable 0.5 m/1.6 ft
• Interfaces: Ethernet 10/100 (RJ45), MxBus, USB; I/O and RS232 via Interface Box (MOBOTIX accessory)
MX-M25-N500
Request quote
IP camera with 6 Megapixel Moonlight Sensor, B/W (night)
• Super Tele Lens B500 (focal length 50 mm, f/2.5, 8° x 6°)
• Max. image size: 6MP (3072 x 2048)
• IP66, -30 to 50°C (-22 to 122°F)
• Internal DVR: 4 GB microSD
• HD Audio with integrated microphone and speaker
• Temperature sensor, shock detector, MxActivitySensor, MxAnalytics, ethernet patch cable 0.5 m/1.6 ft
• Interfaces: Ethernet 10/100 (RJ45), MxBus, USB; I/O and RS232 via Interface Box (MOBOTIX accessory)
MX-D25-BOD1
Request quote
D25 camera module (body) with 6 Megapixel Moonlight Sensor, B/W (night)
• Lens to be ordered individually (B036 to B237)
• Max. image size: 6MP (3072 x 2048)
• IP65, -30 to 50°C (-22 to 122°F)
• Internal DVR: 4 GB microSD
• Temperature sensor, shock detector, MxActivitySensor, MxAnalytics, ethernet patch cable 0.5 m/1.6 ft
• Lens cover with sealing ring (polycarbonate, 1.5 mm)
• Interfaces: Ethernet 10/100 (RJ45), MxBus, USB; I/O and RS232 via Interface Box (MOBOTIX accessory)
MX-D25-BOD1-N
Request quote
D25 camera module (body) with 6 Megapixel Moonlight Sensor, B/W (night)
• Lens to be ordered individually (B036 to B237)
• Max. image size: 6MP (3072 x 2048)
• IP65, -30 to 50°C (-22 to 122°F)
• Internal DVR: 4 GB microSD
• Temperature sensor, shock detector, MxActivitySensor, MxAnalytics, ethernet patch cable 0.5 m/1.6 ft
• Lens cover with sealing ring (polycarbonate, 1.5 mm)
• Interfaces: Ethernet 10/100 (RJ45), MxBus, USB; I/O and RS232 via Interface Box (MOBOTIX accessory)
MX-D25-D036
Request quote
IP camera with 6 Megapixel Moonlight Sensor, color (day)
• Ultra wide lens B036 (f/1.8, 103° x 77°)
• Max. image size: 6MP (3072 x 2048)
• IP65, -30 to 50°C (-22 to 122°F)
• Internal DVR: 4 GB microSD
• Temperature sensor, shock detector, MxActivitySensor, MxAnalytics, ethernet patch cable 0.5 m/1.6 ft, lens cover with sealing ring
• Interfaces: Ethernet 10/100 (RJ45), MxBus, USB; I/O and RS232 via Interface Box (MOBOTIX accessory)
MX-D25-D041
Request quote
IP camera with 6 Megapixel Moonlight Sensor, color (day)
• Super wide lens B041 (f/1.8, 90° x 67°)
• Max. image size: 6MP (3072 x 2048)
• IP65, -30 to 50°C (-22 to 122°F)
• Internal DVR: 4 GB microSD
• Temperature sensor, shock detector, MxActivitySensor, MxAnalytics, ethernet patch cable 0.5 m/1.6 ft, lens cover with sealing ring
• Interfaces: Ethernet 10/100 (RJ45), MxBus, USB; I/O and RS232 via Interface Box (MOBOTIX accessory)
MX-D25-D061
Request quote
IP camera with 6 Megapixel Moonlight Sensor, color (day)
• Wide lens B061 (f/1.8, 60° x 45°)
• Max. image size: 6MP (3072 x 2048)
• IP65, -30 to 50°C (-22 to 122°F)
• Internal DVR: 4 GB microSD
• Temperature sensor, shock detector, MxActivitySensor, MxAnalytics, ethernet patch cable 0.5 m/1.6 ft, lens cover with sealing ring
• Interfaces: Ethernet 10/100 (RJ45), MxBus, USB; I/O and RS232 via Interface Box (MOBOTIX accessory)
MX-D25-D079
Request quote
IP camera with 6 Megapixel Moonlight Sensor, color (day)
• Standard lens B079 (f/1.8, 45° x 34°)
• Max. image size: 6MP (3072 x 2048)
• IP65, -30 to 50°C (-22 to 122°F)
• Internal DVR: 4 GB microSD
• Temperature sensor, shock detector, MxActivitySensor, MxAnalytics, ethernet patch cable 0.5 m/1.6 ft, lens cover with sealing ring
• Interfaces: Ethernet 10/100 (RJ45), MxBus, USB; I/O and RS232 via Interface Box (MOBOTIX accessor
MX-D25-D119
Request quote
IP camera with 6 Megapixel Moonlight Sensor, color (day)
• Tele lens B119 (f/1.8, 31° x 23°)
• Max. image size: 6MP (3072 x 2048)
• IP65, -30 to 50°C (-22 to 122°F)
• Internal DVR: 4 GB microSD
• Temperature sensor, shock detector, MxActivitySensor, MxAnalytics, ethernet patch cable 0.5 m/1.6 ft, lens cover with sealing ring
• Interfaces: Ethernet 10/100 (RJ45), MxBus, USB; I/O and RS232 via Interface Box (MOBOTIX accessory)
MX-D25-D237
Request quote
IP camera with 6 Megapixel Moonlight Sensor, color (day)
• Distance tele lens B237 (f/1.8, 15° x 11°)
• Max. image size: 6MP (3072 x 2048)
• IP65, -30 to 50°C (-22 to 122°F)
• Internal DVR: 4 GB microSD
• Temperature sensor, shock detector, MxActivitySensor, MxAnalytics, ethernet patch cable 0.5 m/1.6 ft, lens cover with sealing ring
• Interfaces: Ethernet 10/100 (RJ45), MxBus, USB; I/O and RS232 via Interface Box (MOBOTIX accessory)
MX-D25-N036
Request quote
IP camera with 6 Megapixel Moonlight Sensor, B/W (night)
• Ultra wide lens B036 (f/1.8, 103° x 77°)
• Max. image size: 6MP (3072 x 2048)
• IP65, -30 to 50°C (-22 to 122°F)
• Internal DVR: 4 GB microSD
• Temperature sensor, shock detector, MxActivitySensor, MxAnalytics, ethernet patch cable 0.5 m/1.6 ft, lens cover with sealing ring
• Interfaces: Ethernet 10/100 (RJ45), MxBus, USB; I/O and RS232 via Interface Box (MOBOTIX accessory)
MX-D25-N041
Request quote
IP camera with 6 Megapixel Moonlight Sensor, B/W (night)
• Super wide lens B041 (f/1.8, 90° x 67°)
• Max. image size: 6MP (3072 x 2048)
• IP65, -30 to 50°C (-22 to 122°F)
• Internal DVR: 4 GB microSD
• Temperature sensor, shock detector, MxActivitySensor, MxAnalytics, ethernet patch cable 0.5 m/1.6 ft, lens cover with sealing ring
• Interfaces: Ethernet 10/100 (RJ45), MxBus, USB; I/O and RS232 via Interface Box (MOBOTIX accessory)
MX-D25-N061
Request quote
IP camera with 6 Megapixel Moonlight Sensor, B/W (night)
• Wide lens B061 (f/1.8, 60° x 45°)
• Max. image size: 6MP (3072 x 2048)
• IP65, -30 to 50°C (-22 to 122°F)
• Internal DVR: 4 GB microSD
• Temperature sensor, shock detector, MxActivitySensor, MxAnalytics, ethernet patch cable 0.5 m/1.6 ft, lens cover with sealing ring
• Interfaces: Ethernet 10/100 (RJ45), MxBus, USB; I/O and RS232 via Interface Box (MOBOTIX accessory)
MX-D25-N079
Request quote
IP camera with 6 Megapixel Moonlight Sensor, B/W (night)
• Standard lens B079 (f/1.8, 45° x 34°)
• Max. image size: 6MP (3072 x 2048)
• IP65, -30 to 50°C (-22 to 122°F)
• Internal DVR: 4 GB microSD
• Temperature sensor, shock detector, MxActivitySensor, MxAnalytics, ethernet patch cable 0.5 m/1.6 ft, lens cover with sealing ring
• Interfaces: Ethernet 10/100 (RJ45), MxBus, USB; I/O and RS232 via Interface Box (MOBOTIX accessory)
MX-D25-N119
Request quote
IP camera with 6 Megapixel Moonlight Sensor, B/W (night)
• Tele lens B119 (f/1.8, 31° x 23°)
• Max. image size: 6MP (3072 x 2048)
• IP65, -30 to 50°C (-22 to 122°F)
• Internal DVR: 4 GB microSD
• Temperature sensor, shock detector, MxActivitySensor, MxAnalytics, ethernet patch cable 0.5 m/1.6 ft, lens cover with sealing ring
• Interfaces: Ethernet 10/100 (RJ45), MxBus, USB; I/O and RS232 via Interface Box (MOBOTIX accessory)
MX-D25-N237
Request quote
IP camera with 6 Megapixel Moonlight Sensor, B/W (night)
• Distance tele lens B237 (f/1.8, 15° x 11°)
• Max. image size: 6MP (3072 x 2048)
• IP65, -30 to 50°C (-22 to 122°F)
• Internal DVR: 4 GB microSD
• Temperature sensor, shock detector, MxActivitySensor, MxAnalytics, ethernet patch cable 0.5 m/1.6 ft, lens cover with sealing ring
• Interfaces: Ethernet 10/100 (RJ45), MxBus, USB; I/O and RS232 via Interface Box (MOBOTIX accessory)
MX-Q25-D016
Request quote
Hemispheric IP camera with 6 Megapixel Moonlight Sensor, color (day)
• HD premium fisheye lens B016 (focal length 1.6 mm, f/2.0, 180° x 180°)
• Max. image size: 6MP (3072 x 2048)
• IP65, -30 to 50°C (-22 to 122°F)
• Internal DVR: 4 GB microSD
• HD Audio with integrated microphone and speaker
• Temperature sensor, shock detector, MxActivitySensor, MxAnalytics (incl. behavioral detection), ethernet patch cable 0.5 m/1.6 ft
• Interfaces: Ethernet 10/100 (RJ45), MxBus, USB; I/O and RS232 via Interface Box (MOBOTIX accessory)
• Color: white
MX-Q25-N016
Request quote
Hemispheric IP camera with 6 Megapixel Moonlight Sensor, B/W (night)
• HD premium fisheye lens B016 (focal length 1.6 mm, f/2.0, 180° x 180°)
• Max. image size: 6MP (3072 x 2048)
• IP65, -30 to 50°C (-22 to 122°F)
• Internal DVR: 4 GB microSD
• HD Audio with integrated microphone and speaker
• Temperature sensor, shock detector, MxActivitySensor, MxAnalytics (incl. behavioral detection), ethernet patch cable 0.5 m/1.6 ft
• Interfaces: Ethernet 10/100 (RJ45), MxBus, USB; I/O and RS232 via Interface Box (MOBOTIX accessory)
• Color: white
MX-c26A-6D016
Request quote
Hemispheric IP indoor camera for ceiling mounting
• Mx6 system platform with H.264, MxPEG and M-JPEG
• 6 Megapixel Moonlight Sensor, color (day)
• HD premium fisheye lens B016 (focal length 1.6 mm, f/2.0, 180° x 180°)
• Max. image size: 6MP (3072 x 2048)
• IP20, 0 to 40°C (32 to 104°F)
• 4-GB microSD
• Temperature sensor, illumination sensor, movement sensor, MxActivitySensor, MxAnalytics (incl. behavioral detection)
• 0.5 m/1.6 ft Ethernet patch cable
• Interfaces: Ethernet 10/100 (RJ45), USB, slot for MxIOBoard-IC (Mx-A-IO-IC)
• Color: white
MX-c26A-6D036
Request quote
IP indoor camera for ceiling mounting
• Mx6 system platform with H.264, MxPEG and M-JPEG
• 6 Megapixel Moonlight Sensor, color (day)
• Ultra wide lens B036 (focal length 3.6 mm, f/1.8, 103° x 77°)
• Max. image size: 6MP (3072 x 2048)
• IP20, 0 to 40°C (32 to 104°F)
• 4-GB microSD
• Temperature sensor, illumination sensor, movement sensor, MxActivitySensor, MxAnalytics (incl. behavioral detection)
• 0.5 m/1.6 ft Ethernet patch cable
• Interfaces: Ethernet 10/100 (RJ45), USB, slot for MxIOBoard-IC (Mx-A-IO-IC)
• Color: white
MX-c26A-6N016
Request quote
Hemispheric IP indoor camera for ceiling mounting
• Mx6 system platform with H.264, MxPEG and M-JPEG
• 6 Megapixel Moonlight Sensor, B/W (night)
• HD premium fisheye lens B016 (focal length 1.6 mm, f/2.0, 180° x 180°)
• Max. image size: 6MP (3072 x 2048)
• IP20, 0 to 40°C (32 to 104°F)
• 4-GB microSD
• Temperature sensor, illumination sensor, movement sensor, MxActivitySensor, MxAnalytics (incl. behavioral detection)
• 0.5 m/1.6 ft Ethernet patch cable
• Interfaces: Ethernet 10/100 (RJ45), USB, slot for MxIOBoard-IC (Mx-A-IO-IC)
• Color: white
MX-c26A-6N036
Request quote
IP indoor camera for ceiling mounting
• Mx6 system platform with H.264, MxPEG and M-JPEG
• 6 Megapixel Moonlight Sensor, B/W (night)
• Ultra wide lens B036 (focal length 3.6 mm, f/1.8, 103° x 77°)
• Max. image size: 6MP (3072 x 2048)
• IP20, 0 to 40°C (32 to 104°F)
• 4-GB microSD
• Temperature sensor, illumination sensor, movement sensor, MxActivitySensor, MxAnalytics (incl. behavioral detection)
• 0.5 m/1.6 ft Ethernet patch cable
• Interfaces: Ethernet 10/100 (RJ45), USB, slot for MxIOBoard-IC (Mx-A-IO-IC)
• Color: white
MX-c26A-AU-6D016
Request quote
Hemispheric IP indoor camera for ceiling mounting
• Mx6 system platform with H.264, MxPEG and M-JPEG
• 6 Megapixel Moonlight Sensor, color (day)
• HD premium fisheye lens B016 (focal length 1.6 mm, f/2.0, 180° x 180°)
• Max. image size: 6MP (3072 x 2048)
• IP20, 0 to 40°C (32 to 104°F)
• 4-GB microSD
• HD Audio with integrated microphone and speaker
• Temperature sensor, illumination sensor, movement sensor, MxActivitySensor, MxAnalytics (incl. behavioral detection)
• 0.5 m/1.6 ft Ethernet patch cable
• Interfaces: Ethernet 10/100 (RJ45), USB, slot for MxIOBoard-IC (Mx-A-IO-IC)
• Color: white
MX-c26A-AU-6D036
Request quote
IP indoor camera for ceiling mounting
• Mx6 system platform with H.264, MxPEG and M-JPEG
• 6 Megapixel Moonlight Sensor, color (day)
• Ultra wide lens B036 (focal length 3.6 mm, f/1.8, 103° x 77°)
• Max. image size: 6MP (3072 x 2048)
• IP20, 0 to 40°C (32 to 104°F)
• 4-GB microSD
• HD Audio with integrated microphone and speaker
• Temperature sensor, illumination sensor, movement sensor, MxActivitySensor, MxAnalytics (incl. behavioral detection)
• 0.5 m/1.6 ft Ethernet patch cable
• Interfaces: Ethernet 10/100 (RJ45), USB, slot for MxIOBoard-IC (Mx-A-IO-IC)
• Color: white
MX-c26A-AU-6N016
Request quote
Hemispheric IP indoor camera for ceiling mounting
• Mx6 system platform with H.264, MxPEG and M-JPEG
• 6 Megapixel Moonlight Sensor, B/W (night)
• HD premium fisheye lens B016 (focal length 1.6 mm, f/2.0, 180° x 180°)
• Max. image size: 6MP (3072 x 2048)
• IP20, 0 to 40°C (32 to 104°F)
• 4-GB microSD
• HD Audio with integrated microphone and speaker
• Temperature sensor, illumination sensor, movement sensor, MxActivitySensor, MxAnalytics (incl. behavioral detection)
• 0.5 m/1.6 ft Ethernet patch cable
• Interfaces: Ethernet 10/100 (RJ45), USB, slot for MxIOBoard-IC (Mx-A-IO-IC)
• Color: white
MX-c26A-AU-6N036
Request quote
IP indoor camera for ceiling mounting
• Mx6 system platform with H.264, MxPEG and M-JPEG
• 6 Megapixel Moonlight Sensor, B/W (night)
• Ultra wide lens B036 (focal length 3.6 mm, f/1.8, 103° x 77°)
• Max. image size: 6MP (3072 x 2048)
• IP20, 0 to 40°C (32 to 104°F)
• 4-GB microSD
• HD Audio with integrated microphone and speaker
• Temperature sensor, illumination sensor, movement sensor, MxActivitySensor, MxAnalytics (incl. behavioral detection)
• 0.5 m/1.6 ft Ethernet patch cable
• Interfaces: Ethernet 10/100 (RJ45), USB, slot for MxIOBoard-IC (Mx-A-IO-IC)
• Color: white
MX-i26A-6D016
Request quote
Hemispheric IP indoor camera for wall mounting
• Mx6 system platform with H.264, MxPEG and M-JPEG
• 6 Megapixel Moonlight Sensor, color (day)
• HD premium fisheye lens B016 (focal length 1.6 mm, f/2.0, 180° x 180°)
• Max. image size: 6MP (3072 x 2048)
• IP30, 0 to 40°C (32 to 104°F)
• 4-GB microSD
• Temperature sensor, illumination sensor, movement sensor, MxActivitySensor, MxAnalytics
• 0.5 m/1.6 ft Ethernet patch cable
• Interfaces: Ethernet 10/100 (RJ45), USB, slot for MxIOBoard-IC (Mx-A-IO-IC)
• Color: white
MX-i26A-6D036
Request quote
IP indoor camera for wall mounting
• Mx6 system platform with H.264, MxPEG and M-JPEG
• 6 Megapixel Moonlight Sensor, color (day)
• Ultra wide lens B036 (focal length 3.6 mm, f/1.8, 103° x 77°)
• Max. image size: 6MP (3072 x 2048)
• IP30, 0 to 40°C (32 to 104°F)
• 4-GB microSD
• Temperature sensor, illumination sensor, movement sensor, MxActivitySensor, MxAnalytics
• 0.5 m/1.6 ft Ethernet patch cable
• Interfaces: Ethernet 10/100 (RJ45), USB, slot for MxIOBoard-IC (Mx-A-IO-IC)
• Color: white
MX-i26A-6N016
Request quote
Hemispheric IP indoor camera for wall mounting
• Mx6 system platform with H.264, MxPEG and M-JPEG
• 6 Megapixel Moonlight Sensor, B/W (night)
• HD premium fisheye lens B016 (focal length 1.6 mm, f/2.0, 180° x 180°)
• Max. image size: 6MP (3072 x 2048)
• IP30, 0 to 40°C (32 to 104°F)
• 4-GB microSD
• Temperature sensor, illumination sensor, movement sensor, MxActivitySensor, MxAnalytics
• 0.5 m/1.6 ft Ethernet patch cable
• Interfaces: Ethernet 10/100 (RJ45), USB, slot for MxIOBoard-IC (Mx-A-IO-IC)
• Color: white
MX-i26A-6N036
Request quote
IP indoor camera for wall mounting
• Mx6 system platform with H.264, MxPEG and M-JPEG
• 6 Megapixel Moonlight Sensor, B/W (night)
• Ultra wide lens B036 (focal length 3.6 mm, f/1.8, 103° x 77°)
• Max. image size: 6MP (3072 x 2048)
• IP30, 0 to 40°C (32 to 104°F)
• 4-GB microSD
• Temperature sensor, illumination sensor, movement sensor, MxActivitySensor, MxAnalytics
• 0.5 m/1.6 ft Ethernet patch cable
• Interfaces: Ethernet 10/100 (RJ45), USB, slot for MxIOBoard-IC (Mx-A-IO-IC)
• Color: white
MX-i26A-AU-6D016
Request quote
Hemispheric IP indoor camera for wall mounting
• Mx6 system platform with H.264, MxPEG and M-JPEG
• 6 Megapixel Moonlight Sensor, color (day)
• HD premium fisheye lens B016 (focal length 1.6 mm, f/2.0, 180° x 180°)
• Max. image size: 6MP (3072 x 2048)
• IP30, 0 to 40°C (32 to 104°F)
• 4-GB microSD
• HD Audio with integrated microphone and speaker
• Temperature sensor, illumination sensor, movement sensor, MxActivitySensor, MxAnalytics
• 0.5 m/1.6 ft Ethernet patch cable
• Interfaces: Ethernet 10/100 (RJ45), USB, slot for MxIOBoard-IC (Mx-A-IO-IC)
• Color: white
MX-i26A-AU-6D036
Request quote
IP indoor camera for wall mounting
• Mx6 system platform with H.264, MxPEG and M-JPEG
• 6 Megapixel Moonlight Sensor, color (day)
• Ultra wide lens B036 (focal length 3.6 mm, f/1.8, 103° x 77°)
• Max. image size: 6MP (3072 x 2048)
• IP30, 0 to 40°C (32 to 104°F)
• 4-GB microSD
• Audio package with integrated microphone and speaker
• Temperature sensor, illumination sensor, movement sensor, MxActivitySensor, MxAnalytics
• 0.5 m/1.6 ft Ethernet patch cable
• Interfaces: Ethernet 10/100 (RJ45), USB, slot for MxIOBoard-IC (Mx-A-IO-IC)
• Color: white
MX-i26A-AU-6N016
Request quote
Hemispheric IP indoor camera for wall mounting
• Mx6 system platform with H.264, MxPEG and M-JPEG
• 6 Megapixel Moonlight Sensor, B/W (night)
• HD premium fisheye lens B016 (focal length 1.6 mm, f/2.0, 180° x 180°)
• Max. image size: 6MP (3072 x 2048)
• IP30, 0 to 40°C (32 to 104°F)
• 4-GB microSD
• HD Audio with integrated microphone and speaker
• Temperature sensor, illumination sensor, movement sensor, MxActivitySensor, MxAnalytics
• 0.5 m/1.6 ft Ethernet patch cable
• Interfaces: Ethernet 10/100 (RJ45), USB, slot for MxIOBoard-IC (Mx-A-IO-IC)
• Color: white
MX-i26A-AU-6N036
Request quote
IP indoor camera for wall mounting
• Mx6 system platform with H.264, MxPEG and M-JPEG
• 6 Megapixel Moonlight Sensor, B/W (night)
• Ultra wide lens B036 (focal length 3.6 mm, f/1.8, 103° x 77°)
• Max. image size: 6MP (3072 x 2048)
• IP30, 0 to 40°C (32 to 104°F)
• 4-GB microSD
• Audio package with integrated microphone and speaker
• Temperature sensor, illumination sensor, movement sensor, MxActivitySensor, MxAnalytics
• 0.5 m/1.6 ft Ethernet patch cable
• Interfaces: Ethernet 10/100 (RJ45), USB, slot for MxIOBoard-IC (Mx-A-IO-IC)
• Color: white
MX-p26A-6D
Request quote
p26 camera module (body) with image sensor and lens mount
• Lens to be ordered individually (B036 to B237, focal length 3.6 to 23.7 mm, f/1.8)
• Manually adjustable lens tilt angle -5° to -45°
• Mx6 system platform with H.264, MxPEG and M-JPEG
• 6 Megapixel Moonlight Sensor, color (day)
• Max. image size: 6MP (3072 x 2048)
• IP20, 0 to 40°C (32 to 104°F)
• Internal DVR: 4-GB MicroSD
• Temperature sensor, illumination sensor, movement sensor, MxActivitySensor, MxAnalytics
• 0.5 m/1.6 ft Ethernet patch cable
• Interfaces: Ethernet 10/100 (RJ45), USB, slot for MxIOBoard-IC (Mx-A-IO-IC)
• Color: white
MX-p26A-6D016
Request quote
Hemispheric IP indoor camera for ceiling mounting
• Manually adjustable lens tilt angle -5° to -45°
• Mx6 system platform with H.264, MxPEG and M-JPEG
• 6 Megapixel Moonlight Sensor, color (day)
• HD premium fisheye lens B016 (focal length 1.6 mm, f/2.0, 180° x 180°)
• Max. image size: 6MP (3072 x 2048)
• IP20, 0 to 40°C (32 to 104°F)
• Internal DVR: 4-GB MicroSD
• Temperature sensor, illumination sensor, movement sensor, MxActivitySensor, MxAnalytics
• 0.5 m/1.6 ft Ethernet patch cable
• Interfaces: Ethernet 10/100 (RJ45), USB, slot for MxIOBoard-IC (Mx-A-IO-IC)
• Color: white
MX-p26A-6N
Request quote
p26 camera module (body) with image sensor and lens mount
• Lens to be ordered individually (B036 to B235, focal length 3.6 to 23.7 mm, f/1.8)
• Manually adjustable lens tilt angle -5° to -45°
• Mx6 system platform with H.264, MxPEG and M-JPEG
• 6 Megapixel Moonlight Sensor, B/W (night)
• Max. image size: 6MP (3072 x 2048)
• IP20, 0 to 40°C (32 to 104°F)
• Internal DVR: 4-GB MicroSD
• Temperature sensor, illumination sensor, movement sensor, MxActivitySensor, MxAnalytics
• 0.5 m/1.6 ft Ethernet patch cable
• Interfaces: Ethernet 10/100 (RJ45), USB, slot for MxIOBoard-IC (Mx-A-IO-IC)
• Color: white
MX-p26A-6N016
Request quote
Hemispheric IP indoor camera for ceiling mounting
• Manually adjustable lens tilt angle -5° to -45°
• Mx6 system platform with H.264, MxPEG and M-JPEG
• 6 Megapixel Moonlight Sensor, B/W (night)
• HD premium fisheye lens B016 (focal length 1.6 mm, f/2.0, 180° x 180°)
• Max. image size: 6MP (3072 x 2048)
• IP20, 0 to 40°C (32 to 104°F)
• Internal DVR: 4-GB MicroSD
• Temperature sensor, illumination sensor, movement sensor, MxActivitySensor, MxAnalytics
• 0.5 m/1.6 ft Ethernet patch cable
• Interfaces: Ethernet 10/100 (RJ45), USB, slot for MxIOBoard-IC (Mx-A-IO-IC)
• Color: white
MX-p26A-AU-6D
Request quote
p26 camera module (body) with 6 Megapixel Moonlight Sensor, color (day) and lens mount
• Lens to be ordered individually (B036 to B237, focal length 3.6 to 23.7 mm, f/1.8)
• Manually adjustable lens tilt angle -5° to -45°
• Mx6 system platform with H.264, MxPEG and M-JPEG
• 6 Megapixel Moonlight Sensor, color (day)
• Max. image size: 6MP (3072 x 2048)
• IP20, 0 to 40°C (32 to 104°F)
• 4-GB microSD
• HD-Audio with integrated microphone and speaker
• Temperature sensor, illumination sensor, movement sensor, MxActivitySensor, MxAnalytics
• 0.5 m/1.6 ft Ethernet patch cable
• Interfaces: Ethernet 10/100 (RJ45), USB, slot for MxIOBoard-IC (Mx-A-IO-IC)
• Color: white
MX-p26A-AU-6D016
Request quote
Hemispheric IP indoor camera for ceiling mounting
• Manually adjustable lens tilt angle -5° to -45°
• Mx6 system platform with H.264, MxPEG and M-JPEG
• 6 Megapixel Moonlight Sensor, color (day)
• HD premium fisheye lens B016 (focal length 1.6 mm, f/2.0, 180° x 180°)
• Max. image size: 6MP (3072 x 2048)
• IP20, 0 to 40°C (32 to 104°F)
• 4-GB microSD
• HD Audio with integrated microphone and speaker
• Temperature sensor, illumination sensor, movement sensor, MxActivitySensor, MxAnalytics
• 0.5 m/1.6 ft Ethernet patch cable
• Interfaces: Ethernet 10/100 (RJ45), USB, slot for MxIOBoard-IC (Mx-A-IO-IC)
• Color: white
MX-p26A-AU-6N
Request quote
p26 camera module (body) with 6 Megapixel Moonlight Sensor, B/W (night) and lens mount
• Lens to be ordered individually (B036 to B235, focal length 3.6 to 23.7 mm, f/1.8)
• Manually adjustable lens tilt angle -5° to -45°
• Max. image size: 6MP (3072 x 2048)
• IP20, 0 to 40°C (32 to 104°F)
• 4-GB microSD
• HD Audio with integrated microphone and speaker
• Temperature sensor, illumination sensor, movement sensor, MxActivitySensor, MxAnalytics
• 0.5 m/1.6 ft Ethernet patch cable
• Interfaces: Ethernet 10/100 (RJ45), USB, slot for MxIOBoard-IC (Mx-A-IO-IC)
• Color: white
MX-p26A-AU-6N016
Request quote
Hemispheric IP indoor camera for ceiling mounting
• Manually adjustable lens tilt angle -5° to -45°
• Mx6 system platform with H.264, MxPEG and M-JPEG
• 6 Megapixel Moonlight Sensor, B/W (night)
• HD premium fisheye lens B016 (focal length 1.6 mm, f/2.0, 180° x 180°)
• Max. image size: 6MP (3072 x 2048)
• IP20, 0 to 40°C (32 to 104°F)
• 4-GB microSD
• HD Audio with integrated microphone and speaker
• Temperature sensor, illumination sensor, movement sensor, MxActivitySensor, MxAnalytics
• 0.5 m/1.6 ft Ethernet patch cable
• Interfaces: Ethernet 10/100 (RJ45), USB, slot for MxIOBoard-IC (Mx-A-IO-IC)
• Color: white
MX-p26A-6D036
Request quote
IP indoor camera for ceiling mounting
• Manually adjustable lens tilt angle -5° to -45°
• Mx6 system platform with H.264, MxPEG and M-JPEG
• 6 Megapixel Moonlight Sensor, color (day)
• Ultra wide lens B036 (focal length 3.6 mm, f/1.8, 103° x 77°)
• Max. image size: 6MP (3072 x 2048)
• IP20, 0 to 40°C (32 to 104°F)
• Internal DVR: 4-GB MicroSD
• Temperature sensor, illumination sensor, movement sensor, MxActivitySensor, MxAnalytics
• 0.5 m/1.6 ft Ethernet patch cable
• Interfaces: Ethernet 10/100 (RJ45), USB, slot for MxIOBoard-IC (Mx-A-IO-IC)
• Color: white
MX-p26A-6D061
Request quote
IP indoor camera for ceiling mounting
• Manually adjustable lens tilt angle -5° to -45°
• Mx6 system platform with H.264, MxPEG and M-JPEG
• 6 Megapixel Moonlight Sensor, color (day)
• Wide lens B061 (focal length 6.1 mm, f/1.8, 60° x 45°)
• Max. image size: 6MP (3072 x 2048)
• IP20, 0 to 40°C (32 to 104°F)
• Internal DVR: 4-GB MicroSD
• Temperature sensor, illumination sensor, movement sensor, MxActivitySensor, MxAnalytics
• 0.5 m/1.6 ft Ethernet patch cable
• Interfaces: Ethernet 10/100 (RJ45), USB, slot for MxIOBoard-IC (Mx-A-IO-IC)
• Color: white
MX-p26A-6D079
Request quote
IP indoor camera for ceiling mounting
• Manually adjustable lens tilt angle -5° to -45°
• Mx6 system platform with H.264, MxPEG and M-JPEG
• 6 Megapixel Moonlight Sensor, color (day)
• Standard lens B079 (focal length 7.9 mm, f/1.8, 45° x 34°)
• Max. image size: 6MP (3072 x 2048)
• IP20, 0 to 40°C (32 to 104°F)
• Internal DVR: 4-GB MicroSD
• Temperature sensor, illumination sensor, movement sensor, MxActivitySensor, MxAnalytics
• 0.5 m/1.6 ft Ethernet patch cable
• Interfaces: Ethernet 10/100 (RJ45), USB, slot for MxIOBoard-IC (Mx-A-IO-IC)
• Color: white
MX-p26A-6D119
Request quote
IP indoor camera for ceiling mounting
• Manually adjustable lens tilt angle -5° to -45°
• Mx6 system platform with H.264, MxPEG and M-JPEG
• 6 Megapixel Moonlight Sensor, color (day)
• Tele lens B119 (focal length 11.9 mm, f/1.8, 31° x 23°)
• Max. image size: 6MP (3072 x 2048)
• IP20, 0 to 40°C (32 to 104°F)
• Internal DVR: 4-GB MicroSD
• Temperature sensor, illumination sensor, movement sensor, MxActivitySensor, MxAnalytics
• 0.5 m/1.6 ft Ethernet patch cable
• Interfaces: Ethernet 10/100 (RJ45), USB, slot for MxIOBoard-IC (Mx-A-IO-IC)
• Color: white
MX-p26A-6D237
Request quote
IP indoor camera for ceiling mounting
• Manually adjustable lens tilt angle -5° to -45°
• Mx6 system platform with H.264, MxPEG and M-JPEG
• 6 Megapixel Moonlight Sensor, color (day)
• Distant Tele lens B237 (focal length 23.7 mm, f/1.8, 15° x 11°)
• Max. image size: 6MP (3072 x 2048)
• IP20, 0 to 40°C (32 to 104°F)
• Internal DVR: 4-GB MicroSD
• Temperature sensor, illumination sensor, movement sensor, MxActivitySensor, MxAnalytics
• 0.5 m/1.6 ft Ethernet patch cable
• Interfaces: Ethernet 10/100 (RJ45), USB, slot for MxIOBoard-IC (Mx-A-IO-IC)
• Color: white
MX-p26A-6N036
Request quote
IP indoor camera for ceiling mounting
• Manually adjustable lens tilt angle -5° to -45°
• Mx6 system platform with H.264, MxPEG and M-JPEG
• 6 Megapixel Moonlight Sensor, B/W (night)
• Ultra Wide lens B036 (focal length 3.6 mm, f/1.8, 103° x 77°)
• Max. image size: 6MP (3072 x 2048)
• IP20, 0 to 40°C (32 to 104°F)
• Internal DVR: 4-GB MicroSD
• Temperature sensor, illumination sensor, movement sensor, MxActivitySensor, MxAnalytics
• 0.5 m/1.6 ft Ethernet patch cable
• Interfaces: Ethernet 10/100 (RJ45), USB, slot for MxIOBoard-IC (Mx-A-IO-IC)
• Color: white
MX-p26A-AU-6D036
Request quote
IP indoor camera for ceiling mounting
• Manually adjustable lens tilt angle -5° to -45°
• Mx6 system platform with H.264, MxPEG and M-JPEG
• 6 Megapixel Moonlight Sensor, color (day)
• Ultra wide lens B036 (focal length 3.6 mm, f/1.8, 103° x 77°)
• Max. image size: 6MP (3072 x 2048)
• IP20, 0 to 40°C (32 to 104°F)
• 4-GB microSD
• HD Audio with integrated microphone and speaker
• Temperature sensor, illumination sensor, movement sensor, MxActivitySensor, MxAnalytics
• 0.5 m/1.6 ft Ethernet patch cable
• Interfaces: Ethernet 10/100 (RJ45), USB, slot for MxIOBoard-IC (Mx-A-IO-IC)
• Color: white
MX-p26A-AU-6N036
Request quote
IP indoor camera for ceiling mounting
• Manually adjustable lens tilt angle -5° to -45°
• Mx6 system platform with H.264, MxPEG and M-JPEG
• 6 Megapixel Moonlight Sensor, B/W (night)
• Ultra wide lens B036 (focal length 3.6 mm, f/1.8, 103° x 77°)
• Max. image size: 6MP (3072 x 2048)
• IP20, 0 to 40°C (32 to 104°F)
• 4-GB microSD
• HD Audio with integrated microphone and speaker
• Temperature sensor, illumination sensor, movement sensor, MxActivitySensor, MxAnalytics
• 0.5 m/1.6 ft Ethernet patch cable
• Interfaces: Ethernet 10/100 (RJ45), USB, slot for MxIOBoard-IC (Mx-A-IO-IC)
• Color: white
MX-v26A-6D
Request quote
v26 camera module (body) with image sensor and lens mount
• Lens to be ordered individually (B036 to B237, focal length 3.6 to 23.7 mm, f/1.8)
• Manually adjustable lens tilt angle 0° to -90°
• Mx6 system platform with H.264, MxPEG and M-JPEG
• 6 Megapixel Moonlight Sensor, color (day)
• Max. image size: 6MP (3072 x 2048)
• IP20, 0 to 40°C (32 to 104°F)
• Lens cover with sealing ring (polycarbonate, 1.5 mm)
• Internal DVR: 4 GB microSD
• Temperature sensor, illumination sensor, movement sensor, MxActivitySensor, MxAnalytics
• 0.5 m/1.6 ft Ethernet patch cable
• Interfaces: Ethernet 10/100 (RJ45), USB, slot for MxIOBoard-IC (Mx-A-IO-IC)
• Housing color: white
MX-v26A-6D-b
Request quote
v26 camera module (body) with image sensor and lens mount
• Lens to be ordered individually (B036 to B237, focal length 3.6 to 23.7 mm, f/1.8)
• Manually adjustable lens tilt angle 0° to -90°
• Mx6 system platform with H.264, MxPEG and M-JPEG
• 6 Megapixel Moonlight Sensor, color (day)
• Max. image size: 6MP (3072 x 2048)
• IP20, 0 to 40°C (32 to 104°F)
• Lens cover with sealing ring (polycarbonate, 1.5 mm)
• Internal DVR: 4 GB microSD
• Temperature sensor, illumination sensor, movement sensor, MxActivitySensor, MxAnalytics
• 0.5 m/1.6 ft Ethernet patch cable
• Interfaces: Ethernet 10/100 (RJ45), USB, slot for MxIOBoard-IC (Mx-A-IO-IC)
• Housing color: black
MX-v26A-6D036
Request quote
IP indoor camera for ceiling mounting
• Manually adjustable lens tilt angle 0° to -90°
• Mx6 system platform with H.264, MxPEG and M-JPEG
• 6 Megapixel Moonlight Sensor, color (day)
• Ultra wide lens B036 (focal length 3.6 mm, f/1.8, 103° x 77°)
• Max. image size: 6MP (3072 x 2048)
• IP20, 0 to 40°C (32 to 104°F)
• Lens cover with sealing ring (polycarbonate, 1.5 mm)
• Internal DVR: 4 GB microSD
• Temperature sensor, illumination sensor, movement sensor, MxActivitySensor, MxAnalytics
• 0.5 m/1.6 ft Ethernet patch cable
• Interfaces: Ethernet 10/100 (RJ45), USB, slot for MxIOBoard-IC (Mx-A-IO-IC)
• Housing color: white
MX-v26A-6N
Request quote
v26 camera module (body) with image sensor and lens mount
• Lens to be ordered individually (B036 to B237, focal length 3.6 to 23.7 mm, f/1.8)
• Manually adjustable lens tilt angle 0° to -90°
• Mx6 system platform with H.264, MxPEG and M-JPEG
• 6 Megapixel Moonlight Sensor, B/W (night)
• Max. image size: 6MP (3072 x 2048)
• IP20, 0 to 40°C (32 to 104°F)
• Lens cover with sealing ring (polycarbonate, 1.5 mm)
• Internal DVR: 4 GB microSD
• Temperature sensor, illumination sensor, movement sensor, MxActivitySensor, MxAnalytics
• 0.5 m/1.6 ft Ethernet patch cable
• Interfaces: Ethernet 10/100 (RJ45), USB, slot for MxIOBoard-IC (Mx-A-IO-IC)
• Housing color: white
MX-v26A-6N-b
Request quote
v26 camera module (body) with image sensor and lens mount
• Lens to be ordered individually (B036 to B237, focal length 3.6 to 23.7 mm, f/1.8)
• Manually adjustable lens tilt angle 0° to -90°
• Mx6 system platform with H.264, MxPEG and M-JPEG
• 6 Megapixel Moonlight Sensor, B/W (night)
• Max. image size: 6MP (3072 x 2048)
• IP20, 0 to 40°C (32 to 104°F)
• Lens cover with sealing ring (polycarbonate, 1.5 mm)
• Internal DVR: 4 GB microSD
• Temperature sensor, illumination sensor, movement sensor, MxActivitySensor, MxAnalytics
• 0.5 m/1.6 ft Ethernet patch cable
• Interfaces: Ethernet 10/100 (RJ45), USB, slot for MxIOBoard-IC (Mx-A-IO-IC)
• Housing color: black
MX-c25-D016
Request quote
Hemispheric IP indoor camera for ceiling mounting
• 6 Megapixel Moonlight Sensor, color (day)
• HD premium fisheye lens B016 (focal length 1.6 mm, f/2.0, 180° x 180°)
• Max. image size: 6MP (3072 x 2048)
• IP20, 0 to 40°C (32 to 104°F)
• 4-GB microSD
• Temperature sensor, illumination sensor, movement sensor, MxActivitySensor, MxAnalytics (incl. behavioral detection)
• 0.5 m/1.6 ft Ethernet patch cable
• Interfaces: Ethernet 10/100 (RJ45), USB, slot for IO module MX-OPT-IO3-INT
• Color: white
MX-c25-D036
Request quote
IP indoor camera for ceiling mounting
• 6 Megapixel Moonlight Sensor, color (day)
• Ultra wide lens B036 (focal length 3.6 mm, f/1.8, 103° x 77°)
• Max. image size: 6MP (3072 x 2048)
• IP20, 0 to 40°C (32 to 104°F)
• 4-GB microSD
• Temperature sensor, illumination sensor, movement sensor, MxActivitySensor, MxAnalytics (incl. behavioral detection)
• 0.5 m/1.6 ft Ethernet patch cable
• Interfaces: Ethernet 10/100 (RJ45), USB, slot for IO module MX-OPT-IO3-INT
• Color: white
MX-c25-N016
Request quote
Hemispheric IP indoor camera for ceiling mounting
• 6 Megapixel Moonlight Sensor, B/W (night)
• HD premium fisheye lens B016 (focal length 1.6 mm, f/2.0, 180° x 180°)
• Max. image size: 6MP (3072 x 2048)
• IP20, 0 to 40°C (32 to 104°F)
• 4-GB microSD
• Temperature sensor, illumination sensor, movement sensor, MxActivitySensor, MxAnalytics (incl. behavioral detection)
• 0.5 m/1.6 ft Ethernet patch cable
• Interfaces: Ethernet 10/100 (RJ45), USB, slot for IO module MX-OPT-IO3-INT
• Color: white
MX-c25-D016-AUD
Request quote
Hemispheric IP indoor camera for ceiling mounting
• 6 Megapixel Moonlight Sensor, color (day)
• HD premium fisheye lens B016 (focal length 1.6 mm, f/2.0, 180° x 180°)
• Max. image size: 6MP (3072 x 2048)
• IP20, 0 to 40°C (32 to 104°F)
• 4-GB microSD
• HD Audio with integrated microphone and speaker
• Temperature sensor, illumination sensor, movement sensor, MxActivitySensor, MxAnalytics (incl. behavioral detection)
• 0.5 m/1.6 ft Ethernet patch cable
• Interfaces: Ethernet 10/100 (RJ45), USB, slot for IO module MX-OPT-IO3-INT
• Color: white
MX-c25-N036
Request quote
IP indoor camera for ceiling mounting
• 6 Megapixel Moonlight Sensor, B/W (night)
• Ultra wide lens B036 (focal length 3.6 mm, f/1.8, 103° x 77°)
• Max. image size: 6MP (3072 x 2048)
• IP20, 0 to 40°C (32 to 104°F)
• 4-GB microSD
• Temperature sensor, illumination sensor, movement sensor, MxActivitySensor, MxAnalytics (incl. behavioral detection)
• 0.5 m/1.6 ft Ethernet patch cable
• Interfaces: Ethernet 10/100 (RJ45), USB, slot for IO module MX-OPT-IO3-INT
• Color: white
MX-c25-D036-AUD
Request quote
IP indoor camera for ceiling mounting
• 6 Megapixel Moonlight Sensor, color (day)
• Ultra wide lens B036 (focal length 3.6 mm, f/1.8, 103° x 77°)
• Max. image size: 6MP (3072 x 2048)
• IP20, 0 to 40°C (32 to 104°F)
• 4-GB microSD
• HD Audio with integrated microphone and speaker
• Temperature sensor, illumination sensor, movement sensor, MxActivitySensor, MxAnalytics (incl. behavioral detection)
• 0.5 m/1.6 ft Ethernet patch cable
• Interfaces: Ethernet 10/100 (RJ45), USB, slot for IO module MX-OPT-IO3-INT
• Color: white
MX-c25-N016-AUD
Request quote
Hemispheric IP indoor camera for ceiling mounting
• 6 Megapixel Moonlight Sensor, B/W (night)
• HD premium fisheye lens B016 (focal length 1.6 mm, f/2.0, 180° x 180°)
• Max. image size: 6MP (3072 x 2048)
• IP20, 0 to 40°C (32 to 104°F)
• 4-GB microSD
• HD Audio with integrated microphone and speaker
• Temperature sensor, illumination sensor, movement sensor, MxActivitySensor, MxAnalytics (incl. behavioral detection)
• 0.5 m/1.6 ft Ethernet patch cable
• Interfaces: Ethernet 10/100 (RJ45), USB, slot for IO module MX-OPT-IO3-INT
• Color: white
MX-c25-N036-AUD
Request quote
IP indoor camera for ceiling mounting
• 6 Megapixel Moonlight Sensor, B/W (night)
• Ultra wide lens B036 (focal length 3.6 mm, f/1.8, 103° x 77°)
• Max. image size: 6MP (3072 x 2048)
• IP20, 0 to 40°C (32 to 104°F)
• 4-GB microSD
• HD Audio with integrated microphone and speaker
• Temperature sensor, illumination sensor, movement sensor, MxActivitySensor, MxAnalytics (incl. behavioral detection)
• 0.5 m/1.6 ft Ethernet patch cable
• Interfaces: Ethernet 10/100 (RJ45), USB, slot for IO module MX-OPT-IO3-INT
• Color: white
MX-i25-D016
Request quote
Hemispheric IP indoor camera for wall mounting
• 6 Megapixel Moonlight Sensor, color (day)
• HD premium fisheye lens B016 (focal length 1.6 mm, f/2.0, 180° x 180°)
• Max. image size: 6MP (3072 x 2048)
• IP30, 0 to 40°C (32 to 104°F)
• 4-GB microSD
• Temperature sensor, illumination sensor, movement sensor, MxActivitySensor, MxAnalytics
• 0.5 m/1.6 ft Ethernet patch cable
• Interfaces: Ethernet 10/100 (RJ45), USB, slot for IO module MX-OPT-IO3-INT
• Color: white
MX-i25-D036
Request quote
IP indoor camera for wall mounting
• 6 Megapixel Moonlight Sensor, color (day)
• Ultra wide lens B036 (focal length 3.6 mm, f/1.8, 103° x 77°)
• Max. image size: 6MP (3072 x 2048)
• IP30, 0 to 40°C (32 to 104°F)
• 4-GB microSD
• Temperature sensor, illumination sensor, movement sensor, MxActivitySensor, MxAnalytics
• 0.5 m/1.6 ft Ethernet patch cable
• Interfaces: Ethernet 10/100 (RJ45), USB, slot for IO module MX-OPT-IO3-INT
• Color: white
MX-i25-D016-AUD
Request quote
Hemispheric IP indoor camera for wall mounting
• 6 Megapixel Moonlight Sensor, color (day)
• HD premium fisheye lens B016 (focal length 1.6 mm, f/2.0, 180° x 180°)
• Max. image size: 6MP (3072 x 2048)
• IP30, 0 to 40°C (32 to 104°F)
• 4-GB microSD
• HD Audio with integrated microphone and speaker
• Temperature sensor, illumination sensor, movement sensor, MxActivitySensor, MxAnalytics
• 0.5 m/1.6 ft Ethernet patch cable
• Interfaces: Ethernet 10/100 (RJ45), USB, slot for IO module MX-OPT-IO3-INT
• Color: white
MX-i25-N016
Request quote
Hemispheric IP indoor camera for wall mounting
• 6 Megapixel Moonlight Sensor, B/W (night)
• HD premium fisheye lens B016 (focal length 1.6 mm, f/2.0, 180° x 180°)
• Max. image size: 6MP (3072 x 2048)
• IP30, 0 to 40°C (32 to 104°F)
• 4-GB microSD
• Temperature sensor, illumination sensor, movement sensor, MxActivitySensor, MxAnalytics
• 0.5 m/1.6 ft Ethernet patch cable
• Interfaces: Ethernet 10/100 (RJ45), USB, slot for IO module MX-OPT-IO3-INT
• Color: white
MX-i25-N036
Request quote
IP indoor camera for wall mounting
• 6 Megapixel Moonlight Sensor, B/W (night)
• Ultra wide lens B036 (focal length 3.6 mm, f/1.8, 103° x 77°)
• Max. image size: 6MP (3072 x 2048)
• IP30, 0 to 40°C (32 to 104°F)
• 4-GB microSD
• Temperature sensor, illumination sensor, movement sensor, MxActivitySensor, MxAnalytics
• 0.5 m/1.6 ft Ethernet patch cable
• Interfaces: Ethernet 10/100 (RJ45), USB, slot for IO module MX-OPT-IO3-INT
• Color: white
MX-i25-D036-AUD
Request quote
IP indoor camera for wall mounting
• 6 Megapixel Moonlight Sensor, color (day)
• Ultra wide lens B036 (focal length 3.6 mm, f/1.8, 103° x 77°)
• Max. image size: 6MP (3072 x 2048)
• IP30, 0 to 40°C (32 to 104°F)
• 4-GB microSD
• Audio package with integrated microphone and speaker
• Temperature sensor, illumination sensor, movement sensor, MxActivitySensor, MxAnalytics
• 0.5 m/1.6 ft Ethernet patch cable
• Interfaces: Ethernet 10/100 (RJ45), USB, slot for IO module MX-OPT-IO3-INT
• Color: white
MX-i25-N016-AUD
Request quote
Hemispheric IP indoor camera for wall mounting
• 6 Megapixel Moonlight Sensor, B/W (night)
• HD premium fisheye lens B016 (focal length 1.6 mm, f/2.0, 180° x 180°)
• Max. image size: 6MP (3072 x 2048)
• IP30, 0 to 40°C (32 to 104°F)
• 4-GB microSD
• HD Audio with integrated microphone and speaker
• Temperature sensor, illumination sensor, movement sensor, MxActivitySensor, MxAnalytics
• 0.5 m/1.6 ft Ethernet patch cable
• Interfaces: Ethernet 10/100 (RJ45), USB, slot for IO module MX-OPT-IO3-INT
• Color: white
MX-i25-N036-AUD
Request quote
IP indoor camera for wall mounting
• 6 Megapixel Moonlight Sensor, B/W (night)
• Ultra wide lens B036 (focal length 3.6 mm, f/1.8, 103° x 77°)
• Max. image size: 6MP (3072 x 2048)
• IP30, 0 to 40°C (32 to 104°F)
• 4-GB microSD
• Audio package with integrated microphone and speaker
• Temperature sensor, illumination sensor, movement sensor, MxActivitySensor, MxAnalytics
• 0.5 m/1.6 ft Ethernet patch cable
• Interfaces: Ethernet 10/100 (RJ45), USB, slot for IO module MX-OPT-IO3-INT
• Color: white
MX-p25-BOD1
Request quote
p25 camera module (body) with image sensor and lens mount
• Lens to be ordered individually (B036 to B237, focal length 3.6 to 23.7 mm, f/1.8)
• Manually adjustable lens tilt angle -5° to -45°
• 6 Megapixel Moonlight Sensor, color (day)
• Max. image size: 6MP (3072 x 2048)
• IP20, 0 to 40°C (32 to 104°F)
• Internal DVR: 4-GB MicroSD
• Temperature sensor, illumination sensor, movement sensor, MxActivitySensor, MxAnalytics
• 0.5 m/1.6 ft Ethernet patch cable
• Interfaces: Ethernet 10/100 (RJ45), USB, slot for IO module MX-OPT-IO3-INT
• Color: white
MX-p25-BOD1-N
Request quote
p25 camera module (body) with image sensor and lens mount
• Lens to be ordered individually (B036 to B235, focal length 3.6 to 23.7 mm, f/1.8)
• Manually adjustable lens tilt angle -5° to -45°
• 6 Megapixel Moonlight Sensor, B/W (night)
• Max. image size: 6MP (3072 x 2048)
• IP20, 0 to 40°C (32 to 104°F)
• Internal DVR: 4-GB MicroSD
• Temperature sensor, illumination sensor, movement sensor, MxActivitySensor, MxAnalytics
• 0.5 m/1.6 ft Ethernet patch cable
• Interfaces: Ethernet 10/100 (RJ45), USB, slot for IO module MX-OPT-IO3-INT
• Color: white
MX-p25-BOD1-AUD
Request quote
p25 camera module (body) with 6 Megapixel Moonlight Sensor, color (day) and lens mount
• Lens to be ordered individually (B036 to B237, focal length 3.6 to 23.7 mm, f/1.8)
• Manually adjustable lens tilt angle -5° to -45°
• 6 Megapixel Moonlight Sensor, color (day)
• Max. image size: 6MP (3072 x 2048)
• IP20, 0 to 40°C (32 to 104°F)
• 4-GB microSD
• HD-Audio with integrated microphone and speaker
• Temperature sensor, illumination sensor, movement sensor, MxActivitySensor, MxAnalytics
• 0.5 m/1.6 ft Ethernet patch cable
• Interfaces: Ethernet 10/100 (RJ45), USB, slot for IO module MX-OPT-IO3-INT
• Color: white
MX-p25-BOD1-N-AUD
Request quote
p25 camera module (body) with 6 Megapixel Moonlight Sensor, B/W (night) and lens mount
• Lens to be ordered individually (B036 to B235, focal length 3.6 to 23.7 mm, f/1.8)
• Manually adjustable lens tilt angle -5° to -45°
• Max. image size: 6MP (3072 x 2048)
• IP20, 0 to 40°C (32 to 104°F)
• 4-GB microSD
• HD Audio with integrated microphone and speaker
• Temperature sensor, illumination sensor, movement sensor, MxActivitySensor, MxAnalytics
• 0.5 m/1.6 ft Ethernet patch cable
• Interfaces: Ethernet 10/100 (RJ45), USB, slot for IO module MX-OPT-IO3-INT
• Color: white
MX-p25-D016
Request quote
Hemispheric IP indoor camera for ceiling mounting
• Manually adjustable lens tilt angle -5° to -45°
• 6 Megapixel Moonlight Sensor, color (day)
• HD premium fisheye lens B016 (focal length 1.6 mm, f/2.0, 180° x 180°)
• Max. image size: 6MP (3072 x 2048)
• IP20, 0 to 40°C (32 to 104°F)
• Internal DVR: 4-GB MicroSD
• Temperature sensor, illumination sensor, movement sensor, MxActivitySensor, MxAnalytics
• 0.5 m/1.6 ft Ethernet patch cable
• Interfaces: Ethernet 10/100 (RJ45), USB, slot for IO module MX-OPT-IO3-INT
• Color: white
MX-p25-D036
Request quote
IP indoor camera for ceiling mounting
• Manually adjustable lens tilt angle -5° to -45°
• 6 Megapixel Moonlight Sensor, color (day)
• Ultra wide lens B036 (focal length 3.6 mm, f/1.8, 103° x 77°)
• Max. image size: 6MP (3072 x 2048)
• IP20, 0 to 40°C (32 to 104°F)
• Internal DVR: 4-GB MicroSD
• Temperature sensor, illumination sensor, movement sensor, MxActivitySensor, MxAnalytics
• 0.5 m/1.6 ft Ethernet patch cable
• Interfaces: Ethernet 10/100 (RJ45), USB, slot for IO module MX-OPT-IO3-INT
• Color: white
MX-p25-D016-AUD
Request quote
Hemispheric IP indoor camera for ceiling mounting
• Manually adjustable lens tilt angle -5° to -45°
• 6 Megapixel Moonlight Sensor, color (day)
• HD premium fisheye lens B016 (focal length 1.6 mm, f/2.0, 180° x 180°)
• Max. image size: 6MP (3072 x 2048)
• IP20, 0 to 40°C (32 to 104°F)
• 4-GB microSD
• HD Audio with integrated microphone and speaker
• Temperature sensor, illumination sensor, movement sensor, MxActivitySensor, MxAnalytics
• 0.5 m/1.6 ft Ethernet patch cable
• Interfaces: Ethernet 10/100 (RJ45), USB, slot for IO module MX-OPT-IO3-INT
• Color: white
MX-p25-D061
Request quote
IP indoor camera for ceiling mounting
• Manually adjustable lens tilt angle -5° to -45°
• 6 Megapixel Moonlight Sensor, color (day)
• Wide lens B061 (focal length 6.1 mm, f/1.8, 60° x 45°)
• Max. image size: 6MP (3072 x 2048)
• IP20, 0 to 40°C (32 to 104°F)
• Internal DVR: 4-GB MicroSD
• Temperature sensor, illumination sensor, movement sensor, MxActivitySensor, MxAnalytics
• 0.5 m/1.6 ft Ethernet patch cable
• Interfaces: Ethernet 10/100 (RJ45), USB, slot for IO module MX-OPT-IO3-INT
• Color: white
MX-p25-D079
Request quote
IP indoor camera for ceiling mounting
• Manually adjustable lens tilt angle -5° to -45°
• 6 Megapixel Moonlight Sensor, color (day)
• Standard lens B079 (focal length 7.9 mm, f/1.8, 45° x 34°)
• Max. image size: 6MP (3072 x 2048)
• IP20, 0 to 40°C (32 to 104°F)
• Internal DVR: 4-GB MicroSD
• Temperature sensor, illumination sensor, movement sensor, MxActivitySensor, MxAnalytics
• 0.5 m/1.6 ft Ethernet patch cable
• Interfaces: Ethernet 10/100 (RJ45), USB, slot for IO module MX-OPT-IO3-INT
• Color: white
MX-p25-D119
Request quote
IP indoor camera for ceiling mounting
• Manually adjustable lens tilt angle -5° to -45°
• 6 Megapixel Moonlight Sensor, color (day)
• Tele lens B119 (focal length 11.9 mm, f/1.8, 31° x 23°)
• Max. image size: 6MP (3072 x 2048)
• IP20, 0 to 40°C (32 to 104°F)
• Internal DVR: 4-GB MicroSD
• Temperature sensor, illumination sensor, movement sensor, MxActivitySensor, MxAnalytics
• 0.5 m/1.6 ft Ethernet patch cable
• Interfaces: Ethernet 10/100 (RJ45), USB, slot for IO module MX-OPT-IO3-INT
• Color: white
MX-p25-D237
Request quote
IP indoor camera for ceiling mounting
• Manually adjustable lens tilt angle -5° to -45°
• 6 Megapixel Moonlight Sensor, color (day)
• Distant Tele lens B237 (focal length 23.7 mm, f/1.8, 15° x 11°)
• Max. image size: 6MP (3072 x 2048)
• IP20, 0 to 40°C (32 to 104°F)
• Internal DVR: 4-GB MicroSD
• Temperature sensor, illumination sensor, movement sensor, MxActivitySensor, MxAnalytics
• 0.5 m/1.6 ft Ethernet patch cable
• Interfaces: Ethernet 10/100 (RJ45), USB, slot for IO module MX-OPT-IO3-INT
• Color: white
MX-p25-N016
Request quote
Hemispheric IP indoor camera for ceiling mounting
• Manually adjustable lens tilt angle -5° to -45°
• 6 Megapixel Moonlight Sensor, B/W (night)
• HD premium fisheye lens B016 (focal length 1.6 mm, f/2.0, 180° x 180°)
• Max. image size: 6MP (3072 x 2048)
• IP20, 0 to 40°C (32 to 104°F)
• Internal DVR: 4-GB MicroSD
• Temperature sensor, illumination sensor, movement sensor, MxActivitySensor, MxAnalytics
• 0.5 m/1.6 ft Ethernet patch cable
• Interfaces: Ethernet 10/100 (RJ45), USB, slot for IO module MX-OPT-IO3-INT
• Color: white
MX-p25-N036
Request quote
IP indoor camera for ceiling mounting
• Manually adjustable lens tilt angle -5° to -45°
• 6 Megapixel Moonlight Sensor, B/W (night)
• Ultra Wide lens B036 (focal length 3.6 mm, f/1.8, 103° x 77°)
• Max. image size: 6MP (3072 x 2048)
• IP20, 0 to 40°C (32 to 104°F)
• Internal DVR: 4-GB MicroSD
• Temperature sensor, illumination sensor, movement sensor, MxActivitySensor, MxAnalytics
• 0.5 m/1.6 ft Ethernet patch cable
• Interfaces: Ethernet 10/100 (RJ45), USB, slot for IO module MX-OPT-IO3-INT
• Color: white
MX-p25-D036-AUD
Request quote
IP indoor camera for ceiling mounting
• Manually adjustable lens tilt angle -5° to -45°
• 6 Megapixel Moonlight Sensor, color (day)
• Ultra wide lens B036 (focal length 3.6 mm, f/1.8, 103° x 77°)
• Max. image size: 6MP (3072 x 2048)
• IP20, 0 to 40°C (32 to 104°F)
• 4-GB microSD
• HD Audio with integrated microphone and speaker
• Temperature sensor, illumination sensor, movement sensor, MxActivitySensor, MxAnalytics
• 0.5 m/1.6 ft Ethernet patch cable
• Interfaces: Ethernet 10/100 (RJ45), USB, slot for IO module MX-OPT-IO3-INT
• Color: white
MX-p25-N016-AUD
Request quote
Hemispheric IP indoor camera for ceiling mounting
• Manually adjustable lens tilt angle -5° to -45°
• 6 Megapixel Moonlight Sensor, B/W (night)
• HD premium fisheye lens B016 (focal length 1.6 mm, f/2.0, 180° x 180°)
• Max. image size: 6MP (3072 x 2048)
• IP20, 0 to 40°C (32 to 104°F)
• 4-GB microSD
• HD Audio with integrated microphone and speaker
• Temperature sensor, illumination sensor, movement sensor, MxActivitySensor, MxAnalytics
• 0.5 m/1.6 ft Ethernet patch cable
• Interfaces: Ethernet 10/100 (RJ45), USB, slot for IO module MX-OPT-IO3-INT
• Color: white
MX-p25-N036-AUD
Request quote
IP indoor camera for ceiling mounting
• Manually adjustable lens tilt angle -5° to -45°
• 6 Megapixel Moonlight Sensor, B/W (night)
• Ultra wide lens B036 (focal length 3.6 mm, f/1.8, 103° x 77°)
• Max. image size: 6MP (3072 x 2048)
• IP20, 0 to 40°C (32 to 104°F)
• 4-GB microSD
• HD Audio with integrated microphone and speaker
• Temperature sensor, illumination sensor, movement sensor, MxActivitySensor, MxAnalytics
• 0.5 m/1.6 ft Ethernet patch cable
• Interfaces: Ethernet 10/100 (RJ45), USB, slot for IO module MX-OPT-IO3-INT
• Color: white
MX-v25-BOD1
Request quote
v25 camera module (body) with image sensor and lens mount
• Lens to be ordered individually (B036 to B237, focal length 3.6 to 23.7 mm, f/1.8)
• Manually adjustable lens tilt angle 0° to -90°
• 6 Megapixel Moonlight Sensor, color (day)
• Max. image size: 6MP (3072 x 2048)
• IP20, 0 to 40°C (32 to 104°F)
• Lens cover with sealing ring (polycarbonate, 1.5 mm)
• Internal DVR: 4 GB microSD
• Temperature sensor, illumination sensor, movement sensor, MxActivitySensor, MxAnalytics
• 0.5 m/1.6 ft Ethernet patch cable
• Interfaces: Ethernet 10/100 (RJ45), USB, slot for IO module MX-OPT-IO3-INT
• Housing color: white
MX-v25-BOD1-b
Request quote
v25 camera module (body) with image sensor and lens mount
• Lens to be ordered individually (B036 to B237, focal length 3.6 to 23.7 mm, f/1.8)
• Manually adjustable lens tilt angle 0° to -90°
• 6 Megapixel Moonlight Sensor, color (day)
• Max. image size: 6MP (3072 x 2048)
• IP20, 0 to 40°C (32 to 104°F)
• Lens cover with sealing ring (polycarbonate, 1.5 mm)
• Internal DVR: 4 GB microSD
• Temperature sensor, illumination sensor, movement sensor, MxActivitySensor, MxAnalytics
• 0.5 m/1.6 ft Ethernet patch cable
• Interfaces: Ethernet 10/100 (RJ45), USB, slot for IO module MX-OPT-IO3-INT
• Housing color: black
MX-v25-BOD1-N
Request quote
v25 camera module (body) with image sensor and lens mount
• Lens to be ordered individually (B036 to B237, focal length 3.6 to 23.7 mm, f/1.8)
• Manually adjustable lens tilt angle 0° to -90°
• 6 Megapixel Moonlight Sensor, B/W (night)
• Max. image size: 6MP (3072 x 2048)
• IP20, 0 to 40°C (32 to 104°F)
• Lens cover with sealing ring (polycarbonate, 1.5 mm)
• Internal DVR: 4 GB microSD
• Temperature sensor, illumination sensor, movement sensor, MxActivitySensor, MxAnalytics
• 0.5 m/1.6 ft Ethernet patch cable
• Interfaces: Ethernet 10/100 (RJ45), USB, slot for IO module MX-OPT-IO3-INT
• Housing color: white
MX-v25-BOD1-N-b
Request quote
v25 camera module (body) with image sensor and lens mount
• Lens to be ordered individually (B036 to B237, focal length 3.6 to 23.7 mm, f/1.8)
• Manually adjustable lens tilt angle 0° to -90°
• 6 Megapixel Moonlight Sensor, B/W (night)
• Max. image size: 6MP (3072 x 2048)
• IP20, 0 to 40°C (32 to 104°F)
• Lens cover with sealing ring (polycarbonate, 1.5 mm)
• Internal DVR: 4 GB microSD
• Temperature sensor, illumination sensor, movement sensor, MxActivitySensor, MxAnalytics
• 0.5 m/1.6 ft Ethernet patch cable
• Interfaces: Ethernet 10/100 (RJ45), USB, slot for IO module MX-OPT-IO3-INT
• Housing color: black
MX-v25-D036
Request quote
IP indoor camera for ceiling mounting
• Manually adjustable lens tilt angle 0° to -90°
• 6 Megapixel Moonlight Sensor, color (day)
• Ultra wide lens B036 (focal length 3.6 mm, f/1.8, 103° x 77°)
• Max. image size: 6MP (3072 x 2048)
• IP20, 0 to 40°C (32 to 104°F)
• Lens cover with sealing ring (polycarbonate, 1.5 mm)
• Internal DVR: 4 GB microSD
• Temperature sensor, illumination sensor, movement sensor, MxActivitySensor, MxAnalytics
• 0.5 m/1.6 ft Ethernet patch cable
• Interfaces: Ethernet 10/100 (RJ45), USB, slot for IO module MX-OPT-IO3-INT
• Housing color: white
MX-M16TA-R079
Request quote
IP thermographic camera TR with Germanium Lens: B079 equivalent, horizontal/vertical image angle 45°/32°
• Mx6 system platform with H.264, MxPEG and M-JPEG
• Thermal radiometry (TR): calibrated thermal sensor for temperature events from -40 to 550°C (-40 to 1022°F)
• NETD typ. 50 mK, <79 mK, IR range 7.5 to 13.5 micrometer, uncooled micro bolometer, up to 9 frames per second, 336 x 252 pixels (can be scaled up to 6MP)
• Optional optical 6MP sensor module (to be ordered individually)
• IP66, -30 to 60°C (-22 to 140°F)
• Internal DVR: 4 GB microSD
• System components: speaker and microphone (inside housing), PIR sensor, temperature sensor, MxActivitySensor, VarioFlex wall/ceiling mount (can be used with additional pole mount: MX-MH-SecureFlex-ESWS), ethernet patch cable 0.5 m/1.65 ft
• Interfaces: Ethernet 10/100 (RJ45), USB; IO and RS232 via additional Interface Box
MX-M16TA-R119
Request quote
IP thermographic camera TR with Germanium Lens: B119 equivalent, horizontal/vertical image angle 25°/19°
• Mx6 system platform with H.264, MxPEG and M-JPEG
• Thermal radiometry (TR): calibrated thermal sensor for temperature events from -40 to 550°C (-40 to 1022°F)
• NETD typ. 50 mK, <79 mK, IR range 7.5 to 13.5 micrometer, uncooled micro bolometer, up to 9 frames per second, 336 x 252 pixels (can be scaled up to 6MP)
• Optional optical 6MP sensor module (to be ordered individually)
• IP66, -30 to 60°C (-22 to 140°F)
• Internal DVR: 4 GB microSD
• System components: speaker and microphone (inside housing), PIR sensor, temperature sensor, MxActivitySensor, VarioFlex wall/ceiling mount (can be used with additional pole mount: MX-MH-SecureFlex-ESWS), ethernet patch cable 0.5 m/1.65 ft
• Interfaces: Ethernet 10/100 (RJ45), USB; IO and RS232 via additional Interface Box
MX-M16TA-R237
Request quote
IP thermographic camera TR with Germanium Lens: B237 equivalent, horizontal/vertical image angle 17°/13°
• Mx6 system platform with H.264, MxPEG and M-JPEG
• Thermal radiometry (TR): calibrated thermal sensor for temperature events from -40 to 550°C (-40 to 1022°F)
• NETD typ. 50 mK, <79 mK, IR range 7.5 to 13.5 micrometer, uncooled micro bolometer, up to 9 frames per second, 336 x 252 pixels (can be scaled up to 6MP)
• Optional optical 6MP sensor module (to be ordered individually)
• IP66, -30 to 60°C (-22 to 140°F)
• Internal DVR: 4 GB microSD
• System components: speaker and microphone (inside housing), PIR sensor, temperature sensor, MxActivitySensor, VarioFlex wall/ceiling mount (can be used with additional pole mount: MX-MH-SecureFlex-ESWS), ethernet patch cable 0.5 m/1.65 ft
• Interfaces: Ethernet 10/100 (RJ45), USB; IO and RS232 via additional Interface Box
MX-M16TA-T079
Request quote
IP thermographic camera with T079 thermal lens, horizontal/vertical image angle 45°/32°, optional connection of an additional optical 6MP sensor module (to be ordered individually)
• Mx6 system platform with H.264, MxPEG and M-JPEG
• Highly sensitive thermal image sensor: NETD typ. 50 mK, <79 mK, IR range 7.5 to 13.5 micrometer, uncooled micro bolometer, up to 9 frames per second
• Image size (thermal): 336 x 252 pixels (can be scaled up)
• IP66, -30 to 60°C (-22 to 140°F)
• Internal DVR: 4 GB microSD
• System components: speaker and microphone (inside housing), PIR sensor, temperature sensor, MxActivitySensor, VarioFlex wall/ceiling mount (can be used with additional pole mount: MX-MH-SecureFlex-ESWS), ethernet patch cable 0.5 m/1.65 ft
• Interfaces: Ethernet 10/100 (RJ45), USB; IO and RS232 via additional Interface Box
MX-M16TA-T119
Request quote
IP thermographic camera with T119 thermal lens, horizontal/vertical image angle 25°/19°, optional connection of an additional optical 6MP sensor module (to be ordered individually)
• Mx6 system platform with H.264, MxPEG and M-JPEG
• Highly sensitive thermal image sensor: NETD typ. 50 mK, <79 mK, IR range 7.5 to 13.5 micrometer, uncooled micro bolometer, up to 9 frames per second
• Image size (thermal): 336 x 252 pixels (can be scaled up)
• IP66, -30 to 60°C (-22 to 140°F)
• Internal DVR: 4 GB microSD
• System components: speaker and microphone (inside housing), PIR sensor, temperature sensor, MxActivitySensor, VarioFlex wall/ceiling mount (can be used with additional pole mount: MX-MH-SecureFlex-ESWS), ethernet patch cable 0.5 m/1.65 ft
• Interfaces: Ethernet 10/100 (RJ45), USB; IO and RS232 via additional Interface Box
MX-M16TA-T237
Request quote
IP thermographic camera with T237 thermal lens, horizontal/vertical image angle 17°/13°, optional connection of an additional optical 6MP sensor module (to be ordered individually)
• Mx6 system platform with H.264, MxPEG and M-JPEG
• Highly sensitive thermal image sensor: NETD typ. 50 mK, <79 mK, IR range 7.5 to 13.5 micrometer, uncooled micro bolometer, up to 9 frames per second
• Image size (thermal): 336 x 252 pixels (can be scaled up)
• IP66, -30 to 60°C (-22 to 140°F)
• Internal DVR: 4 GB MicroSD
• System components: speaker and microphone (inside housing), PIR sensor, temperature sensor, MxActivitySensor, VarioFlex wall/ceiling mount (can be used with additional pole mount: MX-MH-SecureFlex-ESWS), ethernet patch cable 0.5 m/1.65 ft
• Interfaces: Ethernet 10/100 (RJ45), USB; IO and RS232 via additional Interface Box
MX-M15-TR079
Request quote
IP thermographic camera TR with Germanium Lens: B079 equivalent, horizontal/vertical image angle 45°/32°
• Thermal radiometry (TR): calibrated thermal sensor for temperature events from -40 to 550°C (-40 to 1022°F)
• NETD typ. 50 mK, <79 mK, IR range 7.5 to 13.5 micrometer, uncooled micro bolometer, up to 9 frames per second, 336 x 252 pixels (can be scaled up to 6MP)
• Optional optical 6MP sensor module (to be ordered individually)
• IP66, -30 to 60°C (-22 to 140°F)
• Internal DVR: 4 GB microSD
• System components: speaker and microphone (inside housing), PIR sensor, temperature sensor, shock detector, MxActivitySensor, VarioFlex wall/ceiling mount (can be used with additional pole mount: MX-MH-SecureFlex-ESWS), ethernet patch cable 0.5 m/1.65 ft
• Interfaces: Ethernet 10/100 (RJ45), MxBus, USB; IO and RS232 via additional Interface Box
MX-M15-TR119
Request quote
IP thermographic camera TR with Germanium Lens: B119 equivalent, horizontal/vertical image angle 25°/19°
• Thermal radiometry (TR): calibrated thermal sensor for temperature events from -40 to 550°C (-40 to 1022°F)
• NETD typ. 50 mK, <79 mK, IR range 7.5 to 13.5 micrometer, uncooled micro bolometer, up to 9 frames per second, 336 x 252 pixels (can be scaled up to 6MP)
• Optional optical 6MP sensor module (to be ordered individually)
• IP66, -30 to 60°C (-22 to 140°F)
• Internal DVR: 4 GB microSD
• System components: speaker and microphone (inside housing), PIR sensor, temperature sensor, shock detector, MxActivitySensor, VarioFlex wall/ceiling mount (can be used with additional pole mount: MX-MH-SecureFlex-ESWS), ethernet patch cable 0.5 m/1.65 ft
• Interfaces: Ethernet 10/100 (RJ45), MxBus, USB; IO and RS232 via additional Interface Box
MX-M15-TR237
Request quote
IP thermographic camera TR with Germanium Lens: B237 equivalent, horizontal/vertical image angle 17°/13°
• Thermal radiometry (TR): calibrated thermal sensor for temperature events from -40 to 550°C (-40 to 1022°F)
• NETD typ. 50 mK, <79 mK, IR range 7.5 to 13.5 micrometer, uncooled micro bolometer, up to 9 frames per second, 336 x 252 pixels (can be scaled up to 6MP)
• Optional optical 6MP sensor module (to be ordered individually)
• IP66, -30 to 60°C (-22 to 140°F)
• Internal DVR: 4 GB microSD
• System components: speaker and microphone (inside housing), PIR sensor, temperature sensor, shock detector, MxActivitySensor, VarioFlex wall/ceiling mount (can be used with additional pole mount: MX-MH-SecureFlex-ESWS), ethernet patch cable 0.5 m/1.65 ft
• Interfaces: Ethernet 10/100 (RJ45), MxBus, USB; IO and RS232 via additional Interface Box
MX-M15D-Thermal-L43
Request quote
IP thermographic camera with L43 thermal lens, horizontal/vertical image angle 45°/32°, optional connection of an additional optical 6MP sensor module (to be ordered individually)
• Highly sensitive thermal image sensor: NETD typ. 50 mK, <79 mK, IR range 7.5 to 13.5 micrometer, uncooled micro bolometer, up to 9 frames per second
• Image size (thermal): 336 x 252 pixels (can be scaled up)
• IP66, -30 to 60°C (-22 to 140°F)
• Internal DVR: 4 GB microSD
• System components: speaker and microphone (inside housing), PIR sensor, temperature sensor, shock detector, MxActivitySensor, VarioFlex wall/ceiling mount (can be used with additional pole mount: MX-MH-SecureFlex-ESWS), ethernet patch cable 0.5 m/1.65 ft
• Interfaces: Ethernet 10/100 (RJ45), MxBus, USB; IO and RS232 via additional Interface Box
MX-M15D-Thermal-L65
Request quote
IP thermographic camera with L65 thermal lens, horizontal/vertical image angle 25°/19°, optional connection of an additional optical 6MP sensor module (to be ordered individually)
• Highly sensitive thermal image sensor: NETD typ. 50 mK, <79 mK, IR range 7.5 to 13.5 micrometer, uncooled micro bolometer, up to 9 frames per second
• Image size (thermal): 336 x 252 pixels (can be scaled up)
• IP66, -30 to 60°C (-22 to 140°F)
• Internal DVR: 4 GB microSD
• System components: speaker and microphone (inside housing), PIR sensor, temperature sensor, shock detector, MxActivitySensor, VarioFlex wall/ceiling mount (can be used with additional pole mount: MX-MH-SecureFlex-ESWS), ethernet patch cable 0.5 m/1.65 ft
• Interfaces: Ethernet 10/100 (RJ45), MxBus, USB; IO and RS232 via additional Interface Box
MX-M15D-Thermal-L135
Request quote
IP thermographic camera with L135 thermal lens, horizontal/vertical image angle 17°/13°, optional connection of an additional optical 6MP sensor module (to be ordered individually)
• Highly sensitive thermal image sensor: NETD typ. 50 mK, <79 mK, IR range 7.5 to 13.5 micrometer, uncooled micro bolometer, up to 9 frames per second
• Image size (thermal): 336 x 252 pixels (can be scaled up)
• IP66, -30 to 60°C (-22 to 140°F)
• Internal DVR: 4 GB MicroSD
• System components: speaker and microphone (inside housing), PIR sensor, temperature sensor, shock detector, MxActivitySensor, VarioFlex wall/ceiling mount (can be used with additional pole mount: MX-MH-SecureFlex-ESWS), ethernet patch cable 0.5 m/1.65 ft
• Interfaces: Ethernet 10/100 (RJ45), MxBus, USB; IO and RS232 via additional Interface Box
MX-O-SMA-TS-R079
Request quote
Thermal Sensor Module TR for the S16/S15
• Thermal radiometry (TR): calibrated thermal sensor for temperature events from -40 to 550°C (-40 to 1022°F)
• NETD typ. 50 mK, <79 mK, IR range 7.5 to 13.5 micrometer, uncooled micro bolometer, up to 9 frames per second
• Germanium Lens (included): B079 equivalent, horizontal/vertical image angle 45°/32°
• Image size: 336 x 252 pixels (can be scaled up to 6MP)
• IP66, -30 to 60°C (-22 to 140°F)
• Housing: Black anodized aluminum
• Camera connection via MOBOTIX sensor cable (max. 3 m/9.8 ft, to be ordered individually)
MX-O-SMA-TS-R119
Request quote
Thermal Sensor Module TR for the S16/S15
• Thermal radiometry (TR): calibrated thermal sensor for temperature events from -40 to 550°C (-40 to 1022°F)
• NETD typ. 50 mK, <79 mK, IR range 7.5 to 13.5 micrometer, uncooled micro bolometer, up to 9 frames per second
• Germanium Lens (included): B119 equivalent, horizontal/vertical image angle 25°/19°
• Image size: 336 x 252 pixels (can be scaled up to 6MP)
• IP66, -30 to 60°C (-22 to 140°F)
• Housing: Black anodized aluminum
• Camera connection via MOBOTIX sensor cable (max. 3 m/9.8 ft, to be ordered individually)
MX-O-SMA-TS-R237
Request quote
Thermal Sensor Module TR for the S16/S15
• Thermal radiometry (TR): calibrated thermal sensor for temperature events from -40 to 550°C (-40 to 1022°F)
• NETD typ. 50 mK, <79 mK, IR range 7.5 to 13.5 micrometer, uncooled micro bolometer, up to 9 frames per second
• Germanium Lens (included): B237 equivalent, horizontal/vertical image angle 17°/13°
• Image size: 336 x 252 pixels (can be scaled up to 6MP)
• IP66, -30 to 60°C (-22 to 140°F)
• Housing: Black anodized aluminum
• Camera connection via MOBOTIX sensor cable (max. 3 m/9.8 ft, to be ordered individually)
MX-O-SMA-TP-R079
Request quote
PTMount-Thermal TR for the S16/S15
• Thermal radiometry (TR): calibrated thermal sensor for temperature events from -40 to 550°C (-40 to 1022°F)
• NETD typ. 50 mK, <79 mK, IR range 7.5 to 13.5 micrometer, uncooled micro bolometer, up to 9 frames per second
• Germanium Lens (2 m/6.6 ft, included): B079 equivalent, horizontal/vertical image angle 45°/32°
• Image size: 336 x 252 pixels (can be scaled up to 6MP)
• IP66, -30 to 60°C (-22 to 140°F)
• Camera connection via MOBOTIX sensor cable (2 m/6.6 ft, included)
• Color: White
MX-O-SMA-TP-R119
Request quote
PTMount-Thermal TR for the S16/S15
• Thermal radiometry (TR): calibrated thermal sensor for temperature events from -40 to 550 °C (-40 to 1022°F)
• NETD typ. 50 mK, <79 mK, IR range 7.5 to 13.5 micrometer, uncooled micro bolometer, up to 9 frames per second
• Germanium Lens (2 m/6.6 ft, included): B119 equivalent, horizontal/vertical image angle 25°/19°
• Image size: 336 x 252 pixels (can be scaled up to 6MP)
• IP66, -30 to 60°C (-22 to 140°F)
• Camera connection via MOBOTIX sensor cable (2 m/6.6 ft, included)
• Color: White
MX-O-SMA-TP-R237
Request quote
PTMount-Thermal TR for the S16/S15
• Thermal radiometry (TR): calibrated thermal sensor for temperature events from -40 to 550°C (-40 to 1022°F)
• NETD typ. 50 mK, <79 mK, IR range 7.5 to 13.5 micrometer, uncooled micro bolometer, up to 9 frames per second
• Germanium Lens (2 m/6.6 ft, included): B237 equivalent, horizontal/vertical image angle 17°/13°
• Image size: 336 x 252 pixels (can be scaled up to 6MP)
• IP66, -30 to 60°C (-22 to 140°F)
• Camera connection via MOBOTIX sensor cable (2 m/6.6 ft, included)
• Color: White
MX-O-SMA-TP-R079-b
Request quote
PTMount-Thermal TR for the S16/S15
• Thermal radiometry (TR): calibrated thermal sensor for temperature events from -40 to 550 °C (-40 to 1022°F)
• NETD typ. 50 mK, <79 mK, IR range 7.5 to 13.5 micrometer, uncooled micro bolometer, up to 9 frames per second
• Germanium Lens (2 m/6.6 ft, included): B079 equivalent, horizontal/vertical image angle 45°/32°
• Image size: 336 x 252 pixels (can be scaled up to 6MP)
• IP66, -30 to 60°C (-22 to 140°F)
• Camera connection via MOBOTIX sensor cable (2 m/6.6 ft, included)
• Color: Black
MX-O-SMA-TP-R119-b
Request quote
PTMount-Thermal TR for the S16/S15
• Thermal radiometry (TR): calibrated thermal sensor for temperature events from -40 to 550°C (-40 to 1022°F)
• NETD typ. 50 mK, <79 mK, IR range 7.5 to 13.5 micrometer, uncooled micro bolometer, up to 9 frames per second
• Germanium Lens (2 m/6.6 ft, included): B119 equivalent, horizontal/vertical image angle 25°/19°
• Image size: 336 x 252 pixels (can be scaled up to 6MP)
• IP66, -30 to 60°C (-22 to 140°F)
• Camera connection via MOBOTIX sensor cable (2 m/6.6 ft, included)
• Color: Black
MX-O-SMA-TP-R237-b
Request quote
PTMount-Thermal TR for the S16/S15
• Thermal radiometry (TR): calibrated thermal sensor for temperature events from -40 to 550°C (-40 to 1022°F)
• NETD typ. 50 mK, <79 mK, IR range 7.5 to 13.5 micrometer, uncooled micro bolometer, up to 9 frames per second
• Germanium Lens (2 m/6.6 ft, included): B237 equivalent, horizontal/vertical image angle 17°/13°
• Image size: 336 x 252 pixels (can be scaled up to 6MP)
• IP66, -30 to 60°C (-22 to 140°F)
• Camera connection via MOBOTIX sensor cable (2 m/6.6 ft, included)
• Color: Black
MX-O-SMA-TS-T079
Request quote
Suitable for: S16/S15 (to be ordered individually)
• Highly sensitive thermal image sensor: NETD typ. 50 mK, <79 mK, IR range 7.5 to 13.5 micrometer, uncooled micro bolometer, up to 9 frames per second
• Germanium Lens (included): B079, horizontal/vertical image angle 45°/32°
• Image size: 336 x 252 pixels (can be scaled up to 6MP)
• IP66, -30 to 60°C (-22 to 140°F)
• Housing: Black anodized aluminum
• Camera connection via MOBOTIX sensor cable (max. 3 m/9.8 ft, to be ordered individually)
MX-O-SMA-TS-T119
Request quote
Suitable for: S16/S15 to be ordered individually)
• Highly sensitive thermal image sensor: NETD typ. 50 mK, <79 mK, IR range 7.5 to 13.5 micrometer, uncooled micro bolometer, up to 9 frames per second
• Germanium Lens (included): B119, horizontal/vertical image angle 25°/19°
• Image size: 336 x 252 pixels (can be scaled up to 6MP)
• IP66, -30 to 60°C (-22 to 140°F)
• Housing: black anodized aluminum
• Camera connection via MOBOTIX sensor cable (max. 3 m/9.8 ft, to be ordered individually)
MX-O-SMA-TS-T237
Request quote
Suitable for: S16/S15 (to be ordered individually)
• Highly sensitive thermal image sensor: NETD typ. 50 mK, <79 mK, IR range 7.5 to 13.5 micrometer, uncooled micro bolometer, up to 9 frames per second
• Germanium Lens (included): B237, horizontal/vertical image angle 17°/13°
• Image size: 336 x 252 pixels (can be scaled up to 6MP)
• IP66, -30 to 60°C (-22 to 140°F)
• Housing: black anodized aluminum
• Camera connection via MOBOTIX sensor cable (max. 3 m/9,8 ft, to be ordered individually)
MX-O-SMA-TP-T079
Request quote
PTMount-Thermal with integrated highly sensitive thermal image sensor for the S16/S15
• NETD typ. 50 mK, <79 mK, IR range 7.5 to 13.5 micrometer, uncooled micro bolometer, up to 9 frames per second
• Germanium Lens (included): B079, horizontal/vertical image angle 45°/32°
• Image size: 336 x 252 pixels (can be scaled up to 6MP)
• Operating conditions: IP66, -30 to 60°C (-22 to 140°F)
• Camera connection via MOBOTIX sensor cable (2 m/6.6 ft, included)
• Color: White
MX-O-SMA-TP-T119
Request quote
PTMount-Thermal with integrated highly sensitive thermal image sensor for the S16/S15
• NETD typ. 50 mK, <79 mK, IR range 7.5 to 13.5 micrometer, uncooled micro bolometer, up to 9 frames per second
• Germanium Lens (included): B119, horizontal/vertical image angle 25°/19°
• Image size: 336 x 252 pixels (can be scaled up to 6MP)
• Operating conditions: IP66, -30 to 60°C (-22 to 140°F)
• Camera connection via MOBOTIX sensor cable (2 m/6.6 ft, included)
• Color: White
MX-O-SMA-TP-T237
Request quote
PTMount-Thermal with integrated highly sensitive thermal image sensor for the S16/S15
• NETD typ. 50 mK, <79 mK, IR range 7.5 to 13.5 micrometer, uncooled micro bolometer, up to 9 frames per second
• Germanium Lens (included): B237, horizontal/vertical image angle 17°/13°
• Image size: 336 x 252 pixels (can be scaled up to 6MP)
• Operating conditions: IP66, -30 to 60°C (-22 to 140°F)
• Camera connection via MOBOTIX sensor cable (2 m/6.6 ft, included)
• Color: White
MX-O-SMA-TP-T079-b
Request quote
PTMount-Thermal with integrated highly sensitive thermal image sensor for the S16, S15
• NETD typ. 50 mK, <79 mK, IR range 7.5 to 13.5 micrometer, uncooled micro bolometer, up to 9 frames per second
• Germanium Lens (included): B079, horizontal/vertical image angle 45°/32°
• Image size: 336 x 252 pixels (can be scaled up to 6MP)
• Operating conditions: IP66, -30 to 60°C (-22 to 140°F)
• Camera connection via MOBOTIX sensor cable (2 m/6.6 ft, included)
• Color: Black
MX-O-SMA-TP-T119-b
Request quote
PTMount-Thermal with integrated highly sensitive thermal image sensor for the S16, S15
• NETD typ. 50 mK, <79 mK, IR range 7.5 to 13.5 micrometer, uncooled micro bolometer, up to 9 frames per second
• Germanium Lens (included): B119, horizontal/vertical image angle 25°/19°
• Image size: 336 x 252 pixels (can be scaled up to 6MP)
• Operating conditions: IP66, -30 to 60°C (-22 to 140°F)
• Camera connection via MOBOTIX sensor cable (2 m/6.6 ft, included)
• Color: Black
MX-O-SMA-TP-T237-b
Request quote
PTMount-Thermal with integrated highly sensitive thermal image sensor for the S16, S15
• NETD typ. 50 mK, <79 mK, IR range 7.5 to 13.5 micrometer, uncooled micro bolometer, up to 9 frames per second
• Germanium Lens (included): B237, horizontal/vertical image angle 17°/13°
• Image size: 336 x 252 pixels (can be scaled up to 6MP)
• Operating conditions: IP66, -30 to 60°C (-22 to 140°F)
• Camera connection via MOBOTIX sensor cable (2 m/6.6 ft, included)
• Color: black
MX-O-SMA-S-6D016
Request quote
Sensor module S16/M16, S15/M15 with HD premium fisheye lens B016 (f/2.0, horiz. image angle 180°) and Moonlight sensor day, 6MP (3072 x 2048), IP66, white
MX-O-SMA-S-6D036
Request quote
Sensor module S16/M16, S15/M15 with HD premium lens B036 (f/1.8, horiz. image angle 103°) and Moonlight sensor day, 6MP (3072 x 2048), IP66, white
MX-O-SMA-S-6D041
Request quote
Sensor module S16/M16, S15/M15 with HD premium lens B041 (f/1.8, horiz. image angle 90°) and Moonlight sensor day, 6MP (3072 x 2048), IP66, white
MX-O-SMA-S-6D061
Request quote
Sensor module S16/M16, S15/M15 with HD premium lens B061 (f/1.8, horiz. image angle 60°) and Moonlight sensor day, 6MP (3072 x 2048), IP66, white
MX-O-SMA-S-6D079
Request quote
Sensor module S16/M16, S15/M15 with HD premium lens B079 (f/1.8, horiz. image angle 45°) and Moonlight sensor day, 6MP (3072 x 2048), IP66, white
MX-O-SMA-S-6D119
Request quote
Sensor module S16/M16, S15/M15 with HD premium lens B119 (f/1.8, horiz. image angle 31°) and Moonlight sensor day, 6MP (3072 x 2048), IP66, white
MX-O-SMA-S-6D237
Request quote
Sensor module S16/M16, S15/M15 with HD premium lens B237 (f/1.8, horiz. image angle 15°) and Moonlight sensor day, 6MP (3072 x 2048), IP66, white
MX-O-SMA-S-6D500
Request quote
Sensor module S16/M16, S15/M15 with HD premium lens B500 (f/2.5, horiz. image angle 8°) and Moonlight sensor day, 6MP (3072 x 2048), IP66, white
MX-O-SMA-S-6DCSV
Request quote
Sensor module S16/M16, S15/M15 with CSVario Lens B045-100-CS focal length 4.5-10 mm, f/1.6-2.3, 39°-89° x 29°-65°)
• 6 Megapixel Moonlight Sensor, color (day)
• Max. image size: 6MP (3072 x 2048)
• IP66, -30 to 60°C / -22 to 140°F (only with lens protection cap), white
MX-O-SMA-S-6DCS
Request quote
Sensor module S16/M16, S15/M15 for standard lenses with CS mount (e.g., for Vario lens MX-B045-100-CS)
• 6 Megapixel Moonlight Sensor, color (day)
• Max. image size: 6MP (3072 x 2048)
• IP66, -30 to 60°C / -22 to 140°F (only with lens protection cap), white
MX-O-SMA-S-6N016
Request quote
Sensor module S16/M16, S15/M15 with HD premium fisheye lens B016 (f/2.0, horiz. image angle 180°) and Moonlight sensor night, 6MP (3072 x 2048), IP66, white
MX-O-SMA-S-6N036
Request quote
Sensor module S16/M16, S15/M15 with HD premium lens B036 (f/1.8, horiz. image angle 103°) and Moonlight sensor night, 6MP (3072 x 2048), IP66, white
MX-O-SMA-S-6N041
Request quote
Sensor module S16/M16, S15/M15 with HD premium lens B041 (f/1.8, horiz. image angle 90°) and Moonlight sensor night, 6MP (3072 x 2048), IP66, white
MX-O-SMA-S-6N061
Request quote
Sensor module S16/M16, S15/M15 with HD premium lens B061 (f/1.8, horiz. image angle 60°) and Moonlight sensor night, 6MP (3072 x 2048), IP66, white
MX-O-SMA-S-6N079
Request quote
Sensor module S16/M16, S15/M15 with HD premium lens B079 (f/1.8, horiz. image angle 45°) and Moonlight sensor night, 6MP (3072 x 2048), IP66, white
MX-O-SMA-S-6N119
Request quote
Sensor module S16/M16, S15/M15 with HD premium lens B119 (f/1.8, horiz. image angle 31°) and Moonlight sensor night, 6MP (3072 x 2048), IP66, white
MX-O-SMA-S-6N237
Request quote
Sensor module S16/M16, S15/M15 with HD premium lens B237 (f/1.8, horiz. image angle 15°) and Moonlight sensor night, 6MP (3072 x 2048), IP66, white
MX-O-SMA-S-6N500
Request quote
Sensor module S16/M16, S15/M15 with HD premium lens B500 (f/2.5, horiz. image angle 8°) and Moonlight sensor night, 6MP (3072 x 2048), IP66, white
MX-O-SMA-S-6NCSV
Request quote
Sensor module S16/M16, S15/M15 with CSVario Lens B045-100-CS (focal length 4.5-10 mm, f/1.6-2.3, 39°-89° x 29°-65°)
• 6 Megapixel Moonlight Sensor, B/W (night)
• Max. image size: 6MP (3072 x 2048)
• IP66, -30 to 60°C / -22 to 140°F (only with lens protection cap), white
MX-O-SMA-S-6NCS
Request quote
Sensor module S16/M16, S15/M15 for standard lenses with CS mount (e.g., for Vario lens MX-B045-100-CS)
• 6 Megapixel Moonlight Sensor, B/W (night)
• Max. image size: 6MP (3072 x 2048)
• IP66, -30 to 60°C / -22 to 140°F (only with lens protection cap), white
MX-O-SMA-S-6L016
Request quote
Sensor module S16/M16, S15/M15 with HD premium lens B016 (f/2.0, horiz. image angle 180°) and Moonlight sensor night, 6MP (3072 x 2048), LPF special lens, e.g., for license plate detection (with infrared), IP66, white
MX-O-SMA-S-6L036
Request quote
Sensor module S16/M16, S15/M15 with HD premium lens B036 (f/1.8, horiz. image angle 103°) and Moonlight sensor night, 6MP (3072 x 2048), LPF special lens, e.g., for license plate detection (with infrared), IP66, white
MX-O-SMA-S-6L041
Request quote
Sensor module S16/M16, S15/M15 with HD premium lens B041 (f/1.8, horiz. image angle 90°) and Moonlight sensor night, 6MP (3072 x 2048), LPF special lens, e.g., for license plate detection (with infrared), IP66, white
MX-O-SMA-S-6L061
Request quote
Sensor module S16/M16, S15/M15 with HD premium lens B061 (f/1.8, horiz. image angle 60°) and Moonlight sensor night, 6MP (3072 x 2048), LPF special lens, e.g., for license plate detection (with infrared), IP66, white
MX-O-SMA-S-6L079
Request quote
Sensor module S16/M16, S15/M15 with HD premium lens B079 (f/1.8, horiz. image angle 45°) and Moonlight sensor night, 6MP (3072 x 2048), LPF special lens, e.g., for license plate detection (with infrared), IP66, white
MX-O-SMA-S-6L119
Request quote
Sensor module S16/M16, S15/M15 with HD premium lens B119 (f/1.8, horiz. image angle 31°) and Moonlight sensor night, 6MP (3072 x 2048), LPF special lens, e.g., for license plate detection (with infrared), IP66, white
MX-O-SMA-S-6L237
Request quote
Sensor module S16/M16, S15/M15 with HD premium lens B237 (f/1.8, horiz. image angle 15°) and Moonlight sensor night, 6MP (3072 x 2048), LPF special lens, e.g., for license plate detection (with infrared), IP66, white
MX-O-SMA-S-6L500
Request quote
Sensor module S16/M16, S15/M15 with HD premium lens B500 (f/2.5, horiz. image angle 8°) and Moonlight sensor night, 6MP (3072 x 2048), LPF special lens, e.g., for license plate detection (with infrared), IP66, white
MX-O-SMA-S-6D016-b
Request quote
Sensor module S16/M16, S15/M15 with HD premium lens B016 (f/2.0, horiz. image angle 180°) and Moonlight sensor day, 6MP (3072 x 2048), IP66, black
MX-O-SMA-S-6D036-b
Request quote
Sensor module S16/M16, S15/M15 with HD premium lens B036 (f/1.8, horiz. image angle 103°) and Moonlight sensor day, 6MP (3072 x 2048), IP66, black
MX-O-SMA-S-6D041-b
Request quote
Sensor module S16/M16, S15/M15 with HD premium lens B041 (f/1.8, horiz. image angle 90°) and Moonlight sensor day, 6MP (3072 x 2048), IP66, black
MX-O-SMA-S-6D061-b
Request quote
Sensor module S16/M16, S15/M15 with HD premium lens B061 (f/1.8, horiz. image angle 60°) and Moonlight sensor day, 6MP (3072 x 2048), IP66, black
MX-O-SMA-S-6D079-b
Request quote
Sensor module S16/M16, S15/M15 with HD premium lens B079 (f/1.8, horiz. image angle 45°) and Moonlight sensor day, 6MP (3072 x 2048), IP66, black
MX-O-SMA-S-6D119-b
Request quote
Sensor module S16/M16, S15/M15 with HD premium lens B119 (f/1.8, horiz. image angle 31°) and Moonlight sensor day, 6MP (3072 x 2048), IP66, black
MX-O-SMA-S-6D237-b
Request quote
Sensor module S16/M16, S15/M15 with HD premium lens B237 (f/1.8, horiz. image angle 15°) and Moonlight sensor day, 6MP (3072 x 2048), IP66, black
MX-O-SMA-S-6D500-b
Request quote
Sensor module S16/M16, S15/M15 with HD premium lens B500 (f/2.5, horiz. image angle 8°) and Moonlight sensor day, 6MP (3072 x 2048), IP66, black
MX-O-SMA-S-6N016-b
Request quote
Sensor module S16/M16, S15/M15 with HD premium lens B016 (f/2.0, horiz. image angle 180°) and Moonlight sensor night, 6MP (3072 x 2048), IP66, black
MX-O-SMA-S-6N036-b
Request quote
Sensor module S16/M16, S15/M15 with HD premium lens B036 (f/1.8, horiz. image angle 103°) and Moonlight sensor night, 6MP (3072 x 2048), IP66, black
MX-O-SMA-S-6N041-b
Request quote
Sensor module S16/M16, S15/M15 with HD premium lens B041 (f/1.8, horiz. image angle 90°) and Moonlight sensor night, 6MP (3072 x 2048), IP66, black
MX-O-SMA-S-6N061-b
Request quote
Sensor module S16/M16, S15/M15 with HD premium lens B061 (f/1.8, horiz. image angle 60°) and Moonlight sensor night, 6MP (3072 x 2048), IP66, black
MX-O-SMA-S-6N079-b
Request quote
Sensor module S16/M16, S15/M15 with HD premium lens B079 (f/1.8, horiz. image angle 45°) and Moonlight sensor night, 6MP (3072 x 2048), IP66, black
MX-O-SMA-S-6N119-b
Request quote
Sensor module S16/M16, S15/M15 with HD premium lens B119 (f/1.8, horiz. image angle 31°) and Moonlight sensor night, 6MP (3072 x 2048), IP66, black
MX-O-SMA-S-6N237-b
Request quote
Sensor module S16/M16, S15/M15 with HD premium lens B237 (f/1.8, horiz. image angle 15°) and Moonlight sensor night, 6MP (3072 x 2048), IP66, black
MX-O-SMA-S-6N500-b
Request quote
Sensor module S16/M16, S15/M15 with HD premium lens B500 (f/2.5, horiz. image angle 8°) and Moonlight sensor night, 6MP (3072 x 2048), IP66, black
MX-O-SMA-S-6L016-b
Request quote
Sensor module S16/M16, S15/M15 with HD premium lens B016 (f/2.0, horiz. image angle 180°) and Moonlight sensor night, 6MP (3072 x 2048), LPF special lens, e.g., for license plate detection (with infrared), IP66, black
MX-O-SMA-S-6L036-b
Request quote
Sensor module S16/M16, S15/M15 with HD premium lens B036 (f/1.8, horiz. image angle 103°) and Moonlight sensor night, 6MP (3072 x 2048), LPF special lens, e.g., for license plate detection (with infrared), IP66, black
MX-O-SMA-S-6L041-b
Request quote
Sensor module S16/M16, S15/M15 with HD premium lens B041 (f/1.8, horiz. image angle 90°) and Moonlight sensor night, 6MP (3072 x 2048), LPF special lens, e.g., for license plate detection (with infrared), IP66, black
MX-O-SMA-S-6L061-b
Request quote
Sensor module S16/M16, S15/M15 with HD premium lens B061 (f/1.8, horiz. image angle 60°) and Moonlight sensor night, 6MP (3072 x 2048), LPF special lens, e.g., for license plate detection (with infrared), IP66, black
MX-O-SMA-S-6L079-b
Request quote
Sensor module S16/M16, S15/M15 with HD premium lens B079 (f/1.8, horiz. image angle 45°) and Moonlight sensor night, 6MP (3072 x 2048), LPF special lens, e.g., for license plate detection (with infrared), IP66, black
MX-O-SMA-S-6L119-b
Request quote
Sensor module S16/M16, S15/M15 with HD premium lens B119 (f/1.8, horiz. image angle 31°) and Moonlight sensor night, 6MP (3072 x 2048), LPF special lens, e.g., for license plate detection (with infrared), IP66, black
MX-O-SMA-S-6L237-b
Request quote
Sensor module S16/M16, S15/M15 with HD premium lens B237 (f/1.8, horiz. image angle 15°) and Moonlight sensor night, 6MP (3072 x 2048), LPF special lens, e.g., for license plate detection (with infrared), IP66, black
MX-O-SMA-S-6L500-b
Request quote
Sensor module S16/M16, S15/M15 with HD premium lens B500 (f/2.5, horiz. image angle 8°) and Moonlight sensor night, 6MP (3072 x 2048), LPF special lens, e.g., for license plate detection (with infrared), IP66, black
MX-O-SMA-B-6D016
Request quote
Suitable for: S16, S15
• HD premium lens B016 (f/2.0, horiz. image angle 180°) and Moonlight sensor day, 6MP (3072 x 2048)
• Operating conditions: IP30, 0 to 50°C (32 to 122°F)
• Integrated microphone and status LEDs
• Camera connection via MOBOTIX sensor cable (to be ordered individually)
MX-O-SMA-B-6D036
Request quote
Suitable for: S16, S15
• HD premium lens B036 (f/1.8, horiz. image angle 103°) and Moonlight sensor day, 6MP (3072 x 2048)
• Operating conditions: IP30, 0 to 50°C (32 to 122°F)
• Integrated microphone and status LEDs
• Camera connection via MOBOTIX sensor cable (to be ordered individually)
MX-O-SMA-B-6D041
Request quote
Suitable for: S16, S15
• HD premium lens B041 (f/1.8, horiz. image angle 90°) and Moonlight sensor day, 6MP (3072 x 2048)
• Operating conditions: IP30, 0 to 50°C (32 to 122°F)
• Integrated microphone and status LEDs
• Camera connection via MOBOTIX sensor cable (to be ordered individually)
MX-O-SMA-B-6D061
Request quote
Suitable for: S16, S15
• HD premium lens B061 (f/1.8, horiz. image angle 60°) and Moonlight sensor day, 6MP (3072 x 2048)
• Operating conditions: IP30, 0 to 50°C (32 to 122°F)
• Integrated microphone and status LEDs
• Camera connection via MOBOTIX sensor cable (to be ordered individually)
MX-O-SMA-B-6D079
Request quote
Suitable for: S16, S15
• HD premium lens B079 (f/1.8, horiz. image angle 45°) and Moonlight sensor day, 6MP (3072 x 2048)
• Operating conditions: IP30, 0 to 50°C (32 to 122°F)
• Integrated microphone and status LEDs
• Camera connection via MOBOTIX sensor cable (to be ordered individually)
MX-O-SMA-B-6D119
Request quote
Suitable for: S16, S15
• HD premium lens B119 (f/1.8, horiz. image angle 31°) and Moonlight sensor day, 6MP (3072 x 2048)
• Operating conditions: IP30, 0 to 50°C (32 to 122°F)
• Integrated microphone and status LEDs
• Camera connection via MOBOTIX sensor cable (to be ordered individually)
MX-O-SMA-B-6D237
Request quote
Suitable for: S16, S15
• HD premium lens B237 (f/1.8, horiz. image angle 15°) and Moonlight sensor day, 6MP (3072 x 2048)
• Operating conditions: IP30, 0 to 50°C (32 to 122°F)
• Integrated microphone and status LEDs
• Camera connection via MOBOTIX sensor cable (to be ordered individually)
MX-O-SMA-B-6D500
Request quote
Suitable for: S16, S15
• HD premium lens B500 (f/2.5, horiz. image angle 8°) and Moonlight sensor day, 6MP (3072 x 2048)
• Operating conditions: IP30, 0 to 50°C (32 to 122°F)
• Integrated microphone and status LEDs
• Camera connection via MOBOTIX sensor cable (to be ordered individually)
MX-O-SMA-B-6DCS
Request quote
Suitable for: S16, S15
• For standard lenses with CS mount (e.g., MX-B045-100-CS), Moonlight sensor day, 6MP (3072 x 2048)
• Operating conditions: IP30, 0 to 50°C (32 to 122°F)
• Integrated microphone and status LEDs
• Camera connection via MOBOTIX sensor cable (to be ordered individually)
MX-O-SMA-B-6N016
Request quote
Suitable for: S16, S15
• HD premium lens B016 (f/2.0, horiz. image angle 180°) and Moonlight sensor night, 6MP (3072 x 2048)
• Operating conditions: IP30, 0 to 50°C (32 to 122°F)
• Integrated microphone and status LEDs
• Camera connection via MOBOTIX sensor cable (to be ordered individually)
MX-O-SMA-B-6N036
Request quote
Suitable for: S16, S15
• HD premium lens B036 (f/1.8, horiz. image angle 103°) and Moonlight sensor night, 6MP (3072 x 2048)
• Operating conditions: IP30, 0 to 50°C (32 to 122°F)
• Integrated microphone and status LEDs
• Camera connection via MOBOTIX sensor cable (to be ordered individually)
MX-O-SMA-B-6N041
Request quote
Suitable for: S16, S15
• HD premium lens B041 (f/1.8, horiz. image angle 90°) and Moonlight sensor night, 6MP (3072 x 2048)
• Operating conditions: IP30, 0 to 50°C (32 to 122°F)
• Integrated microphone and status LEDs
• Camera connection via MOBOTIX sensor cable (to be ordered individually)
MX-O-SMA-B-6N061
Request quote
Suitable for: S16, S15
• HD premium lens B061 (f/1.8, horiz. image angle 60°) and Moonlight sensor night, 6MP (3072 x 2048)
• Operating conditions: IP30, 0 to 50°C (32 to 122°F)
• Integrated microphone and status LEDs
• Camera connection via MOBOTIX sensor cable (to be ordered individually)
MX-O-SMA-B-6N079
Request quote
Suitable for: S16, S15
• HD premium lens B079 (f/1.8, horiz. image angle 45°) and Moonlight sensor night, 6MP (3072 x 2048)
• Operating conditions: IP30, 0 to 50°C (32 to 122°F)
• Integrated microphone and status LEDs
• Camera connection via MOBOTIX sensor cable (to be ordered individually)
MX-O-SMA-B-6N119
Request quote
Suitable for: S16, S15
• HD premium lens B119 (f/1.8, horiz. image angle 31°) and Moonlight sensor night, 6MP (3072 x 2048)
• Operating conditions: IP30, 0 to 50°C (32 to 122°F)
• Integrated microphone and status LEDs
• Camera connection via MOBOTIX sensor cable (to be ordered individually)
MX-O-SMA-B-6N237
Request quote
Suitable for: S16, S15
• HD premium lens B237 (f/1.8, horiz. image angle 15°) and Moonlight sensor night, 6MP (3072 x 2048)
• Operating conditions: IP30, 0 to 50°C (32 to 122°F)
• Integrated microphone and status LEDs
• Camera connection via MOBOTIX sensor cable (to be ordered individually)
MX-O-SMA-B-6N500
Request quote
Suitable for: S16, S15
• HD premium lens B500 (f/2.5, horiz. image angle 8°) and Moonlight sensor night, 6MP (3072 x 2048)
• Operating conditions: IP30, 0 to 50°C (32 to 122°F)
• Integrated microphone and status LEDs
• Camera connection via MOBOTIX sensor cable (to be ordered individually)
MX-O-SMA-B-6NCS
Request quote
Suitable for: S16, S15
• For standard lenses with CS mount (e.g., MX-B045-100-CS), Moonlight sensor night, 6MP (3072 x 2048)
• Operating conditions: IP30, 0 to 50°C (32 to 122°F)
• Integrated microphone and status LEDs
• Camera connection via MOBOTIX sensor cable (to be ordered individually)
MX-O-SMA-B-6L036
Request quote
Suitable for: S16, S15
• HD premium lens B036 (f/1.8, horiz. image angle 103°) and Moonlight sensor night, 6MP (3072 x 2048), LPF special lens, e.g., for license plate detection (with infrared)
• Operating conditions: IP30, 0 to 50°C (32 to 122°F)
• Integrated microphone and status LEDs
• Camera connection via MOBOTIX sensor cable (to be ordered individually)
MX-O-SMA-B-6L041
Request quote
Suitable for: S16, S15
• HD premium lens B041 (f/1.8, horiz. image angle 90°) and Moonlight sensor night, 6MP (3072 x 2048), LPF special lens, e.g., for license plate detection (with infrared)
• Operating conditions: IP30, 0 to 50°C (32 to 122°F)
• Integrated microphone and status LEDs
• Camera connection via MOBOTIX sensor cable (to be ordered individually)
MX-O-SMA-B-6L061
Request quote
Suitable for: S16, S15
• HD premium lens B061 (f/1.8, horiz. image angle 60°) and Moonlight sensor night, 6MP (3072 x 2048), LPF special lens, e.g., for license plate detection (with infrared)
• Operating conditions: IP30, 0 to 50°C (32 to 122°F)
• Integrated microphone and status LEDs
• Camera connection via MOBOTIX sensor cable (to be ordered individually)
MX-O-SMA-B-6L079
Request quote
Suitable for: S16, S15
• HD premium lens B079 (f/1.8, horiz. image angle 45°) and Moonlight sensor night, 6MP (3072 x 2048), LPF special lens, e.g., for license plate detection (with infrared)
• Operating conditions: IP30, 0 to 50°C (32 to 122°F)
• Integrated microphone and status LEDs
• Camera connection via MOBOTIX sensor cable (to be ordered individually)
MX-O-SMA-B-6L119
Request quote
Suitable for: S16, S15
• HD premium lens B119 (f/1.8, horiz. image angle 31°) and Moonlight sensor night, 6MP (3072 x 2048), LPF special lens, e.g., for license plate detection (with infrared)
• Operating conditions: IP30, 0 to 50°C (32 to 122°F)
• Integrated microphone and status LEDs
• Camera connection via MOBOTIX sensor cable (to be ordered individually)
MX-O-SMA-B-6L237
Request quote
Suitable for: S16, S15
• HD premium lens B237 (f/1.8, horiz. image angle 15°) and Moonlight sensor night, 6MP (3072 x 2048), LPF special lens, e.g., for license plate detection (with infrared)
• Operating conditions: IP30, 0 to 50°C (32 to 122°F)
• Integrated microphone and status LEDs
• Camera connection via MOBOTIX sensor cable (to be ordered individually)
MX-O-SMA-B-6L500
Request quote
Suitable for: S16, S15
• HD premium lens B500 (f/2.5, horiz. image angle 8°) and Moonlight sensor night, 6MP (3072 x 2048), LPF special lens, e.g., for license plate detection (with infrared)
• Operating conditions: IP30, 0 to 50°C (32 to 122°F)
• Integrated microphone and status LEDs
• Camera connection via MOBOTIX sensor cable (to be ordered individually)
MX-O-SMA-B-6LCS
Request quote
Suitable for: S16, S15
• For standard lenses with CS mount (e.g., MX-B045-100-CS), Moonlight sensor night, 6MP (3072 x 2048), LPF special lens, e.g., for license plate detection (with infrared)
• Operating conditions: IP30, 0 to 50°C (32 to 122°F)
• Integrated microphone and status LEDs
• Camera connection via MOBOTIX sensor cable (to be ordered individually)
MX-O-SDA-F-6D6N
Request quote
Day & Night sensor bridge für D16/D15 Body, including two parallel aligned 6MP sensors (1x Day, 1x Night) and a XL cover (MX-D15-DCT-XL)
• Lenses not included (two lenses B036 to B237 possible, to be ordered separately)
MX-O-SDA-P-6D6D
Request quote
Panorama/180° sensor bridge for D16/D15 Body, including two day sensors 6MP and a XL cover (MX-D15-DCT-XL)
• Lenses not included (two lenses B041 needed for 180° panoramic image, to be ordered separately)
MX-O-SDA-P-6N6N
Request quote
Panorama/180° sensor bridge for D16/D15 Body, including two night sensors 6MP and a XL cover (MX-D15-DCT-XL)
• Lenses not included (two lenses B041 needed for 180° panoramic image, to be ordered separately)
MX-O-SDA-S-6D036
Request quote
Sensor module D16/D15 with HD premium lens B036 (f/1.8, horiz. image angle 103°) and Moonlight sensor day, 6MP (3072 x 2048)
MX-O-SDA-S-6D041
Request quote
Sensor module D16/D15 with HD premium lens B041 (f/1.8, horiz. image angle 90°) and Moonlight sensor day, 6MP (3072 x 2048)
MX-O-SDA-S-6D061
Request quote
Sensor module D16/D15 with HD premium lens B061 (f/1.8, horiz. image angle 60°) and Moonlight sensor day, 6MP (3072 x 2048)
MX-O-SDA-S-6D079
Request quote
Sensor module D16/D15 with HD premium lens B079 (f/1.8, horiz. image angle 45°) and Moonlight sensor day, 6MP (3072 x 2048)
MX-O-SDA-S-6D119
Request quote
Sensor module D16/D15 with HD premium lens B119 (f/1.8, horiz. image angle 31°) and Moonlight sensor day, 6MP (3072 x 2048)
MX-O-SDA-S-6D237
Request quote
Sensor module D16/D15 with HD premium lens B237 (f/1.8, horiz. image angle 15°) and Moonlight sensor day, 6MP (3072 x 2048)
MX-O-SDA-S-6N036
Request quote
Sensor module D16/D15 with HD premium lens B036 (f/1.8, horiz. image angle 103°) and Moonlight sensor day, 6MP (3072 x 2048)
MX-O-SDA-S-6N041
Request quote
Sensor module D16/D15 with HD premium lens B041 (f/1.8, horiz. image angle 90°) and Moonlight sensor night, 6MP (3072 x 2048)
MX-O-SDA-S-6N061
Request quote
Sensor module D16/D15 with HD premium lens B061 (f/1.8, horiz. image angle 60°) and Moonlight sensor night, 6MP (3072 x 2048)
MX-O-SDA-S-6N079
Request quote
Sensor module D16/D15 with HD premium lens B079 (f/1.8, horiz. image angle 45°) and Moonlight sensor night, 6MP (3072 x 2048)
MX-O-SDA-S-6N119
Request quote
Sensor module D16/D15 with HD premium lens B119 (f/1.8, horiz. image angle 31°) and Moonlight sensor night, 6MP (3072 x 2048)
MX-O-SDA-S-6N237
Request quote
Sensor module D16/D15 with HD premium lens B237 (f/1.8, horiz. image angle 15°) and Moonlight sensor night, 6MP (3072 x 2048)
MX-O-SDA-S-6L036
Request quote
Sensor module D16/D15 with HD premium lens B036 (f/1.8, horiz. image angle 103°) and Moonlight sensor night, 6MP (3072 x 2048), LPF special lens, e.g., for license plate detection (with infrared)
MX-O-SDA-S-6L041
Request quote
Sensor module D16/D15 with HD premium lens B041 (f/1.8, horiz. image angle 90°) and Moonlight sensor night, 6MP (3072 x 2048), LPF special lens, e.g., for license plate detection (with infrared)
MX-O-SDA-S-6L061
Request quote
Sensor module D16/D15 with HD premium lens B061 (f/1.8, horiz. image angle 60°) and Moonlight sensor night, 6MP (3072 x 2048), LPF special lens, e.g., for license plate detection (with infrared)
MX-O-SDA-S-6L079
Request quote
Sensor module D16/D15 with HD premium lens B079 (f/1.8, horiz. image angle 45°) and Moonlight sensor night, 6MP (3072 x 2048), LPF special lens, e.g., for license plate detection (with infrared)
MX-O-SDA-S-6L119
Request quote
Sensor module D16/D15 with HD premium lens B119 (f/1.8, horiz. image angle 31°) and Moonlight sensor night, 6MP (3072 x 2048), LPF special lens, e.g., for license plate detection (with infrared)
MX-O-SDA-S-6L237
Request quote
Sensor module D16/D15 with HD premium lens B237 (f/1.8, horiz. image angle 15°) and Moonlight sensor night, 6MP (3072 x 2048), LPF special lens, e.g., for license plate detection (with infrared)
MX-B036
Request quote
Ultra Wide lens B036
• HD premium quality
• Focal length: 3.6 mm
• Aperture: f/1.8
• Image angle (horizontal x vertical, on camera with 6MP sensor): 103° x 77° (up to 5MP resolution) and 122° x 80° (6MP resolution)
MX-B041
Request quote
Super Wide lens B041
• HD premium quality
• Focal length: 4.1 mm
• Aperture: f/1.8
• Image angle (horizontal x vertical, on camera with 6MP sensor): 90° x 67° (up to 5MP resolution) and 110° x 70° (6MP resolution)
MX-B061
Request quote
Wide lens B061
• HD premium quality
• Focal length: 6.1 mm
• Aperture: f/1.8
• Image angle (horizontal x vertical, on camera with 6MP sensor): 60° x 45° (up to 5MP resolution) and 70.5° x 46° (6MP resolution)
MX-B079
Request quote
Standard lens B079
• HD premium quality
• Focal length: 7.9 mm
• Aperture: f/1.8
• Image angle (horizontal x vertical, on camera with 6MP sensor): 45° x 34° (up to 5MP resolution) and 54° x 36° (6MP resolution)
MX-B119
Request quote
Tele lens B119
• HD premium quality
• Focal length: 11.9 mm
• Aperture: f/1.8
• Image angle (horizontal x vertical, on camera with 6MP sensor)): 31° x 23° (up to 5MP resolution) and 36° x 24.5° (6MP resolution)
MX-B237
Request quote
Distant Tele lens B237
• HD premium quality
• Focal length: 23.7 mm
• Aperture: f/1.8
• Image angle (horizontal x vertical, on camera with 6MP sensor): 15° x 11° (up to 5MP resolution) and 17° x 11.5° (6MP resolution)
MX-B500
Request quote
Super Tele lens B500
• HD premium quality
• Focal length: 50 mm
• Aperture: f/2.5
• Image angle (horizontal x vertical): 8° x 6° (up to 5MP resolution) and 9° x 6° (6MP resolution)
• For mounting this lens on the M2x, the extended replacement lens cover is needed (MOBOTIX accessory: MX-M24M-OPT-LCGL)
MX-B045-100-CS
Request quote
CS Vario lens B045-100-CS
• HD premium quality
• Variable focal length: 4,5-10 mm
• Variable aperture: f/1.6-2.3
• Variable image angle (horizontal x vertical): 39°-89° x 29°-65°
MX-SM-OPT-POL
Request quote
Suitable for all M1x/S1x sensor modules except with the lenses B016, B036, B500 and CSVario or CS Mount
• Filter replaces the lens cover (made of glass)
• Example: Recognition of people through the windshield of a car - the filter reduces the mirror reflection (and about 50 % of the sensor light sensitivity)
MX-M24M-OPT-LCSK
Request quote
Suitable for: M2x (not CSVario, Hemispheric or super tele lens B500) and S1x/M1x sensor mdoule with super tele lens B500
• Weather lens protection made of plastic (IP66)
MX-M24M-OPT-LCSG
Request quote
Suitable for: M2x (not CSVario, Hemispheric or super tele lens B500) and S1x/M1x sensor mdoule with super tele lens B500
• Lens protection made of scratch-proof glass for extreme weather conditions (IP66)
MX-M24M-OPT-LCGL
Request quote
Suitable for: M2x and S1x/M1x sensor module with CSVario lens B045-100-CS or M2x with super tele lens B500
• Lens protection made of scratch-proof glass for extreme weather conditions (IP66)
MX-OPT-DK-L11
Request quote
Suitable for: Hemispheric sensor modules (for S1x/M1x), S26, S1xM, T2x and Q2x with Vanadlism Kit
• Mounted with the blue MOBOTIX lens wrench (supplied with the Mx camera)
• Polycarbonate (1.5 mm)
MX-D15-OPT-DCT
Request quote
Suitable for: D1x and v2x
• Not for Pano/180° and DNight-Fix models (XL cover needed)
MX-D15-OPT-DCS
Request quote
Suitable for: D1x and v2x
• Not for Pano/180° and DNight-Fix models (XL cover needed)
• Tinted (50%) for especiallly bright environments
MX-D15-DCT-XL
Request quote
Suitable for: D1x PAN/180° and FIX/Day&Night models
• Polycarbonate (1.5 mm)
MX-D15-DCS-XL
Request quote
Suitable for: D1x PAN/180° and FIX/Day&Night models
• Tinted (50%) for especiallly bright environments
• Polycarbonate (1.5 mm)
MX-D24M-OPT-DCT
Request quote
Suitable for: D2x
• With sealing ring
MX-D24M-OPT-DCS
Request quote
Suitable for: D2x
• With sealing ring
• Tinted (50%) for especiallly bright environments
MX-D15-Vandal-ESMA
Request quote
Suitable for: D1x
• Stainless steel vandalism ring with safetey screws replaces the standard outer shell
• Deletes the PIR and audio features (use ExtIO if necessary)
• Raises camera protection class from IP54 to IP66 and IK10
• Reinforced Dome (3 mm) – not suitable for Pano and DNight-Fix models
MX-D15-Vandal-ESPO
Request quote
Suitable for: D1x
• Stainless steel vandalism ring with safetey screws replaces the standard outer shell
• Deletes the PIR and audio features (use ExtIO if necessary)
• Raises camera protection class from IP54 to IP66 and IK10
• Reinforced Dome (3 mm) – not suitable for Pano and DNight-Fix models
MX-D15-Vandal-PUBL
Request quote
Suitable for: D1x
• Stainless steel vandalism ring with safetey screws replaces the standard outer shell
• Deletes the PIR and audio features (use ExtIO if necessary)
• Raises camera protection class from IP54 to IP66 and IK10
• Reinforced Dome (3 mm) – not suitable for Pano and DNight-Fix models
MX-D15-Vandal-PUGR
Request quote
Suitable for: D1x
• Stainless steel vandalism ring with safetey screws replaces the standard outer shell
• Deletes the PIR and audio features (use ExtIO if necessary)
• Raises camera protection class from IP54 to IP66 and IK10
• Reinforced Dome (3 mm) – not suitable for Pano and DNight-Fix models
MX-D15-Vandal-PUWH
Request quote
Suitable for: D1x
• Stainless steel vandalism ring with safetey screws replaces the standard outer shell
• Deletes the PIR and audio features (use ExtIO if necessary)
• Raises camera protection class from IP54 to IP66 and IK10
• Reinforced Dome (3 mm) – not suitable for Pano and DNight-Fix models
MX-D15-DCT-V
Request quote
Reinforded replacement cover (polycarbonate, 3 mm) for D1x and v25 Vandalism Sets
• Suitable for: D1x and v2x
• Not for D1x PAN/180° and FIX/Day&Night models (XL cover needed)
MX-D24M-Vandal-ESMA
Request quote
Suitable for: D2x Dome
• Stainless steel vandalism ring with safetey screws replaces the standard outer shell
• Raises camera protection class to IP66 and IK10
• Reinforced Dome (3 mm)
MX-D24M-Vandal-ESPO
Request quote
Suitable for: D2x Dome
• Stainless steel vandalism ring with safetey screws replaces the standard outer shell
• Raises camera protection class to IP66 and IK10
• Reinforced Dome (3 mm)
MX-D24M-Vandal-PUBL
Request quote
Suitable for: D2x Dome
• Stainless steel vandalism ring with safetey screws replaces the standard outer shell
• Raises camera protection class to IP66 and IK10
• Reinforced Dome (3 mm)
MX-D24M-Vandal-PUGR
Request quote
Suitable for: D2x Dome
• Stainless steel vandalism ring with safetey screws replaces the standard outer shell
• Raises camera protection class to IP66 and IK10
• Reinforced Dome (3 mm)
MX-D24M-Vandal-PUWH
Request quote
Suitable for: D2x Dome
• Stainless steel vandalism ring with safetey screws replaces the standard outer shell
• Raises camera protection class to IP66 and IK10
• Reinforced Dome (3 mm)
MX-D25-DCT-V
Request quote
Reinforded replacement cover (polycarbonate, 3 mm) for D2x Vandalism Kits
• With sealing ring
MX-Q24M-Vandal-ESMA
Request quote
Suitable for: Q2x
• Vandalism-proof housing with lens protection
• Ideally suited for surveillance at extremely critical locations
• Raises camera protection class to IP66 and IK10
• Stainless steel, finish matt
• Incl. security screws
• Incl. 3 reinforced domes (3 mm polycarbonate)
• Audio features still available
MX-Q24M-Vandal-ESPO
Request quote
Suitable for: Q2x
• Vandalism-proof housing with lens protection
• Ideally suited for surveillance at extremely critical locations
• Raises camera protection class to IP66 and IK10
• Stainless steel, finish polished
• Incl. security screws
• Incl. 3 reinforced domes (3 mm polycarbonate)
• Audio features still available
MX-MT-v25-V
Request quote
Suitable for: v2x without On-Wall Mounting Set with Audio
• Stainless steel vandalism ring (matt) with safety screws
• Protects the camera housing (only without On-Wall Set)
• Reinforced lens cover (polycarbonate, 3 mm)
• IK10+
MX-MT-v25-V-XL
Request quote
Suitable for: v2x with On-Wall Mounting Set with Audio
• XL stainless steel vandalism ring (matt) with safety screws
• Protects the camera housing (only with mounted On-Wall Set)
• Reinforced lens cover (polycarbonate, 3 mm)
• IK10+
MX-FLEX-OPT-DM-PW
Request quote
For surveillance of one area with two sensor modules (in particular, for day and night)
• Suitable for all available sensor modules of the S1x (not included)
• Concealed cabling, weatherproof from -30 to 60°C/-22 to 140°F
• Suitable for ceiling installation, with a 25° tilt of the lenses
• Color: White
MX-FLEX-OPT-SM-PW
Request quote
For surveillance of long and narrow spaces (e.g., bus, train, hallway, etc.) without blind spots
• Two sensor modules of the S1x can be integrated in the mount (not included)
• For all 6MP Sensor modules (B016 to B500 and CS Mount)
• Concealed cabling, weatherproof from -30 to 60°C/-22 to 140°F
• Suitable for ceiling installation, with a 25° tilt of the lenses
• Color: White
MX-PTMount-OPT-PW
Request quote
anually adjustable dome mount for one sensor module (not included)
• Features three axes that allow it to compensate for sideway tilt and to re-align the image horizon horizontally when mounted to a wall
• Suitable for all screwable sensor modules for S1x
• Concealed cabling, weatherproof from -30 to 60°C/-22 to 140°F
• Suitable for ceiling or wall installation
• Color: white
MX-FLEX-OPT-DM-BL
Request quote
For surveillance of one area with two sensor modules (in particular, for day and night)
• Suitable for all screwable sensor modules of the S1x (not included)
• Concealed cabling, weatherproof from -30 to 60°C/-22 to 140°F
• Suitable for ceiling installation, with a 25° tilt of the lenses
• Color: black
MX-FLEX-OPT-SM-BL
Request quote
For surveillance of long and narrow spaces (e.g., bus, train, hallway, etc.) without blind spots
• Two sensor modules of the S1x can be integrated in the mount (not included)
• For all screwable sensor modules
• Concealed cabling, weatherproof from -30 to 60°C/-22 to 140°F
• Suitable for ceiling installation, with a 25° tilt of the lenses
• Color: black
MX-PTMount-OPT-BL
Request quote
anually adjustable dome mount for one sensor module (not included)
• Features three axes that allow it to compensate for sideway tilt and to re-align the image horizon horizontally when mounted to a wall
• Suitable for all screwable sensor modules for S1x
• Concealed cabling, weatherproof from -30 to 60°C/-22 to 140°F
• Suitable for ceiling or wall installation
• Color: black
MX-HALO-EXT-PW
Request quote
Indoor installation mount for a sensor module (in-wall or in-ceiling)
• Suitable for all available sensor modules S1x (not included)
• Flexible setting of inner ring, sensor module can be tilted up to 20°
• High-quality metal design
• Also for lighting equipment (QR-CBC/MR16 LED Sharp Array 4/6 W)
MX-HALO-EXT-BL
Request quote
Indoor installation mount for a sensor module (in-wall or in-ceiling)
• Suitable for all available sensor modules S1x (not included)
• Flexible setting of inner ring, sensor module can be tilted up to 20°
• High-quality metal design
• Also for lighting equipment (QR-CBC/MR16 LED Sharp Array 4/6 W)
•
MX-HALO-EXT-CM
Request quote
Indoor installation mount for a sensor module (in-wall or in-ceiling)
• Suitable for all available sensor modules S1x (not included)
• Flexible setting of inner ring, sensor module can be tilted up to 20°
• High-quality metal design
• Also for lighting equipment (QR-CBC/MR16 LED Sharp Array 4/6 W)
MX-HALO-EXT-CO
Request quote
Indoor installation mount for a sensor module (in-wall or in-ceiling)
• Suitable for all available sensor modules S1x (not included)
• Flexible setting of inner ring, sensor module can be tilted up to 20°
• High-quality metal design
• Also for lighting equipment (QR-CBC/MR16 LED Sharp Array 4/6 W)
MX-HALO-EXT-NG
Request quote
Indoor installation mount for a sensor module (in-wall or in-ceiling)
• Suitable for all available sensor modules S1x (not included)
• Flexible setting of inner ring, sensor module can be tilted up to 20°
• High-quality metal design
• Also for lighting equipment (QR-CBC/MR16 LED Sharp Array 4/6 W)
MX-HALO-SP-EXT-PW
Request quote
Integrated speaker incl. mount, white
• Suitable for the installation in ceilings or walls, indoor (IP20)
• Compatible with all cameras S1x and V1x
• Direct connection via two-wire cable, no additional power supply unit needed
• Inner ring with speaker can be tilted up to 20°
• Temperature rage: -30 to 60°C/-22 to 140°F
• IP code: IP20
• impedance: 8 ohm
• Speaker material: metall with perforated plate covering
• Connection type: two-wired strand, clamp included
MX-HALO-SP-EXT-CM
Request quote
Integrated speaker incl. mount, matt chrome
• Suitable for the installation in ceilings or walls, indoor (IP20)
• Compatible with all cameras S1x and V1x
• Direct connection via two-wire cable, no additional power supply unit needed
• Inner ring with speaker can be tilted up to 20°
• Temperature rage: -30 to 60°C/-22 to 140°F
• IP code: IP20
• impedance: 8 ohm
• Speaker material: metall with perforated plate covering
• Connection type: two-wired strand, clamp included
MX-S14-OPT-MK-CW
Request quote
Complete set for wall or ceiling mounting of a sensor module using 15° wedges
• Incl. extension to increase the installation depth
• Suitable for all S1x sensor modules
• 1x extension 40 mm/1.6 in
• 2x 15° wedges (white and black)
• 2x wedge sealing rings
• 1x nut
MX-S14-OPT-MK-EX
Request quote
1x extension 40 mm/1.6 inch, increases the installation depth
• Suitable for all (screwable) S1x sensor modules
• Can be mounted directly onto the sensor modules themselves or onto existing extensions
MX-FLEX-OPT-AM-BL
Request quote
Suitable for: S26, S15M, S14M
• Easy, quick and concealed mounting with adhesive foil (e.g. behind a stainless steel plate)
• Speaker and microphone with camera connection cable included
• Use of the camera as a door station by connecting an external doorbell (e.g,. connected via MX-232-IO-Box)
MX-M-OWA-AU
Request quote
On-Wall Set with Audio for v26
• Consists of on-wall mount, mounting parts, integrated speaker, microphone and camera plug-in connection cable
• Enables on-wall cabling of the camera and integrates two additional Interface Box modules
• Housing color: white
MX-M-OWA-AU-b
Request quote
On-Wall Set with Audio for v26
• Consists of on-wall mount, mounting parts, integrated speaker, microphone and camera plug-in connection cable
• Enables on-wall cabling of the camera and integrates two additional Interface Box modules
• Housing color: black
MX-MT-OW2-AUD
Request quote
Suitable for: v25
• Consists of on-wall mount, mounting parts, integrated speaker, microphone and camera plug-in connection cable
• Enables on-wall cabling of the camera and integrates two additional Interface Box modules
• Housing color: white
MX-MT-OW2-AUD-b
Request quote
Suitable for: v25
• Consists of on-wall mount, mounting parts, integrated speaker, microphone and camera plug-in connection cable
• Enables on-wall cabling of the camera and integrates two additional Interface Box modules
• Housing color: black
MX-MT-TUBE
Request quote
For suspended ceiling installation of the cameras M1x/M2x/v2x/PTMount/PT-Mount-Thermal (each can be attached directly to the MxTubeMount) and of the cameras D2x/Q2x/c2x/p2x (each can only be attached to the MxTubeMount when using the optional on-wall mounting set of the camera)
• Incl. drop down protection wire (length: 2.2 m/7.2 ft)
• Additionally needed suspension tube MxTube with a length of 1m (3.3 ft) or 2 m (6.6 ft) to be ordered separately (MX-MT-TUBE100, MX-MT-TUBE200)
• Alternative suspension with customary tubes: outer diameter 30 mm or 26.9 mm (R3/4" according to DIN 2440), max. length: 2 m (6.6 ft), max. weight: 2.5 kg (5.5 lb), color/material of choice
MX-MT-TUBE100
Request quote
Suspension tube for MxTubeMount
• Length: 1 m (3.3 ft)
• Anodized aluminium
• Outer diameter: 30 mm, wall thickness: 2 mm
MX-MT-TUBE200
Request quote
Suspension tube for MxTubeMount
• Length: 2 m (6.6 ft)
• Anodized aluminium
• Outer diameter: 30 mm, wall thickness: 2 mm
MX-OPT-UP1
Request quote
Cavity Wall Installation Set for the i2x
• With cavity wall socket, stainless steel mounting plate, 2 Allen screws with washers
• For installing the camera directly on the mounting plate, no dowels required
• Mounting plate is screwed onto the cavity wall socket
• Recommended only for wall installations
MX-OPT-AP2
Request quote
Suitable for: i25
• Consists of on-wall mount and mounting parts
• Enables on-wall cabling of the camera
• Camera distance from the wall: ca. 25 mm
• Recommended only for wall installation
• Color: white
MX-MT-OW-1
Request quote
Suitable for: c2x und p2x
• Consists of on-wall mount and mounting parts
• Enables on-wall cabling of the camera and integrates additional modules (e.g, two Interface Boxes)
• Camera distance from the wall: ca. 80 mm
• Diameter: 140 mm
• Recommended only for ceiling installation
• Color: White
MX-MT-CM-1
Request quote
Suitable for: c2x
• Consists of on-wall mount and mounting parts
• Mounting in a room corner
• Mounting position plus 35° tilt angle enable one camera (e.g, c2x with 103° lens B036) to capture an entire room
• Color: White
MX-OPT-AP
Request quote
Suitable for: Q2x, D2x, ExtIO
• Consists of on-wall mount and mounting parts
• Protects the cabling
• Allows integrating additional modules
• Dimensions: 165 mm x 37 mm
MX-OPT-AP-10DEG
Request quote
Suitable for: Q2x, D2x, ExtIO
• Consists of on-wall mount and mounting parts
• Camera can be mounted at a 10° tilt angle
• Protects the cabling
• Allows integrating additional modules
• Dimensions: 165 mm x 37 mm
MX-D15-OPT-WHMH-Set
Request quote
Suitable for: D1x
• Set consisting of pole/corner mount (MX-MH-Dome-ESWS) and wall mount (MX-WH-Dome)
• Mounted to the corner, one camera can cover two sides of a building simultaneously
• Pole/corner mount for fastening of wall mount: 3 mm stainless steel, white
• Wall mount consists of shock-resistant fiberglass-reinforced plastic (PBT), white
• Covers RJ45 wall outlets
• Ample room inside for extras (e.g., interface boxes)
• Wall mount raises camera protection class from IP54 to IP65
• Incl. mounting parts and 2 stainless steel straps for pole diameters of 60 to 180 mm
MX-OPT-WHMH-Set
Request quote
Suitable for: Q2x, D2x, ExtIO
• Set consisting of pole/corner mount (MX-OPT-MH) and wall mount (MX-OPT-WH)
• Pole/corner mount for fastening of wall mount: 3 mm stainless steel, white
• Wall mount consists of shock-resistant fiberglass-reinforced plastic (PBT), white
• Covers RJ45 wall outlets
• Ample room inside for extras (e.g., interface boxes)
• Incl. mounting parts and 2 stainless steel straps for pole diameters of 60 to 180 mm
MX-WH-Dome
Request quote
Suitable for: D1x
• Shock-resistant fiberglass-reinforced plastic (PBT), white
• Covers RJ45 wall outlets
• Ample room inside for extras (e.g., interface boxes)
• Raises camera protection class from IP54 to IP66
• Incl. mounting parts
MX-OPT-WH
Request quote
Suitable for: Q2x, D2x, ExtIO
• Wall mount consists of shock-resistant fiberglass-reinforced plastic (PBT), white
• Covers RJ45 wall outlets
• Ample room inside for extras (e.g., interface boxes)
• Incl. mounting parts
MX-WH-SecureFlex
Request quote
Suitable for: M12/M10/M1 (not M15)
• Shock-resistant fiberglass-reinforced composite (PBT), white
• Patented tamper-proof concealed cabling
• Can be turned left/right 90°, tilted downwards 70°
• Includes stainless steel mounting set, caps and dowels
MX-MH-Dome-ESWS
Request quote
Suitable for: D1x
• Pole/corner mount for fastening of wall mount MX-WH-Dome (to be ordered individually)
• Made of 3 mm stainless steel, white
• Incl. mounting parts and 2 stainless steel straps for pole diameters of 60 to 180 mm
MX-MH-SecureFlex-ESWS
Request quote
Suitable for: M1x, M2x
• Mount for fastening the standard camera wall mount SecureFlex (M12/M10, M22) and VarioFlex (M15, M2x)
• Made of 3 mm stainless steel, white
• Incl. mounting parts and 2 stainless steel straps for pole diameters of 60 to 180 mm
MX-OPT-MH
Request quote
Suitable for: Q2x, D2x, ExtIO
• Mount for fastening the wall mount MX-OPT-WH (to be ordered separately)
• A set consisting of Pole/Corner Mount and Wall Hount is also available (MX-OPT-WHMH-Set)
• Made of 3 mm stainless steel, white
• Incl. mounting parts and 2 stainless steel straps for pole diameters of 60 to 180 mm
MX-OPT-IC-ESMA
Request quote
Suitable for: Q2x, D2x, ExtIO
• Stainless steel ring (matt)
• Consists of in-ceiling mount and mounting parts
• Easy mounting from front
• Provides optimum protextion for the camera
• Inconspicious, as the visible profile is reduced to a minimum
• Installation dimension (diameter): 150 mm
MX-OPT-IC-ESPO
Request quote
Suitable for: Q2x, D2x, ExtIO
• Stainless steel ring (polished)
• Consists of in-ceiling mount and mounting parts
• Easy mounting from front
• Provides optimum protextion for the camera
• Inconspicious, as the visible profile is reduced to a minimum
• Installation dimension (diameter): 150 mm
MX-OPT-IC
Request quote
Suitable for: Q2x, D2x, ExtIO
• Consists of in-ceiling mount and mounting parts
• Easy mounting from front
• Provides optimum protextion for the camera
• Inconspicious, as the visible profile is reduced to a minimum
• Installation dimension (diameter): 150 mm
MX-OPT-TW-Demo-1
Request quote
Useful mount for testing and for finding the optimum mounting position of the single lens cameras Q2x Hemispheric or D2x Dome. The set includes an Allen wrench and a Torx screw with dowel and the corresponding Torx wrench for installing as alternative wall mount for testing. The camera can be placed on a flat surface or can be mounted on a tripod (1/4" tripod thread at the bottom of the mount).
MX-FLEX-OPT-CBL-015
Request quote
sensor cable (HS Code 85444210)
MX-FLEX-OPT-CBL-05
Request quote
Sensor cable, lenght 0.5 m/1,6 ft
• For connecting optical sensor modules, BlockFlexMounts and thermal sensor modules to the camera module
MX-FLEX-OPT-CBL-1
Request quote
Sensor cable, lenght 1 m/3,3 ft
• For connecting optical sensor modules, BlockFlexMounts and thermal sensor modules to the camera module
MX-FLEX-OPT-CBL-2
Request quote
Sensor cable, lenght 2 m/6,6 ft
• For connecting optical sensor modules, BlockFlexMounts and thermal sensor modules to the camera module
MX-FLEX-OPT-CBL-3
Request quote
Sensor cable, length 3 m/9,8 ft
• For connecting optical sensor modules and BlockFlexMounts with 6MP sensors and Thermal sensor modules to the S1x camera module
• Not compatible with PTMount-Thermal, S14D and 5MP modules
MX-CBL-MU-EN-AB-05
Request quote
iniUSB angled > USB-A straight
• Length 0,5 m/1,6 ft
• For M1x, M2x, Q2x, T2x
• To connect ext. USB device
MX-CBL-MU-EN-AB-2
Request quote
iniUSB angled > USB-A straight
• Length 2 m/6,6 ft
• For M1x, M2x, Q2x, T2x
• To connect ext. USB-Gerät
MX-CBL-MU-EN-AB-5
Request quote
iniUSB angled > USB-A straight
• Length 5 m/16,4 ft
• For M1x, M2x, Q2x, T2x
• To connect ext. USB device
MX-CBL-MU-EN-EN-PG-05
Request quote
iniUSB angled > MiniUSB+ angled
• Length 0,5 m/1,6 ft
• For M1x, M2x, Q2x, T2x
• To connect MX-ExtIO
MX-CBL-MU-EN-EN-PG-2
Request quote
iniUSB angled > MiniUSB+ angled
• Length 2 m/6,6 m
• For M1x, M2x, Q2x, T2x
• To connect MX-ExtIO
MX-CBL-MU-EN-EN-PG-5
Request quote
iniUSB angled > MiniUSB+ angled
• Length 5 m/16,4 ft
• For M1x, M2x, Q2x, T2x
• To connect MX-ExtIO
MX-CBL-MU-EN-PG-AB-05
Request quote
iniUSB+ angled > USB-A straight
• Length 0,5 m/1,6 ft
• For D2x
• To connect ext. USB device
MX-CBL-MU-EN-PG-AB-2
Request quote
iniUSB+ angled > USB-A straight
• Length 2 m/6,6 ft
• For D2x
• to connect ext. USB device
MX-CBL-MU-EN-PG-AB-5
Request quote
iniUSB+ angled > USB-A straight
• Length 5 m/16,4 ft
• For D2x
• To connect ext. USB device
MX-CBL-MU-EN-PG-EN-PG-05
Request quote
iniUSB+ angled > MiniUSB+ angled
• Length 0,5 m/1,6 ft
• For D2x
• To connect MX-ExtIO
MX-CBL-MU-EN-PG-EN-PG-2
Request quote
iniUSB+ angled > MiniUSB+ angled
• Length 2 m/6,6 ft
• For D2x
• To connect MX-ExtIO
MX-CBL-MU-EN-PG-EN-PG-5
Request quote
iniUSB+ angled > MiniUSB+ angled
• Length 5 m/16,4 ft
• For D2x
• To connect MX-ExtIO
MX-CBL-MU-EN-PG-STR-05
Request quote
iniUSB+ angled > MiniUSB straight
• Length 0,5 m/1,6 ft
• For D2x
• To connect MX-232-IO-Box
MX-CBL-MU-EN-PG-STR-2
Request quote
iniUSB+ angled > MiniUSB straight
• Length 2 m/6,6 ft
• For D2x
• To connect MX-232-IO-Box
MX-CBL-MU-EN-PG-STR-5
Request quote
iniUSB+ angled > MiniUSB straight
• Length 5 m/16,4 ft
• For D2x
• To connect MX-232-IO-Box
MX-CBL-MU-EN-STR-05
Request quote
iniUSB angled > MiniUSB straight
• Length 0,5 m/1,6 ft
• For M1x, M2x, Q2x, T2x
• To connect MX-232-IO-Box
MX-CBL-MU-EN-STR-2
Request quote
iniUSB angled > MiniUSB straight
• Length 2 m/6.6 ft
• For M1x, M2x, Q2x, T2x
• To connect MX-232-IO-Box
MX-CBL-MU-EN-STR-5
Request quote
iniUSB angled > MiniUSB straight
• Length 5 m/16,4 ft
• For M1x, M2x, Q2x, T2x
• To connect MX-232-IO-Box
MX-CBL-MU-STR-05
Request quote
iniUSB straight > MiniUSB straight
• Length 0,5 m/1,6 ft
• For D1x, S1x, V1x
• To connect MX-232-IO-Box
MX-CBL-MU-STR-2
Request quote
iniUSB straight > MiniUSB straight
• Length 2 m/6,6 ft
• For D1x, S1x, V1x
• To connect MX-232-IO-Box
MX-CBL-MU-STR-5
Request quote
iniUSB straight > MiniUSB straight
• Length 5 m/16,4 ft
• For D1x, S1x, V1x
• To connect MX-232-IO-Box
MX-CBL-MU-STR-AB-05
Request quote
iniUSB straight > USB-A straight
• Length 0,5 m/1,6 ft
• For D1x, S1x, V1x
• To connect ext. USB device
MX-CBL-MU-STR-AB-2
Request quote
iniUSB straight > USB-A straight
• Length 2 m/6,6 ft
• D1x, S1x, V1x
• To connect ext. USB device
MX-CBL-MU-STR-AB-5
Request quote
iniUSB straight > USB-A straight
• Length 5 m /16,4 ft
• For D1x, S1x, V1x
• To connect ext. USB device
MX-CBL-MU-STR-EN-PG-05
Request quote
iniUSB straight > MiniUSB+ angled
• Length 0,5 m/1,6 ft
• For D1x, S1x, V1x
• To connect MX-ExtIO
MX-CBL-MU-STR-EN-PG-2
Request quote
iniUSB straight > MiniUSB+ angled
• Length 2 m/6,6 ft
• For D1x, S1x, V1x
• To connect MX-ExtIO
MX-CBL-MU-STR-EN-PG-5
Request quote
iniUSB straight > MiniUSB+ angled
• Length 5 m/16,4 ft
• For D1x, S1x, V1x
• To connect MX-ExtIO
MX-OPT-CBL-LAN-1
Request quote
Ethernet Patch Cable for MOBOTIX systems
• Lenght 1 m/3,3 ft
• 2x RJ45 plug with special MOBOTIX sealing ring
MX-OPT-CBL-LAN-10
Request quote
Ethernet Patch Cable for MOBOTIX systems
• Lenght 10 m/32,8 ft
• 2x RJ45 plug with special MOBOTIX sealing ring
MX-OPT-CBL-LAN-2
Request quote
Ethernet Patch Cable for MOBOTIX systems
• Lenght 2 m/6,6 ft
• 2x RJ45 plug with special MOBOTIX sealing ring
MX-OPT-CBL-LAN-5
Request quote
Ethernet Patch Cable for MOBOTIX systems
• Lenght 5 m/16,4 ft
• 2x RJ45 plug with special MOBOTIX sealing ring
MX-FLEX-IO-CBL-015
Request quote
Lenght: 0.15 m/0,5 ft, IO cable to the front element of the camera, only for M1x (inside camera housing)
MX-CBL-NPA-BAT-2
Request quote
NPA-PoE Battery Cable
• Provides a power supply for the camera from car batteries or other power sources from 12 to 24 Volts
• With self-resetting fuse
• RJ45 connector to PoE injector, "+/-" terminals for power source
• Can only be used with Mx-NPA PoE injector
• Length: 2 m/6.6 ft
MX-OPT-Ring-L10-L12-BL
Request quote
Enables weather resistance when removing the plastic dome of black hemispheric sensor modules (S1x/M1x)
• To avoid burns by the hot lens, the dome must not be removed within the reach of persons
• Color: black
MX-OPT-Ring-L10-L12-PW
Request quote
Enables weather resistance when removing the plastic dome of white hemispheric sensor modules (S1x/M1x)
• To avoid burns by the hot lens, the dome must not be removed within the reach of persons
• Color: white
MX-OPT-SEC-SCREWS-SET
Request quote
Triple set of anti-theft screws for plugs (4 pcs 6x50) and for machine threads (4 pcs M6x15, 4 pcs M6x30) to securely attach the VarioFlex wall mount
• Incl. Allen bit for power screwdrivers (1/4" in drive with hole for security pin)
MX-SM-Blind-PW
Request quote
For M1x and M1x Thermal
• When operating the camera, it needs to be fitted either with sensor or blind modules. This closes off the front element and protects the camera against foreign objects, insects and water.
MX-OPT-BPA1-EXT
Request quote
Power supply for several MxBus modules of one MxBus line
• 2x2 connection terminals for MxBus
• 2 connection terminals for external power supply from 12 to 48 V DC (2 terminals)
• Max. output rating: 9 W
• IP65, -30 bis 60 °C / -22 to 140 °F
• Box can be mounted safely out of reach in the wall mounts of M1x, M2x, D1x, D2x
MX-OPT-NPA1-EXT
Request quote
Weatherproof PoE Injector (IEEE 802.3af) and network connector
• Needs external power supply units and batteries from 12 to 57 V DC
• Protection class IP65, -30 to 60°C / -22 to 140°F
• Important: only use with original MOBOTIX patch cables
• Box can be mounted safely out of reach in the wall mounts of M1x, M2x, D1x and D2x
MX-Overvoltage-Protection-Box-LSA
Request quote
Weatherproof connection of one MOBOTIX patch cable (RJ45, from camera) and the network installation cable
• Protects one MOBOTIX camera against surges of up to 4 kV on the PoE network cabling
• Complete set including mounting supplies
• Protection class IP65, -30 to 60°C / -22 to 140°F
• Box can be mounted safely out of reach in the wall mounts of M1x, M2x, D1x, D2x
MX-Overvoltage-Protection-Box-RJ45
Request quote
Weatherproof connection of two MOBOTIX patch cables (RJ45, one from the camera)
• Protects one MOBOTIX camera against surges of up to 4 kV on the PoE network cabling
• Complete set including mounting supplies
• Protection class IP65, -30 to 60°C / -22 to 140°F
• Box can be mounted safely out of reach in the wall mounts of M1x, M2x, D1x, D2x
MX-OPT-Input1-EXT
Request quote
Weatherproof connection of external sensors
• Connection to camera using MxBus
• 6 self-powered inputs for connectiong up to 6 external sensors
• Protection class IP65, -30 to 60°C / -22 to 140°F
• Box can be mounted safely out of reach in the wall mounts of M1x, M2x, D1x, D2x
MX-OPT-Output1-EXT
Request quote
Weatherproof connection of external devices and power relays
• Connection to the camera via MxBus
• Six self-powered outputs (12 V, each 10 mA)
• Two isolated outputs (can be switched to "self-powered" using a jumper: 12 V, max. 50 mA)
• Protection class IP65, -30 to 60 °C / -22 to 140°F
• Box can be mounted safely out of reach in the wall mounts of M1x, M2x, D1x, D2x
MX-OPT-RS1-EXT
Request quote
Weatherproof connection of external sensors and switching of external devices via MOBOTIX cameras
• Connection to camera using USB or MxBus
• 2 self-powered inputs for connecting sensors
• 2 outputs: 1 powered output, 1 isolated relay output (can be switched to second powered output)
• RS232 interface when using MOBOTIX USB cable to connect to camera
• Protection class IP65, -30 to 60°C / -22 to 140°F
• Box can be mounted safely out of reach in the wall mounts of M1x, M2x, D1x and D2x
MX-OPT-GPS1-EXT
Request quote
Weatherproof GPS time base for MOBOTIX systems
• Includes outdoor temperature and illumination sensors
• Connects via MxBus 2-wire cable
• Protection class IP65, -30 to 60°C / -22 to +140°F
• Box can be mounted safely out of reach in the wall mounts of M1x, M2x, D1x and D2x
MX-PROX-BOX
Request quote
Weatherproof proximity sensor for MOBOTIX systems
• Accurate detection of approaching objects based on radar microwave technology
• Covered area (horizontal x vertical): 80° x 34°
• Camera connection and supply via MxBus
• Protection class IP66, -20 to 60°C / -4 to 140°F
• Box can also be mounted behind walls (e.g. wooden, plastic, glass or dry walls)
• It is not possible to install the MX-Proximity-Box behind some materials since they absorb or reflect the radar waves (e.g., metal or metal-coated surfaces). Other materials are better suited since they absorb radar waves only slightly (e.g., uncoated glass, plastics, various wood-based materials, drywall).
MX-OPT-DIGI-INT
Request quote
Interface box to connect one analog camera directly to a S1x Body as alternative image source (instead of one sensor module)
• Up to two MxDigitizer boxes or two analog cameras can be connected to one S1x Body
• Easy integration of analog cameras into the MOBOTIX IP video system incl. the support of MOBOTIX integrated image analysis tools (e.g, MxActivitySensor)
• Box digitizes the analog signal input (NTSC/PAL)
• Output format PAL: 704 x 525 pixels, up to 25 frames per second
• Output format NTSC: 640 x 480 pixels, up to 30 frames per second
• BNC connection of analog camera to MxDigitizer
• Sensor cable connection of MxDigitizer to S1x Body (to be ordered separately, maximum length 3 m/9.8 ft)
• Operating conditions: Indoors, 0 to 40°C (32 to 104°F)
• Color: white
MX-2WirePlus-Set-PW
Request quote
x2wire+ turns an existing two-wire cable into a modern multimedia cable
• Ethernet and PoE data transfer using a two-wire cable
• Simple connection of 10/100 Mbps Ethernet end devices (e.g., IP camera, IP telephone)
• Power supply for Mx2wire+ and end device via PoE/PoE+ or 48–57 V DC, 600 mA
• Connected end devices are supplied with up to 13 watts via PoE (PoE class 3)
• Maximum data transfer range of 500 m and data rate of up to 50 Mbps (depending on distance)
• No need for expensive and time-consuming installation of network cables
• Perfect for wireless communication is not possible (due to distance to sender, thickness of walls, etc.)
• Network extension, including PoE, by connecting a Cat7 cable of up to 500 m in length as a two-wire cable
• Simple installation in standard sockets (surface- or flush-mounted)
• Two LEDs display current connection and supply statuses
• Developed, produced and patented by MOBOTIX Germany
• Ambient temperature: -30 to 50°C / -22 to 122°F
• Complete set consisting of two Mx2wire+ units, on-walls sockets and mounting parts
MX-A-TCLIENTA
Request quote
PoE-supplied IP video device to transfer live pictures of cameras and door stations to a monitor/TV set
• Password protected web interface
• Automatic change of video source via sequencer (time-controlled) or via MxMessageSystem (event-controlled)
• Input (connection to PoE switch): 1x Ethernet 100Base-T (RJ45)
• Output (connection to monitor/TV set): 1x HDMI Type D (MicroHDMI)
• Connection cables (Ethernet, HDMI) are not included
• Inddor-use only: Protection class IP20, ambient temperature 0 to 40 °C (32 to 104°F)
• With the supplied adhesive strips, the device can easily be attached to the backside of the monitor/TV
MX-ExtIO
Request quote
ExtIO Weatherproof extension for all MOBOTIX cameras (except Basic models)
• Power supply: PoE (Class 2, IEEE 802.3af) or USB (connection cable to be ordered individually)
• Microphone/speaker
• Line-in / Line-out
• PIR sensor for motion detection
• Temperature sensor
• 2 buttons (e.g., lights, door bell)
• 2 galvanically separated inputs
• 2 galvanically separated outputs
• Protection class IP65, -30 to 60°C / -22 to 140°F
• Robust housing made of fiber-reinforced plastic PBT-GF30
• Mounting to a wall or ceiling, optionally with MOBOTIX mounting accessories (to be ordered individually)
• Connecting via Network or USB
MX-MULTISENSE1
Request quote
ulti-sensor module for indoor use with four environmental sensors: passive infrared sensor PIR, brightness sensor, temperature sensor and acoustic sensor (sound pressure)
• Camera connection and supply via MxBus
• MxBus cable length up to 100 m / 330 ft.
• Power consumption: typ. 0.1 W
• Status LED
• Compact device using a screwable sensor module housing
• Easy installation without accessories (e.g., in suspended ceilings)
• Compatible with all MOBOTIX sensor module mounts and standard mounts for recessed spotlights
• Protection class meets IP40
• IK05
• Ambient temperature: 0 to 40°C / 32 to 104°F
• Housing color: white
MX-MULTISENSE1-EXT
Request quote
Weatherproof multi-sensor module with four environmental sensors: passive infrared sensor PIR, brightness sensor, temperature sensor (±0.1°C / 0.18°F) and acoustic sensor (level of sound waves)
• Camera connection and supply via MxBus: power consumption approx. 0.3 W, MxBus cable length up to 100 m / 330 ft.
• Status LED
• Compact device using a screwable sensor module housing
• Easy installation without accessories (e.g., in suspended ceilings)
• Compatible with all MOBOTIX mounts for sensor modules and standard mounts for recessed spotlights
• Protection class IP66
• IK05
• Ambient temperature -20 to 60°C / -4 to 140°F
• Housing color: white
MX-OPT-IO3-INT
Request quote
Extension module for the indoor cameras x25 (to be mounted on the backside)
• Not compatible with x26 indoor cameras
• For the connection of external sensors (e.g., door or window
• contacts) and switching of external devices (e.g., relays with lamps and motors)
• Two input lines (galvanically isolated, 0 to 48 V AC/DC)
• Two output lines: 2x
• isolated (contact load max.30 W or 1 A or 48 V AC/DC) or 2x 12 V DC (max. 50 mA
• per output line)
• MxBus terminal (1x2)
• Ambient temperature: 0 to 4°C (32 to 104°F)
• Power consumption: 1 W
MX-A-IOA-IC
Request quote
Expansion module for Indoor Cameras c26, i26, p26 and v26 (installed on the back)
• Not suitable for x25 indoor cameras
• For connecting external sensors (e.g., door and window contacts) and switches of external devices (e.g., relays with lamps and motors)
• Two inputs (galvanically separated): 0 V to 48 V AC/DC
• Two outputs: 2x floating (load per contact max. 30 W or 1 A or 48 V AC/DC) or 2x 12 V DC (max. 50 mA per output)
• 2x MxBus terminal connector (MxBus will be supported only by later available hardware versions of the x26 cameras)
• Ambient temperature: 0°C to 40°C (32°F to 104°F)
• Power consumption: 1 W
Mx-A-SPA
Request quote
Weatherproof installation box with integrated 4-kV surge protection for connection (Type 2 P4) to two IP cameras/PoE devices using one Ethernet cable
• Interfaces (weatherproof): 1 LSA (with shield clip) for Ethernet 2 100Base-T, 2 MxRJ45 for Ethernet 100Base-T with PoE Mode A, 1 protective earth terminal
• IP66 and IK08, ambient temperature: -30°C to 60°C (-22°F to 140°F)
• Accessories (available separately): MxSplitProtectHR Hat Rail module (Mx-A-SPA-HR), cover with camera mount in three versions (Mx-A-SPCA-M/-H/-V), pole mount (MX-MH-SecureFlex-ESWS)
• Housing color: white
Mx-A-SPA-HR
Request quote
Compatible with MxSplitProtect Installation Box (Mx-A-SPA): Hat rail module (for 35 mm DIN rails) with integrated 4-kV surge protection (Type 2 P4) for connection to two IP cameras/PoE devices using one Ethernet cable
• Interfaces: 3 RJ45 for Ethernet 100Base-T for PoE Mode A, 1 protective earth terminal
• Only use in indoor areas, ambient temperature: 0°C to 40°C (32°F to 104°F)
• Accessories (available separately): MxSwitch (MX-SWITCH1)
• Housing color: gray
Mx-A-SPCA-M
Request quote
Cover/mounting option with camera mount
• Accessories for the MxSplitProtect Installation Box (Mx-A-SPA)
• Also possible to install the standard VarioFlex wall mount of an M15/M16/M25/M26 camera directly to the cover
• Color: white
Mx-A-SPCA-H
Request quote
Cover/mounting option with camera mount
• Accessories for the MxSplitProtect Installation Box (Mx-A-SPA)
• Also possible to (vertically) install a Q2x (orD2x) camera with a 15° tilt angle without an additional mount directly to the cover
• Color: white
Mx-A-SPCA-V
Request quote
Cover/mounting option with camera mount
• Accessories for the MxSplitProtect Installation Box (Mx-A-SPA)
• Also possible to (horizontally) install a Q2x/D2x camera without an additional mount directly to the cover
• Color: white
Mx-A-IRA-120
Request quote
Infrared illuminator with 120° illumination angle (horizontal and vertical), aluminum housing
• 860 nm
• IP67
• Range: up to 20 m (66 ft.)
• PoE+ power supply via network cable (IEEE 802.3at), 19 W (max.) power consumption
• Photosensor for automatic switching on/off (threshold value: 3 lux, delay for switching off: 150 s)
• Including standard mount for installing on wall and ceiling, screws, preassembled 0.9 m patch cable with RJ45 connector and MOBOTIX special sealing ring
• Optional accessories: mounting brackets for M1x/M2x (Mx-M-IRA-ML/Mx-M-IRA-M)
• Housing color: white
Mx-A-IRA-90
Request quote
Infrared illuminator with 90° illumination angle (horizontal and vertical), aluminum housing
• 860 nm
• IP67
• Range: up to 35 m (115 ft.)
• PoE+ power supply via network cable (IEEE 802.3at), 19 W (max.) power consumption
• Photosensor for automatic switching on/off (threshold value: 3 lux, delay for switching off: 150 s)
• Including standard mount for installing on wall and ceiling, screws, preassembled 0.9 m patch cable with RJ45 connector and MOBOTIX special sealing ring
• Optional accessories: mounting brackets for M1x/M2x (Mx-M-IRA-ML/Mx-M-IRA-M)
• Housing color: white
Mx-A-IRA-60
Request quote
Infrared illuminator with 120° illumination angle (horizontal and vertical), aluminum housing
• 860 nm
• IP67
• Range: up to 50 m (165 ft.)
• PoE+ power supply via network cable (IEEE 802.3at), 19 W (max.) power consumption
• Photosensor for automatic switching on/off (threshold value: 3 lux, delay for switching off: 150 s)
• Including standard mount for installing on wall and ceiling, screws, preassembled 0.9 m patch cable with RJ45 connector and MOBOTIX special sealing ring
• Optional accessories: mounting brackets for M1x/M2x (Mx-M-IRA-ML/Mx-M-IRA-M)
• Housing color: white
Mx-A-IRA-45
Request quote
Infrared illuminator with 120° illumination angle (horizontal and vertical), aluminum housing
• 860 nm
• IP67
• Range: up to 80 m (262 ft.)
• PoE+ power supply via network cable (IEEE 802.3at), 19 W (max.) power consumption
• Photosensor for automatic switching on/off (threshold value: 3 lux, delay for switching off: 150 s)
• Including standard mount for installing on wall and ceiling, screws, preassembled 0.9 m patch cable with RJ45 connector and MOBOTIX special sealing ring
• Optional accessories: mounting brackets for M1x/M2x (Mx-M-IRA-ML/Mx-M-IRA-M)
• Housing color: white
Mx-A-IRA-30
Request quote
Infrared illuminator with 120° illumination angle (horizontal and vertical), aluminum housing
• 860 nm
• IP67
• Range: up to 120 m (394 ft.)
• PoE+ power supply via network cable (IEEE 802.3at), 19 W (max.) power consumption
• Photosensor for automatic switching on/off (threshold value: 3 lux, delay for switching off: 150 s)
• Including standard mount for installing on wall and ceiling, screws, preassembled 0.9 m patch cable with RJ45 connector and MOBOTIX special sealing ring
• Optional accessories: mounting brackets for M1x/M2x (Mx-M-IRA-ML/Mx-M-IRA-M)
• Housing color: white
Mx-A-IRA-15
Request quote
Infrared illuminator with 120° illumination angle (horizontal and vertical), aluminum housing
• 860 nm
• IP67
• Range: up to 160 m (525 ft.)
• PoE+ power supply via network cable (IEEE 802.3at), 19 W (max.) power consumption
• Photosensor for automatic switching on/off (threshold value: 3 lux, delay for switching off: 150 s)
• Including standard mount for installing on wall and ceiling, screws, preassembled 0.9 m patch cable with RJ45 connector and MOBOTIX special sealing ring
• Optional accessories: mounting brackets for M1x/M2x (Mx-M-IRA-ML/Mx-M-IRA-M)
• Housing color: white
Mx-M-IRA-ML
Request quote
Mounting brackets "Large" for the MOBOTIX M15/M16 AllroundDual cameras
• Accessories for the MxIRLight Infrared Illuminator
• Material: aluminum
• Color: white
Mx-M-IRA-M
Request quote
Mounting brackets for the MOBOTIX M25/M26 Allround cameras
• Accessories for the MxIRLight Infrared Illuminator
• Material: aluminum
• Color: white
MX-SWITCH1
Request quote
PoE+ Switch for the top-hat rail
• 5x RJ45 port with 100 MBit/s (1x uplink, 4x PoE+ with max. 75 W)
• Supply: 48 V DC, max. 75 W
• Simplified cabling for door stations due to available connectivity for anti-theft protection, door opener and MxBus
• MxBus, anti-theft protection, door and lock contact can be connected via separate wires of the ethernet cable
MX-NPA-PoE-EU-Set
Request quote
PoE injector incl. crossover function for direct connection to the PC
• With power plug for Europe
• For all MOBOTIX cameras (except for M1 und M10), Mx2wire+ and all PoE devices
• Provides compliant PoE power supply (IEEE 802.3af) for direct connection to PC and camera
• Kit includes blue adapter with 3 sockets RJ45 and universal power supply with RJ45 plug
MX-NPA-PoE-INT-Set
Request quote
PoE injector incl. crossover function for direct connection to the PC
• With 4 exchangeable power plugs for Europe, United Kingdom, USA and Australia
• For all MOBOTIX cameras (except for M1 und M10), Mx2wire+ and all PoE devices
• Provides compliant PoE power supply (IEEE 802.3af) for direct connection to PC and camera
• Kit includes blue adapter with 3 sockets RJ45 and universal power supply with RJ45 plug
MX-NPA-PoE-RJ
Request quote
PoE injector (IEEE 802.3af) incl. crossover function for direct connection to the PC
• Blue adapter with 3 sockets RJ45 and universal power supply with RJ45 plug
• Without power plug, additional power supply (12 to 57 V DC) and connection cable needed
MX-SNT-INT-PoE
Request quote
For international use thanks to broad input voltage range and interchangeable power plugs (no tools required)
• With 4 power plugs for Europe, United Kingdom, USA and Australia
• Connections: 1x RJ45 (for adapter), 1x network (up to 4x interchangeable adapter)
• Nominal data input: 100 V to 240 V, 50 to 60 Hz/400 mA
• Nominal data output: DC 24 V/750 mA
• Ambient temperature: 0 to 40°C / 32 to 104 °F
MX-DISPLAY3
Request quote
xDisplay+ with second generation CPU
• Indoor remote station for MOBOTIX Door Stations and video systems
• Full duplex hands-free talking, HD sound with echo/noise suppression and automatic volume control
• Ambilight sensor
• 3 inputs, 1 relay output, connection for external temperature sensor and MxBus (MxMessageSystem)
• Ethernet, RFID and Wi-Fi
• 1 x admin card
• Mounting parts
• Frame and in-wall housing can be ordered separately (for example, FlatMount Frame MX-OPT-FlatMount-EXT-PW)
• Color: white
MX-DISPLAY3-b
Request quote
xDisplay+ with second generation CPU
• Indoor remote station for MOBOTIX Door Stations and video systems
• Full duplex hands-free talking, HD sound with echo/noise suppression and automatic volume control
• Ambilight sensor
• 3 inputs, 1 relay output, connection for external temperature sensor and MxBus (MxMessageSystem)
• Ethernet, RFID and Wi-Fi
• 1 x admin card
• Mounting parts
• Frame and in-wall housing can be ordered separately (for example, FlatMount Frame MX-OPT-FlatMount-EXT-BL)
• Color: black
MX-DISPLAY3-EXT
Request quote
Weatherproof MxDisplay+ for mounting outdoors or in rooms with special requirements
• Operating conditions: IP65, -30 to 60°C (-22 to 140°F)
• Remote station for MOBOTIX Door Stations and video systems
• Full duplex hands-free talking
• HD sound with echo/noise suppression and automatic volume control
• Ambilight sensor
• 3 inputs, 1 relay output, connection for external temperature sensor and MxBus
• Ethernet, RFID and WiFi (2.4 & 5 GHz), Bluetooth V3.0 HS
• MxBus and Bluetooth available with upcoming software update
• 1x admin card
• Mounting parts
• Frame and in-wall housing to be ordered separately (e.g., FlatMount Frame MX-OPT-FlatMount-EXT-PW)
• Color: white
MX-DISPLAY3-EXT-b
Request quote
Weatherproof MxDisplay+ for mounting outdoors or in rooms with special requirements
• Operating conditions: IP65, -30 to 60°C (-22 to 140°F)
• Remote station for MOBOTIX Door Stations and video systems
• Full duplex hands-free talking
• HD sound with echo/noise suppression and automatic volume control
• Ambilight sensor
• 3 inputs, 1 relay output, connection for external temperature sensor and MxBus
• Ethernet, RFID and WiFi (2.4 & 5 GHz), Bluetooth V3.0 HS
• MxBus and Bluetooth available with upcoming software update
• 1x admin card
• Mounting parts
• Frame and in-wall housing to be ordered separately (e.g., FlatMount Frame MX-OPT-FlatMount-EXT-BL)
• Color: black
MX-T25-SMART-SET1
Request quote
T25 IP Video Door Station with MxDisplay+ as preconfigured complete set for use in family homes
• Delivery outdoor remote station (IP65, -30 to 50°C , -22 to 122°F): CamCore T25 with 6 Megapixel Moonlight Sensor, color (day) and Fisheye Lens B016 (focal length 1.6 mm, f/2.0, 180° x 180°)
• BellRFID module with one big key with blue functional bar, 1x admin and 6x user card, MX-OPT-IO2 Ethernet board, double frame set for in-wall or on-wall installation, pen for plastic film, mounting material
• Delivery indoor remote station: MX-DISPLAY3, FlatMount Frame with In-Wall-Housing
• All devices and frames colored in white
MX-T25-SMART-SET2
Request quote
T25 IP Video Door Station with MxDisplay+ and MxSwitch
• Preconfigured complete set for use in family homes
• Delivery outdoor remote station (IP65, -30 to 50°C , -22 to 122°F): CamCore T25 with 6 Megapixel Moonlight Sensor, color (day) and Fisheye Lens B016 (focal length 1.6 mm, f/2.0, 180° × 180°)
• BellRFID module with one big key with blue functional bar, 1× admin and 6× user card, MX-OPT-IO2 Ethernet board, double frame set for in-wall or on-wall installation, pen for plastic film, mounting material
• Delivery indoor remote station: MX-DISPLAY3, FlatMount Frame with In-Wall-Housing
• All devices and frames colored in white
MX-T25-SET1
Request quote
Complete Kit IP Video Door Station
• CamCore T25 with 6 Megapixel Moonlight Sensor, color (day)
• Fisheye Lens B016 (focal length 1.6 mm, f/2.0, 180° x 180°)
• KeypadRFID incl. one admin and six user cards
• Info Module
• MX-OPT-IO2 Ethernet board
• IP65, -30 to 50°C (-22 to 122°F)
• Triple frame set for in-wall or on-wall installation
• USB stick, pen for plastic film, mounting material
• Color: White
MX-T25-SET2
Request quote
Complete Kit IP Video Door Station
• CamCore T25 with 6 Megapixel Moonlight Sensor, color (day)
• Fisheye Lens B016 (focal length 1.6 mm, f/2.0, 180° x 180°)
• KeypadRFID incl. one admin and six user cards
• Info2wire+ (Info Module with indoor unit)
• MX-DoorMaster (in-wall) with different frames
• IP65, -30 to 50°C (-22 to 122°F)
• Triple frame set for in-wall or on-wall installation
• USB stick, pen for plastic film, mounting material
• Color: White
MX-T25-SET3
Request quote
Complete Kit IP Video Door Station
• CamCore T25 with 6 Megapixel Moonlight Sensor, color (day)
• Fisheye Lens B016 (focal length 1.6 mm, f/2.0, 180° x 180°)
• KeypadRFID incl. one admin and six user cards
• Info Module
• MX-OPT-IO2 Ethernet board
• MX-DoorMaster (in-wall) with different frames
• IP65, -30 to 50°C (-22 to 122°F)
• Triple frame set for in-wall or on-wall installation
• USB stick, pen for plastic film, mounting material
• Color: White
MX-T25-SET1-d
Request quote
Complete Kit IP Video Door Station
• CamCore T25 with 6 Megapixel Moonlight Sensor, color (day)
• Fisheye Lens B016 (focal length 1.6 mm, f/2.0, 180° x 180°)
• KeypadRFID incl. one admin and six user cards
• Info Module
• MX-OPT-IO2 Ethernet board
• IP65, -30 to 50°C (-22 to 122°F)
• Triple frame set for in-wall or on-wall installation
• USB stick, pen for plastic film, mounting material
• Color: Dark Gray
MX-T25-SET1-b
Request quote
Complete Kit IP Video Door Station
• CamCore T25 with 6 Megapixel Moonlight Sensor, color (day)
• Fisheye Lens B016 (focal length 1.6 mm, f/2.0, 180° x 180°)
• KeypadRFID incl. one admin and six user cards
• Info Module
• MX-OPT-IO2 Ethernet board
• IP65, -30 to 50°C (-22 to 122°F)
• Triple frame set for in-wall or on-wall installation
• USB stick, pen for plastic film, mounting material
• Color: Black
MX-T25-SET1-s
Request quote
Complete Kit IP Video Door Station
• CamCore T25 with 6 Megapixel Moonlight Sensor, color (day)
• Fisheye Lens B016 (focal length 1.6 mm, f/2.0, 180° x 180°)
• KeypadRFID incl. one admin and six user cards
• Info Module
• MX-OPT-IO2 Ethernet board
• IP65, -30 to 50°C (-22 to 122°F)
• Triple frame set for in-wall or on-wall installation
• USB stick, pen for plastic film, mounting material
• Color: Silver
MX-T25-SET2-s
Request quote
Complete Kit IP Video Door Station
• CamCore T25 with 6 Megapixel Moonlight Sensor, color (day)
• Fisheye Lens B016 (focal length 1.6 mm, f/2.0, 180° x 180°)
• KeypadRFID incl. one admin and six user cards
• Info2wire+ (Info Module with indoor unit)
• MX-DoorMaster (in-wall) with different frames
• IP65, -30 to 50°C (-22 to 122°F)
• Triple frame set for in-wall or on-wall installation
• USB stick, pen for plastic film, mounting material
• Color: Silver
MX-T25-SET2-d
Request quote
Complete Kit IP Video Door Station
• CamCore T25 with 6 Megapixel Moonlight Sensor, color (day)
• Fisheye Lens B016 (focal length 1.6 mm, f/2.0, 180° x 180°)
• KeypadRFID incl. one admin and six user cards
• Info2wire+ (Info Module with indoor unit)
• MX-DoorMaster (in-wall) with different frames
• IP65, -30 to 50°C (-22 to 122°F)
• Triple frame set for in-wall or on-wall installation
• USB stick, pen for plastic film, mounting material
• Color: Dark Gray
MX-T25-SET2-b
Request quote
Complete Kit IP Video Door Station
• CamCore T25 with 6 Megapixel Moonlight Sensor, color (day)
• Fisheye Lens B016 (focal length 1.6 mm, f/2.0, 180° x 180°)
• KeypadRFID incl. one admin and six user cards
• Info2wire+ (Info Module with indoor unit)
• MX-DoorMaster (in-wall) with different frames
• IP65, -30 to 50°C (-22 to 122°F)
• Triple frame set for in-wall or on-wall installation
• USB stick, pen for plastic film, mounting material
• Color: Black
MX-T25-SET3-s
Request quote
Complete Kit IP Video Door Station
• CamCore T25 with 6 Megapixel Moonlight Sensor, color (day)
• Fisheye Lens B016 (focal length 1.6 mm, f/2.0, 180° x 180°)
• KeypadRFID incl. one admin and six user cards
• Info Module
• MX-OPT-IO2 Ethernet board
• MX-DoorMaster (in-wall) with different frames
• IP65, -30 to 50°C (-22 to 122°F)
• Triple frame set for in-wall or on-wall installation
• USB stick, pen for plastic film, mounting material
• Color: Silver
MX-T25-SET3-d
Request quote
Complete Kit IP Video Door Station
• CamCore T25 with 6 Megapixel Moonlight Sensor, color (day)
• Fisheye Lens B016 (focal length 1.6 mm, f/2.0, 180° x 180°)
• KeypadRFID incl. one admin and six user cards
• Info Module
• MX-OPT-IO2 Ethernet board
• MX-DoorMaster (in-wall) with different frames
• IP65, -30 to 50°C (-22 to 122°F)
• Triple frame set for in-wall or on-wall installation
• USB stick, pen for plastic film, mounting material
• Color: Dark Gray
MX-T25-SET3-b
Request quote
Complete Kit IP Video Door Station
• CamCore T25 with 6 Megapixel Moonlight Sensor, color (day)
• Fisheye Lens B016 (focal length 1.6 mm, f/2.0, 180° x 180°)
• KeypadRFID incl. one admin and six user cards
• Info Module
• MX-OPT-IO2 Ethernet board
• MX-DoorMaster (in-wall) with different frames
• IP65, -30 to 50°C (-22 to 122°F)
• Triple frame set for in-wall or on-wall installation
• USB stick, pen for plastic film, mounting material
• Color: Black
MX-T25-D016
Request quote
Hemispheric IP door station camera with 6 Megapixel Moonlight Sensor, color (day)
• HD premium fisheye lens B016 (focal length 1.6 mm, f/2.0, 180° x 180°)
• Max. image size: 6MP (3072 x 2048)
• IP65, -30 to 50°C (-22 to 122°F)
• Internal DVR: 4 GB microSD
• LED lighting strips, two buttons (doorbell, outdoor light), temperature sensor, shock detector, MxActivitySensor, MxAnalytics, ethernet patch cable 0.5 m/1.6 ft
• Interfaces: Ethernet 10/100 (RJ45 and LSA), MxBus, USB
• Color: White
MX-T25-D016-s
Request quote
Hemispheric IP door station camera with 6 Megapixel Moonlight Sensor, color (day)
• HD premium fisheye lens B016 (focal length 1.6 mm, f/2.0, 180° x 180°)
• Max. image size: 6MP (3072 x 2048)
• IP65, -30 to 50°C (-22 to 122°F)
• Internal DVR: 4 GB microSD
• LED lighting strips, two buttons (doorbell, outdoor light), temperature sensor, shock detector, MxActivitySensor, MxAnalytics, ethernet patch cable 0.5 m/1.6 ft
• Interfaces: Ethernet 10/100 (RJ45 and LSA), MxBus, USB
• Color: Silver
MX-T25-D016-d
Request quote
Hemispheric IP door station camera with 6 Megapixel Moonlight Sensor, color (day)
• HD premium fisheye lens B016 (focal length 1.6 mm, f/2.0, 180° x 180°)
• Max. image size: 6MP (3072 x 2048)
• IP65, -30 to 50°C (-22 to 122°F)
• Internal DVR: 4 GB microSD
• LED lighting strips, two buttons (doorbell, outdoor light), temperature sensor, shock detector, MxActivitySensor, MxAnalytics, ethernet patch cable 0.5 m/1.6 ft
• Interfaces: Ethernet 10/100 (RJ45 and LSA), MxBus, USB
• Color: Dark Gray
MX-T25-D016-b
Request quote
Hemispheric IP door station camera with 6 Megapixel Moonlight Sensor, color (day)
• HD premium fisheye lens B016 (focal length 1.6 mm, f/2.0, 180° x 180°)
• Max. image size: 6MP (3072 x 2048)
• IP65, -30 to 50°C (-22 to 122°F)
• Internal DVR: 4 GB microSD
• LED lighting strips, two buttons (doorbell, outdoor light), temperature sensor, shock detector, MxActivitySensor, MxAnalytics, ethernet patch cable 0.5 m/1.6 ft
• Interfaces: Ethernet 10/100 (RJ45 and LSA), MxBus, USB
• Color: Black
MX-T25-N016
Request quote
Hemispheric IP door station camera with 6 Megapixel Moonlight Sensor, B/W (night)
• HD premium fisheye lens B016 (focal length 1.6 mm, f/2.0, 180° x 180°)
• Max. image size: 6MP (3072 x 2048)
• IP65, -30 to 50°C (-22 to 122°F)
• Internal DVR: 4 GB microSD
• LED lighting strips, two buttons (doorbell, outdoor light), temperature sensor, shock detector, MxActivitySensor, MxAnalytics, ethernet patch cable 0.5 m/1.6 ft
• Interfaces: Ethernet 10/100 (RJ45 and LSA), MxBus, USB
• Color: White
MX-T25-N016-s
Request quote
Hemispheric IP door station camera with 6 Megapixel Moonlight Sensor, B/W (night)
• HD premium fisheye lens B016 (focal length 1.6 mm, f/2.0, 180° x 180°)
• Max. image size: 6MP (3072 x 2048)
• IP65, -30 to 50°C (-22 to 122°F)
• Internal DVR: 4 GB microSD
• LED lighting strips, two buttons (doorbell, outdoor light), temperature sensor, shock detector, MxActivitySensor, MxAnalytics, ethernet patch cable 0.5 m/1.6 ft
• Interfaces: Ethernet 10/100 (RJ45 and LSA), MxBus, USB
• Color: Silver
MX-T25-N016-d
Request quote
Hemispheric IP door station camera with 6 Megapixel Moonlight Sensor, B/W (night)
• HD premium fisheye lens B016 (focal length 1.6 mm, f/2.0, 180° x 180°)
• Max. image size: 6MP (3072 x 2048)
• IP65, -30 to 50°C (-22 to 122°F)
• Internal DVR: 4 GB microSD
• LED lighting strips, two buttons (doorbell, outdoor light), temperature sensor, shock detector, MxActivitySensor, MxAnalytics, ethernet patch cable 0.5 m/1.6 ft
• Interfaces: Ethernet 10/100 (RJ45 and LSA), MxBus, USB
• Color: Dark Gray
MX-T25-N016-b
Request quote
Hemispheric IP door station camera with 6 Megapixel Moonlight Sensor, B/W (night)
• HD premium fisheye lens B016 (focal length 1.6 mm, f/2.0, 180° x 180°)
• Max. image size: 6MP (3072 x 2048)
• IP65, -30 to 50°C (-22 to 122°F)
• Internal DVR: 4 GB microSD
• LED lighting strips, two buttons (doorbell, outdoor light), temperature sensor, shock detector, MxActivitySensor, MxAnalytics, ethernet patch cable 0.5 m/1.6 ft
• Interfaces: Ethernet 10/100 (RJ45 and LSA), MxBus, USB
• Color: Black
MX-Bell1-Button-F1
Request quote
1 big key with blue functional bar
• For usage with any BellRFID base module (to be ordered individually)
• Suitable for all colors
• Protection class IP65, -30 to 50°C / -22 to 122°F
• Printing service free of charge: www.mobotix.com > Support
• Delivery with UV resistant paper label
MX-Bell1-Button-F2
Request quote
2 medium-sized keys with blue functional bar
• For usage with any BellRFID base module (to be ordered individually)
• Suitable for all colors
• Protection class IP65, -30 to 50°C / -22 to 122°F
• Printing service free of charge: www.mobotix.com > Support
• Delivery with UV resistant paper label
MX-Bell1-Button-F3
Request quote
1 medium-sized and 2 small keys with blue functional bar
• For usage with any BellRFID base module (to be ordered individually)
• Suitable for all colors
• Protection class IP65, -30 to 50°C / -22 to 122°F
• Printing service free of charge: www.mobotix.com > Support
• Delivery with UV resistant paper label
•
MX-Bell1-Button-F4
Request quote
4 small keys with blue functional bar
• For usage with any BellRFID base module (to be ordered individually)
• Suitable for all colors
• Protection class IP65, -30 to 50°C / -22 to 122°F
• Printing service free of charge: www.mobotix.com > Support
• Delivery with UV resistant paper label
MX-Bell1-Button-05
Request quote
5 small keys (without blue functional bar)
• For usage with any BellRFID base module (to be ordered individually)
• Suitable for all colors
• Protection class IP65, -30 to 50°C / -22 to 122°F
• Printing service free of charge: www.mobotix.com > Support
• Delivery with UV resistant paper label
MX-Bell1-Button-XL1
Request quote
1 big XL key (without blue functional bar)
• For usage with any BellRFID base module (to be ordered individually)
• Suitable for all colors
• Protection class IP65, -30 to 50°C / -22 to 122°F
• Printing service free of charge: www.mobotix.com > Support
• Delivery with UV resistant paper label
MX-Bell1-Core-EXT-PW
Request quote
BellRFID access module for MOBOTIX IP Video Door Stations
• For usage with any BellRFID Bell Button Set (to be ordered individually)
• Incl. one admin and five user RFID cards
• Doorbell function and mailbox control
• Integrated RFID technology for keyless entry
• Powered by the door camera via MxBus
• Up to 60 hrs backup power supply using MX-DoorMaster (accessory)
• Protection class IP65, -30 to 50°C / -22 to 122°F
• Color: White
MX-Bell1-Core-EXT-SV
Request quote
BellRFID access module for MOBOTIX IP Video Door Stations
• For usage with any BellRFID Bell Button Set (to be ordered individually)
• Incl. one admin and five user RFID cards
• Doorbell function and mailbox control
• Integrierte RFID-Technik für schlüssellosen Zutritt
• Stromversorgung über die Türkamera via Integrated RFID technology for keyless entry
• Powered by the door camera via MxBus
• Up to 60 hrs backup power supply using MX-DoorMaster (accessory)
• Protection class IP65, -30 to 50°C / -22 to 122°F
• Color: Silver
MX-Bell1-Core-EXT-DG
Request quote
BellRFID access module for MOBOTIX IP Video Door Stations
• For usage with any BellRFID Bell Button Set (to be ordered individually)
• Incl. one admin and five user RFID cards
• Doorbell function and mailbox control
• Integrated RFID technology for keyless entry
• Powered by the door camera via MxBus
• Up to 60 hrs backup power supply using MX-DoorMaster (accessory)
• Protection class IP65, -30 to +50°C / -22 to 122°F
• Color: Dark Gray
MX-Bell1-Core-EXT-BL
Request quote
BellRFID access module for MOBOTIX IP Video Door Stations
• For usage with any BellRFID Bell Button Set (to be ordered individually)
• Incl. one admin and five user RFID cards
• Doorbell function and mailbox control
• Integrated RFID technology for keyless entry
• Powered by the door camera via MxBus
• Up to 60 hrs backup power supply using MX-DoorMaster (accessory)
• Protection class IP65, -30 to 50°C / -22 to 122°F
• Color: Black
MX-Keypad1-EXT-PW
Request quote
Keypad access module for MOBOTIX IP Video Door Stations
• Incl. one admin and five user RFID cards
• Doorbell function and mailbox control
• Integrated RFID technology for keyless entry
• Powered by the door camera via MxBus
• Up to 60 hrs backup power supply using MX-DoorMaster (accessory)
• Protection class IP65, -30 to 50°C / -22 to 122°F
• Color: White
MX-Keypad1-EXT-SV
Request quote
Keypad access module for MOBOTIX IP Video Door Stations
• Incl. one admin and five user RFID cards
• Doorbell function and mailbox control
• Integrierte RFID-Technik für schlüssellosen Zutritt
• Stromversorgung über die Türkamera via Integrated RFID technology for keyless entry
• Powered by the door camera via MxBus
• Up to 60 hrs backup power supply using MX-DoorMaster (accessory)
• Protection class IP65, -30 to 50°C / -22 to 122°F
• Color: Silver
MX-Keypad1-EXT-DG
Request quote
Keypad access module for MOBOTIX IP Video Door Stations
• Incl. one admin and five user RFID cards
• Doorbell function and mailbox control
• Integrated RFID technology for keyless entry
• Powered by the door camera via MxBus
• Up to 60 hrs backup power supply using MX-DoorMaster (accessory)
• Protection class IP65, -30 to 50°C / -22 to 122°F
• Color: Dark Gray
MX-Keypad1-EXT-BL
Request quote
Keypad access module for MOBOTIX IP Video Door Stations
• Incl. one admin and five user RFID cards
• Doorbell function and mailbox control
• Integrated RFID technology for keyless entry
• Powered by the door camera via MxBus
• Up to 60 hrs backup power supply using MX-DoorMaster (accessory)
• Protection class IP65, -30 to 50°C / -22 to 122°F
• Color: Black
MX-Info1-EXT-PW
Request quote
Standard info module for MOBOTIX IP Video Door Stations
• To attach the house number and/or name
• With backlighting using energy-saving and long-lasting LED technology
• Powered by the door camera via MxBus
• Printing service free of charge: www.mobotix.com > Support
• Protection class IP65, -30 to 50°C / -22 to 122°F
• Color: White
MX-Info1-EXT-SV
Request quote
Standard info module for MOBOTIX IP Video Door Stations
• To attach the house number and/or name
• With backlighting using energy-saving and long-lasting LED technology
• Powered by the door camera via MxBus
• Printing service free of charge: www.mobotix.com > Support
• Protection class IP65, -30 to 50°C / -22 to 122°F
• Color: Silver
MX-Info1-EXT-DG
Request quote
Standard info module for MOBOTIX IP Video Door Stations
• To attach the house number and/or name
• With backlighting using energy-saving and long-lasting LED technology
• Powered by the door camera via MxBus
• Printing service free of charge: www.mobotix.com > Support
• Protection class IP65, -30 to 50°C / -22 to 122°F
• Color: Dark Gray
MX-Info1-EXT-BL
Request quote
Standard info module for MOBOTIX IP Video Door Stations
• To attach the house number and/or name
• With backlighting using energy-saving and long-lasting LED technology
• Powered by the door camera via MxBus
• Printing service free of charge: www.mobotix.com > Support
• Protection class IP65, -30 to 50°C / -22 to 122°F
• Color: Black
MX-2wirePlus-Info1-EXT-PW
Request quote
Info module with Mx2wire+ technology and a second Mx2wire+ unit for mounting inside the building
• To connect and supply power to the door station via existing two-wire cabling instead of a network cable
• To attach the house number and/or name
• With backlighting using energy-saving and long-lasting LED technology
• Powered by the door camera via MxBus
• Printing service free of charge: www.mobotix.com > Support
• Protection class IP65, -30 to 50°C / -22 to 122°F
• Color: White
MX-2wirePlus-Info1-EXT-SV
Request quote
Info module with Mx2wire+ technology and a second Mx2wire+ unit for mounting inside the building
• To connect and supply power to the door station via existing two-wire cabling instead of a network cable
• To attach the house number and/or name
• With backlighting using energy-saving and long-lasting LED technology
• Powered by the door camera via MxBus
• Printing service free of charge: www.mobotix.com > Support
• Protection class IP65, -30 to 50°C / -22 to 122°F
• Color: Silver
MX-2wirePlus-Info1-EXT-DG
Request quote
Info module with Mx2wire+ technology and a second Mx2wire+ unit for mounting inside the building
• To connect and supply power to the door station via existing two-wire cabling instead of a network cable
• To attach the house number and/or name
• With backlighting using energy-saving and long-lasting LED technology
• Powered by the door camera via MxBus
• Printing service free of charge: www.mobotix.com > Support
• Protection class IP65, -30 to 50°C / -22 to 122°F
• Color: Dark Gray
MX-2wirePlus-Info1-EXT-BL
Request quote
Info module with Mx2wire+ technology and a second Mx2wire+ unit for mounting inside the building
• To connect and supply power to the door station via existing two-wire cabling instead of a network cable
• To attach the house number and/or name
• With backlighting using energy-saving and long-lasting LED technology
• Powered by the door camera via MxBus
• Printing service free of charge: www.mobotix.com > Support
• Protection class IP65, -30 to 50°C / -22 to 122°F
• Color: Black
MX-Door2-INT-ON-PW
Request quote
Security Door Opener with integrated access code memory for on-wall mounting
• Complete set including DoorMaster module, on-wall housing, three device frames, neutral housing covering, battery pack and mounting parts
• Suitable for: IP Video Door Station with T2x and S1x as door camera
• Built-in backup power supply (battery) for access modules
• Doorbell
• Direct connection and power supply for electric Door Opener und door sensors
• Interface und power supply: MxBus
• Two status LEDs, two function buttons, integrated
• Speaker (doorbell)
• Two galvanically separated inputs (AC/DC, selfpowered
• up to 48 V)
• Isolated relay output (AC/DC, 24 V/1 A) or port for standard door openers (6 to 12 V AC)
• Outlet for MOBOTIX antitheft protection (12 V DC)
• Protection class: IP20
• Ambient temperature: -5 to 40 °C / 23 to 104 °F
• Color: white
MX-Door2-INT-PW
Request quote
Security door opener with internal access code memory: A MOBOTIX door station may be coupled with the MOBOTIX MX-DoorMaster, making it impossible to open the door by forcibly removing the system and bypassing the connecting cable
• 2nd product generation, suitable for: IP video door stations with an T2x and S1x as door camera
• Integrated (rechargeable) battery power supply for access modules
• Security door opener/bell with access code storage (protected against manipulation)
• Connection for door opener, door sensor and door lock sensor
• Interface and power supply: MxBus (max. 50 m distance to door station)
• User interfaces: 2 status LEDs, 2 function buttons, integrated speaker (doorbell)
• Inputs: 2 galvanically separated inputs with shared ground connection (AC/DC, self-powered up to 48 V)
• Outputs: 1 isolated relay output (AC/DC, 24 V/1 A) or 1 connector for standard door opener (6 to 12 V AC), 1 output for MOBOTIX theft protection (12 V DC)
• Protection class: IP20 (DIN EN 60529)
• Operating temperature: -5 to 40°C / 23 to 104°F (DIN EN 50155)
• Switch time: max. 5 s
MX-OPT-Frame-1-EXT-PW
Request quote
Suitable for: 1 module, outdoors
• Integrated electromagnetic theft protection
• Includes special key for module unlocking, housing gasket and installation material
• Dimensions: 131 x 143 x 18 mm (W x H x D)
• Color: White
MX-OPT-Frame-1-EXT-SV
Request quote
Suitable for: 1 module, outdoors
• Integrated electromagnetic anti-theft protection
• Includes special key for module unlocking, housing gasket and installation material
• Dimensions: 131 x 143 x 18 mm (W x H x D)
• Color: Silver
MX-OPT-Frame-1-EXT-DG
Request quote
Suitable for: 1 module, outdoors
• Integrated electromagnetic theft protection
• Includes special key for module unlocking, housing gasket and installation material
• Dimensions: 131 x 143 x 18 mm (W x H x D)
• Color: Dark Gray
MX-OPT-Frame-1-EXT-BL
Request quote
Suitable for: 1 module, outdoors
• Integrated electromagnetic theft protection
• Includes special key for module unlocking, housing gasket and installation material
• Dimensions: 131 x 143 x 18 mm (W x H x D)
• Color: Black
MX-OPT-Box-1-EXT-ON-PW
Request quote
Suitable for: 1 module, outdoors
• Metal-reinforced housing: 126 x 138 x 31 mm (W x H x D)
• Color: White
MX-OPT-Box-1-EXT-ON-SV
Request quote
Suitable for: 1 module, outdoors
• Metal-reinforced housing: 126 x 138 x 31 mm (W x H x D)
• Color: Silver
MX-OPT-Box-1-EXT-ON-DG
Request quote
Suitable for: 1 module, outdoors
• Metal-reinforced housing: 126 x 138 x 31 mm (W x H x D)
• Color: Dark Gray
MX-OPT-Box-1-EXT-ON-BL
Request quote
Suitable for: 1 module, outdoors
• Metal-reinforced housing: 126 x 138 x 31 mm (W x H x D)
• Color: Black
MX-OPT-Box-1-EXT-IN
Request quote
Suitable for: 1 module, outdoors
• The blue housing is firmly connected to the subsurface or brick work. It can also be used to ensure easy installation in cavities: Drill opening, position housing and screw tightly in place; the retaining wings, which automatically swing out, secure the housing, while the plastic bars at the edge of the housing prevent it from sliding into the cavity.
• Required flushmounting opening: 117 x 129 mm (width x height)
• Permissible wall thickness for cavity installation: 7 to 27 mm
MX-OPT-Frame-2-EXT-PW
Request quote
Suitable for: 2 modules, outdoors
• Integrated electromagnetic theft protection
• Includes special key for module unlocking, housing gasket and installation material
• Dimensions: 131 x 233 x 18 mm (W x H x D)
• Color: White
MX-OPT-Frame-2-EXT-SV
Request quote
Suitable for: 2 modules, outdoors
• Integrated electromagnetic anti-theft protection
• Includes special key for module unlocking, housing gasket and installation material
• Dimensions: 131 x 233 x 18 mm (W x H x D)
• Color: Silver
MX-OPT-Frame-2-EXT-DG
Request quote
Suitable for: 2 modules, outdoors
• Integrated electromagnetic theft protection
• Includes special key for module unlocking, housing gasket and installation material
• Dimensions: 131 x 233 x 18 mm (W x H x D)
• Color: Dark Gray
MX-OPT-Frame-2-EXT-BL
Request quote
Suitable for: 2 modules, outdoors
• Integrated electromagnetic theft protection
• Includes special key for module unlocking, housing gasket and installation material
• Dimensions: 131 x 233 x 18 mm (W x H x D)
• Color: Black
MX-OPT-Box-2-EXT-ON-PW
Request quote
Suitable for: 2 modules, outdoors
• Metal-reinforced housing: 126 x 327 x 31 mm (W x H x D)
• Color: White
MX-OPT-Box-2-EXT-ON-SV
Request quote
Suitable for: 2 modules, outdoors
• Metal-reinforced housing: 126 x 327 x 31 mm (W x H x D)
• Color: Silver
MX-OPT-Box-2-EXT-ON-DG
Request quote
Suitable for: 2 modules, outdoors
• Metal-reinforced housing: 126 x 327 x 31 mm (W x H x D)
• Color: Dark Gray
MX-OPT-Box-2-EXT-ON-BL
Request quote
Suitable for: 2 modules, outdoors
• Metal-reinforced housing: 126 x 327 x 31 mm (W x H x D)
• Color: Black
MX-OPT-Box-2-EXT-IN
Request quote
Suitable for: 2 modules, outdoors
• The blue housing is firmly connected to the subsurface or brick work. It can also be used to ensure easy installation in cavities: Drill opening, position housing and screw tightly in place; the retaining wings, which automatically swing out, secure the housing, while the plastic bars at the edge of the housing prevent it from sliding into the cavity.
• Required flushmounting opening: 117 x 218 mm (width x height)
• Permissible wall thickness for cavity installation: 7 to 27 mm
MX-OPT-Frame-3-EXT-PW
Request quote
Suitable for: 3 modules, outdoors
• Integrated electromagnetic theft protection
• Includes special key for module unlocking, housing gasket and installation material
• Dimensions: 131 x 233 x 18 mm (W x H x D)
• Color: White
MX-OPT-Frame-3-EXT-SV
Request quote
Suitable for: 3 modules, outdoors
• Integrated electromagnetic anti-theft protection
• Includes special key for module unlocking, housing gasket and installation material
• Dimensions: 131 x 233 x 18 mm (W x H x D)
• Color: Silver
MX-OPT-Frame-3-EXT-DG
Request quote
Suitable for: 3 modules, outdoors
• Integrated electromagnetic theft protection
• Includes special key for module unlocking, housing gasket and installation material
• Dimensions: 131 x 233 x 18 mm (W x H x D)
• Color: Dark Gray
MX-OPT-Frame-3-EXT-BL
Request quote
Suitable for: 3 modules, outdoors
• Integrated electromagnetic theft protection
• Includes special key for module unlocking, housing gasket and installation material
• Dimensions: 131 x 233 x 18 mm (W x H x D)
• Color: Black
MX-OPT-Box-3-EXT-ON-PW
Request quote
Suitable for: 3 modules, outdoors
• Metal-reinforced housing: 126 x 327 x 31 mm (W x H x D)
• Color: White
MX-OPT-Box-3-EXT-ON-SV
Request quote
Suitable for: 3 modules, outdoors
• Metal-reinforced housing: 126 x 327 x 31 mm (W x H x D)
• Color: Silver
MX-OPT-Box-3-EXT-ON-DG
Request quote
Suitable for: 3 modules, outdoors
• Metal-reinforced housing: 126 x 327 x 31 mm (W x H x D)
• Color: Dark Gray
MX-OPT-Box-3-EXT-ON-BL
Request quote
Suitable for: 3 modules, outdoors
• Metal-reinforced housing: 126 x 327 x 31 mm (W x H x D)
• Color: Black
MX-OPT-Box-3-EXT-IN
Request quote
Suitable for: 3 modules, outdoors
• The blue housing is firmly connected to the subsurface or brick work. It can also be used to ensure easy installation in cavities: Drill opening, position housing and screw tightly in place; the retaining wings, which automatically swing out, secure the housing, while the plastic bars at the edge of the housing prevent it from sliding into the cavity.
• Required flushmounting opening: 117 x 318 mm (width x height)
• Permissible wall thickness for cavity installation: 7 to 27 mm
MX-OPT-Frame-4-EXT-PW
Request quote
Suitable for: 4 modules, outdoors
• Integrated electromagnetic theft protection
• Includes special key for module unlocking, housing gasket and installation material
• Dimensions: 233 x 233 x 18 mm (W x H x D)
• Color: White
MX-OPT-Frame-4-EXT-SV
Request quote
Suitable for: 4 modules, outdoors
• Integrated electromagnetic theft protection
• Includes special key for module unlocking, housing gasket and installation material
• Dimensions: 233 x 233 x 18 mm (W x H x D)
• Color: Silver
MX-OPT-Frame-4-EXT-DG
Request quote
Suitable for: 4 modules, outdoors
• Integrated electromagnetic theft protection
• Includes special key for module unlocking, housing gasket and installation material
• Dimensions: 233 x 233 x 18 mm (W x H x D)
• Color: Dark Gray
MX-OPT-Frame-4-EXT-BL
Request quote
Suitable for: 4 modules, outdoors
• Integrated electromagnetic theft protection
• Includes special key for module unlocking, housing gasket and installation material
• Dimensions: 233 x 233 x 18 mm (W x H x D)
• Color: Black
MX-OPT-Box-4-EXT-ON-PW
Request quote
Suitable for: 4 modules, outdoors
• Metal-reinforced housing: 227 x 227 x 31 mm (W x H x D)
• Color: White
MX-OPT-Box-4-EXT-ON-SV
Request quote
Suitable for: 4 modules, outdoors
• Metal-reinforced housing: 227 x 227 x 31 mm (W x H x D)
• Color: Silver
MX-OPT-Box-4-EXT-ON-DG
Request quote
Suitable for: 4 modules, outdoors
• Metal-reinforced housing: 227 x 227 x 31 mm (W x H x D)
• Color: Dark Gray
MX-OPT-Box-4-EXT-ON-BL
Request quote
Suitable for: 4 modules, outdoors
• Metal-reinforced housing: 227 x 227 x 31 mm (W x H x D)
• Color: Black
MX-OPT-Box-4-EXT-IN
Request quote
Suitable for: 4 modules, outdoors
• The blue housing is firmly connected to the subsurface or brick work. It can also be used to ensure easy installation in cavities: Drill opening, position housing and screw tightly in place; the retaining wings, which automatically swing out, secure the housing, while the plastic bars at the edge of the housing prevent it from sliding into the cavity.
• Required flushmounting opening: 218 x 218 mm (width x height)
• Permissible wall thickness for cavity installation: 7 to 27 mm
MX-OPT-FlatMount-EXT-PW
Request quote
For flush-mounting of MxDisplay and door station modules in wall cavities
• Integrated electromagnetic theft protection
• W x H: 124 x 124 mm
• Color: white
MX-OPT-FlatMount-EXT-BL
Request quote
For flush-mounting of MxDisplay and door station modules in wall cavities
• Integrated electromagnetic theft protection
• W x H: 124 x 124 mm
• Color: black
MX-OPT-FlatMount-Box-EXT-IN
Request quote
In-wall housing for FlatMount Frame
• To be affixed securely with the subsurface or brick work
• Size of cavity for flush-mounting (W x H x D): 112 x 112 x 60 mm
MX-AdminCard1
Request quote
For system configuration IP Video Door Station via KeypadRFID and BellRFID
• Type/encryption: MIFARE DESFire EV1 3K3DES/AES
MX-UserCard1
Request quote
For keyless entry via with KeypadRFID or BellRFID (IP video door station)
• Type/encryption: MIFARE DESFire EV1 3K3DES/AES
MX-OPT-IO1
Request quote
Suitable for: T2x, delivers extended connection options for the door station (e.g., doorbell buttons, light, garage door opener, etc.)
• Connect the IO Module to the camera module via MxBus, which connects it to the network. It has eight physical signal inputs that allow it to distinguish in AC operation between a pending full-wave and half-wave. This makes it possible to connect two switches to each signal input terminal so that 16 button inputs are made available. The inputs can be used for, e.g., bell buttons. The outputs can be used for external devices such as a doorbell, or for outdoor lights or garage door openers (via a power relay).
MX-OPT-IO2
Request quote
Suitable for: T2x
• The Ethernet terminal board is used to connect the door station for the versions without Mx2wire+ technology. It securely connects the camera module with the 8 connected wires of the network patch cable via RJ45 connector. The Ethernet terminal board is screwed on to the housing (on-wall or in-wall) behind the camera module
---