MOBOTIX MOVE Cameras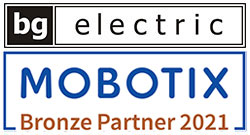 A mission of MOBOTIX is to go 'Beyond Human Vision' is the heart of a philosophy that recognizes that video surveillance is part of a wider potential with MOBOTIX as a foundational platform for innovative solutions to real world challenges in manufacturing, retail, healthcare, transportation and many other areas. MOBOTIX do not see ourselves as a classic manufacturer of cameras. In terms of IoT, video systems are computers with lenses, working intelligently and with embedded storage capacities. MOBOTIX stand apart with their uncompromisingly reliable, intelligent solutions that can be expanded virtually without limits and which ensure long-term investment security. MOBOTIX IP video systems have been optimized for remote applications and cloud-based technology because the cameras can reduce the bandwidth of the video by scaling the size and the frame rate.
MOBOTIX Shop powered by BG electric
Looking for the price? [x]
---
SD-330 and SD-340. The motor-controlled Outdoor PTZ camera features servo feedback technology and an electronic image stabilizer. These functions offer decisive advantages in places with strong air circulation (wind, heavy vehicles) – especially when using a higher optical zoom.
| Video Camera | Basic configuration | Price |
| --- | --- | --- |
| Mx-SD1A-330 | MOBOTIX MOVE SpeedDome SD-330 | 1.851 Euro |
| Mx-SD1A-340-IR | MOBOTIX MOVE SpeedDome SD-340-IR | 2.046 Euro |
---
VD-2 and VD-2. MOBOTIX MOVE Vandal Dome fixed dome cameras enable up to three simultaneous video streams of standard codec H.264, H.265 and/or M-JPEG. The camera also boasts a maximum resolution of 4 megapixels and captures up to 30 frames per second, even when WDR (Wide Dynamic Range) mode is switched on. This means that significant image details are always captured, even in poor light conditions.
| Video Camera | Basic configuration | Price |
| --- | --- | --- |
| Mx-VD1A-4-IR | MOBOTIX MOVE VandalDome VD-4-IR | 487 Euro |
| Mx-VD1A-4-IR-D | MOBOTIX MOVE VandalDome VD-4-IR-D | 682 Euro |
| Mx-VD1A-2-IR | MOBOTIX MOVE VandalDome VD-2-IR | 370 Euro |
---
MOBOTIX MOVE BulletCamera BC-4/BC-2 and VandalBullet VB-4. High Standard For Any Scenario In Heavy Metal Housing. Weatherproof and compact network cameras with integrated infrared LEDs for day and night use. Thanks to the stable, manually orientable metal housing in the popular Bullet design, the cameras are suitable for applications in public areas - and in the Vandal variants, even if increased vandalism protection is required (Full IK10).
| Video Camera | Basic configuration | Price |
| --- | --- | --- |
| Mx-BC1A-4-IR | MOBOTIX MOVE BulletCamera BC-4-IR | 487 Euro |
| Mx-BC1A-4-IR-D | MOBOTIX MOVE BulletCamera BC-4-IR-D | 682 Euro |
| Mx-VB1A-4-IR | MOBOTIX MOVE VandalBullet VB1A-4-IR | 682 Euro |
| Mx-VB1A-4-IR-D | MOBOTIX MOVE VandalBullet VB1A-4-IR-D | 779 Euro |
| Mx-BC1A-2-IR | MOBOTIX MOVE BulletCamera BC-2-IR | 370 Euro |
---