MOBOTIX Professional Video Systems Thermal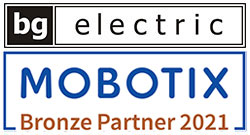 A mission of MOBOTIX is to go 'Beyond Human Vision' is the heart of a philosophy that recognizes that video surveillance is part of a wider potential with MOBOTIX as a foundational platform for innovative solutions to real world challenges in manufacturing, retail, healthcare, transportation and many other areas. MOBOTIX do not see ourselves as a classic manufacturer of cameras. In terms of IoT, video systems are computers with lenses, working intelligently and with embedded storage capacities. MOBOTIX stand apart with their uncompromisingly reliable, intelligent solutions that can be expanded virtually without limits and which ensure long-term investment security. MOBOTIX IP video systems have been optimized for remote applications and cloud-based technology because the cameras can reduce the bandwidth of the video by scaling the size and the frame rate.
MOBOTIX Shop powered by BG electric
Looking for the price? [x]
---
M16 Thermal. Twice as secure, even in total darkness. The intelligent video system with an integrated high-performance thermal image sensor takes full advantage of the M16 camera design. Thanks to the two directly adjacent lenses, there is also a thermal overlay function with image overlay (thermal and optical) to pinpoint the exact location of hotspots like smoldering fires in a visible image.
| Video Camera | Basic configuration | Price |
| --- | --- | --- |
| Mx-M16TB-R075 | M16B Thermographic Cam TR, R075 (45°) | 4.532 Euro |
| Mx-M16TB-R079 | M16B Thermographic Cam TR, R079 (45°) | 4.532 Euro |
| Mx-M16TB-R090 | M16B Thermographic Cam TR, R090 (35°) | 4.532 Euro |
| Mx-M16TB-R119 | M16B Thermographic Cam TR, R119 (25°) | 4.532 Euro |
| Mx-M16TB-R237 | M16B Thermographic Cam TR, R237 (17°) | 4.532 Euro |
| Mx-M16TB-T079 | M16B Thermographic Cam T079 (45°) | 4.045 Euro |
| Mx-M16TB-T119 | M16B Thermographic Cam T119 (25°) | 4.045 Euro |
| Mx-M16TB-T237 | M16B Thermographic Cam T237 (17°) | 4.045 Euro |
---
Mobotix Thermal modules with/without front plate for the camera M73, format VGA or CIF, with/without Thermal Radiometry. The Thermal Radiometry (TR) model automatically alarm when the temperature exceeds or falls below defined limits. Up to 20 different temperature events can be configured simultaneously in so-called TR windows or over the complete sensor image over a temperature range of -40 to 550°C.

Manufactured part numbers open/close, use the search ctrl + F
| Video Camera | Basic configuration | Price |
| --- | --- | --- |
| Mx-O-M73TA-336R100 | Thermal module 336-R100 with front plate | 3.704 Euro |
| Mx-O-M73TA-336R150 | Thermal module 336-R150 with front plate | 3.704 Euro |
| Mx-O-M73TA-336R280 | Thermal module 336-R280 with front plate | 3.704 Euro |
| Mx-O-M73TA-336T100 | Thermal module 336-T100 with front plate | 3.217 Euro |
| Mx-O-M73TA-336T150 | Thermal module 336-T150 with front plate | 3.217 Euro |
| Mx-O-M73TA-336T280 | Thermal module 336-T280 with front plate | 3.217 Euro |
| Mx-O-M73TA-640R050 | Thermal module 640-R050 with front plate | 6.336 Euro |
| Mx-O-M73TA-640R080 | Thermal module 640-R080 with front plate | 6.336 Euro |
| Mx-O-M73TA-640R100 | Thermal module 640-R100 with front plate | 6.336 Euro |
| Mx-O-M73TA-640R150 | Thermal module 640-R150 with front plate | 6.336 Euro |
| Mx-O-M73TA-640T050 | Thermal module 640-T050 with front plate | 5.654 Euro |
| Mx-O-M73TA-640T080 | Thermal module 640-T080 with front plate | 5.654 Euro |
| Mx-O-M73TA-640T100 | Thermal module 640-T100 with front plate | 5.654 Euro |
| Mx-O-M73TA-640T150 | Thermal module 640-T150 with front plate | 5.654 Euro |
| Mx-O-M7SA-336RS100 | S7x Thermal Module 336-R100 | 3.655 Euro |
| Mx-O-M7SA-336RS150 | S7x Thermal module 336-R150 | 3.655 Euro |
| Mx-O-M7SA-336RS280 | S7x Thermal Module 336-R280 | 3.655 Euro |
| Mx-O-M7SA-336TS100 | S7x Thermal Module 336-T100 | 3.168 Euro |
| Mx-O-M7SA-336TS150 | S7x Thermal module 336-T150 | 3.168 Euro |
| Mx-O-M7SA-336TS280 | S7x Thermal Module 336-T280 | 3.168 Euro |
| Mx-O-M7SA-640RS050 | S7x Thermal Module 640-R050 | 6.288 Euro |
| Mx-O-M7SA-640RS080 | S7x Thermal Module 640-R080 | 6.288 Euro |
| Mx-O-M7SA-640RS100 | S7x Thermal Module 640-R100 | 6.288 Euro |
| Mx-O-M7SA-640RS150 | S7x Thermal module 640-R150 | 6.288 Euro |
| Mx-O-M7SA-640TS050 | S7x Thermal Module 640-T050 | 5.605 Euro |
| Mx-O-M7SA-640TS080 | S7x Thermal Module 640-T080 | 5.605 Euro |
| Mx-O-M7SA-640TS100 | S7x Thermal module 640-T100 | 5.605 Euro |
| Mx-O-M7SA-640TS150 | S7x Thermal module 640-T150 | 5.605 Euro |
| Mx-O-M7SA-336RP100 | S7x PTMount Thermal 336-R100 | 3.704 Euro |
| Mx-O-M7SA-336RP150 | S7x PTMount Thermal 336-R150 | 3.704 Euro |
| Mx-O-M7SA-336RP280 | S7x PTMount Thermal 336-R280 | 3.704 Euro |
| Mx-O-M7SA-336TP100 | S7x PTMount Thermal 336-T100 | 3.217 Euro |
| Mx-O-M7SA-336TP150 | S7x PTMount Thermal 336-T150 | 3.217 Euro |
| Mx-O-M7SA-336TP280 | S7x PTMount Thermal 336-T280 | 3.217 Euro |
| Mx-O-M7SA-640RP050 | S7x PTMount Thermal 640-R050 | 6.336 Euro |
| Mx-O-M7SA-640RP080 | S7x PTMount Thermal 640-R080 | 6.336 Euro |
| Mx-O-M7SA-640RP100 | S7x PTMount Thermal 640-R100 | 6.336 Euro |
| Mx-O-M7SA-640RP150 | S7x PTMount Thermal 640-R150 | 6.336 Euro |
| Mx-O-M7SA-640TP050 | S7x PTMount Thermal 640-T050 | 5.654 Euro |
| Mx-O-M7SA-640TP080 | S7x PTMount Thermal 640-T080 | 5.654 Euro |
| Mx-O-M7SA-640TP100 | S7x PTMount Thermal 640-T100 | 5.654 Euro |
| Mx-O-M7SA-640TP150 | S7x PTMount Thermal 640-T150 | 5.654 Euro |
---
Mobotix Thermal modules with/without front plate for the camera S16A/S16B, format VGA or CIF, with/without Thermal Radiometry. The Thermal Radiometry (TR) model automatically alarm when the temperature exceeds or falls below defined limits. Up to 20 different temperature events can be configured simultaneously in so-called TR windows or over the complete sensor image over a temperature range of -40 to 550°C.

Manufactured part numbers open/close, use the search ctrl + F
| Video Camera | Basic configuration | Price |
| --- | --- | --- |
| Mx-O-SMA-TS-R079 | Thermal Sensor Module TR for S16/S15, 50 mK, B079 (45°) | 3.509 Euro |
| Mx-O-SMA-TS-R119 | Thermal Sensor Module TR for S16/S15, 50 mK, B119 (25°) | 3.509 Euro |
| Mx-O-SMA-TS-R237 | Thermal Sensor Module TR for S16/S15, 50 mK, B237 (17°) | 3.509 Euro |
| Mx-O-SMA-TP-R079 | PTMount-Thermal TR for S16/S15, 50 mK, B079 (45°), White | 3.655 Euro |
| Mx-O-SMA-TP-R119 | PTMount-Thermal TR for S16/S15, 50 mK, B119 (25°), White | 3.655 Euro |
| Mx-O-SMA-TP-R237 | PTMount-Thermal TR for S16/S15, 50 mK, B237 (17°), White | 3.655 Euro |
| Mx-O-SMA-TP-R079-b | PTMount-Thermal TR for S16/S15, 50 mK, B079 (45°), Black | 3.655 Euro |
| Mx-O-SMA-TP-R119-b | PTMount-Thermal TR for S16/S15, 50 mK, B119 (25°), Black | 3.655 Euro |
| Mx-O-SMA-TP-R237-b | PTMount-Thermal TR for S16/S15, 50 mK, B237 (17°), Black | 3.655 Euro |
| Mx-O-SMA-TS-T079 | Thermal Sensor Module for S16/S15, 50 mK, B079 (45°) | 3.070 Euro |
| Mx-O-SMA-TS-T119 | Thermal Sensor Module for S16/S15, 50 mK, B119 (25°) | 3.070 Euro |
| Mx-O-SMA-TS-T237 | Thermal Sensor Module for S16/S15, 50 mK, B237 (17°) | 3.070 Euro |
| Mx-O-SMA-TP-T079 | PTMount-Thermal for S16/S15, 50 mK, B079 (45°), White | 3.168 Euro |
| Mx-O-SMA-TP-T119 | PTMount-Thermal for S16/S15, 50 mK, B119 (25°), White | 3.168 Euro |
| Mx-O-SMA-TP-T237 | PTMount Thermal for S16/S15, 50 mK, B237 (17°), White | 3.168 Euro |
| Mx-O-SMA-TP-T079-b | PTMount-Thermal for S16, S15, 50 mK, B079 (45°), Black | 3.168 Euro |
| Mx-O-SMA-TP-T119-b | PTMount-Thermal for S16, S15, 50 mK, B119 (25°), Black | 3.168 Euro |
| Mx-O-SMA-TP-T237-b | PTMount Thermal for S16, S15, 50 mK, B237 (17°), Black | 3.168 Euro |
---