Results of non-contact measurement of the volume and weight of bulk materials
The non-contact electro-optical system measures the volume and weight of bulk materials on the conveyor belt and transmits the results wirelessly to a PDA smartphone, from where the information is forwarded to the operator's computer. The measuring system has no moving or wearing parts, is maintenance-free and insensitive to vibration, wind, dust or temperature fluctuations. The inclination of the conveyor belt is immaterial for the non-contact scales, which are connected wirelessly to a smartphone enclosed. The mounting location for the frame with the optical sensors is often the end shaft of the conveyor, although there can also be an intermediate shaft, and the enclosed speed sensor is mounted separately on the axis of this shaft. The system is only calibrated once, no recalibration is required and the system can be installed on a conveyor in 3-4 hours
Automatic transfer of results of measuring to any network and via email to every predefined recipient. Screen of the PDA smartphone of optical weight measurement system: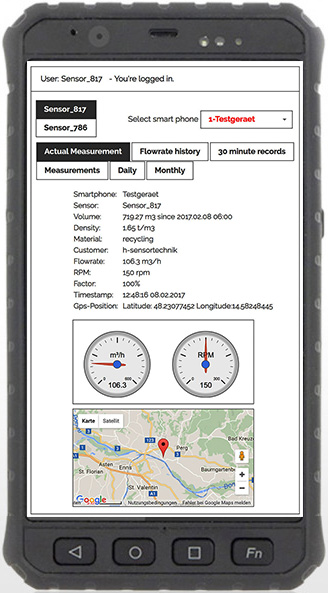 Multiple optical belt scales with the secure authentication. The optical belt scale stores the measured data internally, transmits the data via Bluetooth to the PDA smartphone and from there to mobile networks. For off-grid installations a satellite solution is recommended.

Following amounts can be found in the table
start of measurement
end of measurement
client/customer

transported material
amount of material
intervals of 30 minutes in m³
From the smartphone, the data is sent directly to your computer, from which you can access the mobile device and from there to the sensor. Live data of measurements incl. list of transported volume, daily outputs accessible at any time. If problems occur, manufactorer of the optical belt scale can also intervene and eliminate any faults.
Optical Scanner Unit
(included in delivery)
Industrial Secure PDA Smartphone
(included in delivery)


Small Bluetooth Printer Unit
(included in delivery)
Screen Software
(included in delivery)



---