Thyristor Power Controller REVO S-1PH, Relay S-1PH and CD3000S-1PH
Our quote will always be lower than the manufacturer's price. Please send us the full part number of a device to get a quick response.
---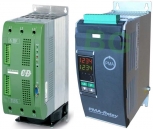 Example of Full Part Number:
REVO RS1090-42APWY2021
Ideal for:

Normal Resistance
Medium and Long Wave IR load types

Benefits and Features:

These simple units can be connected with Relay PC to manage multizone system
Integrated fuse + fuse holder
power control zone including current transformer and optional circuit board
Flat Cable Wiring System (option)
Input signal: SSR, Analog as an option
Electronic fully isolated from power with constant current drain on input
Heater Break alarm option to diagnose partial or total load failure and Thyristor Short circuit
Fuse and Fuse holder available as an option
Current transformer integrated (with Heather Break option)
Special design for Heat sink with very high dissipation value
Comply with EMC, cUL (pending)
DIN RAIL side by side mounting
IP20 Protection

Specification:

Up to 700A
Single Phase
24Vac to 600Vac Supply
DC Logic input
4-20mA or 0-10V DC linear inputs
Zero Cross or Burst Firing (4, 8 or 16 cycles @50% power demand).
---